What to Pack: My Carry On Bag for a Weekend Away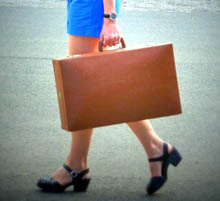 It shouldn't be that hard working out what to pack for a weekend away and fitting it all in your carry on bag. But somehow it is.
For a recent weekend blogging conference in Melbourne I challenged myself to stick to the size limits of a carry on bag and still have everything I needed to hand.  I also had to look as nice as possible because that's important when you're a slightly reclusive blogger who's rarely seen in the flesh.
Presentation is everything and I don't want to disappoint my readers or look like a frump compared to all the beauty and style bloggers. You can check out how I actually looked in some of these outfits at the event here and judge for yourself how well I succeeded.
I contained my luggage to one carry on bag again when I went to Canberra for a weekend with the kids. That was a more casual weekend but that didn't make working out what to pack any easier.
But I think I've nailed it now so let's get down to the details of what to pack for a weekend away and how.
What's in My Carry On Bag for a Weekend Away?
Before any trip I always start by laying everything out on my bed or floor so I can see what's there and what's missing. That also gives me time to rationalise and take stuff out that just isn't needed.
So what have we got here? Starting at the top left and working clockwise:
1. Camera – I never use my SLR anymore, a smaller point and shoot with a good zoom saves space and takes great photos too.
2. Make up – I don't wear much make up so it's a small bag. Actually I hardly wear make up at all but I try to look as good as possible when meeting new people.
3. Jewellery in its own little bag including a large vintage diamante brooch which belonged to my granny and will brighten the plain tops.
4. A canvas bag with all my cords inside for cameras, iPads and more.
5. A bag of hazelnuts in case I need a snack or miss any meals. That's probably the worst thing that could happen.
6. Trainers packed in a shower cap to stop them getting everything dirty. I wear Nike Free running shoes similar to these because they're very light weight and much less bulky than normal trainers.
7. Ballet flats which are are perfect for day or evening. Also packed in a shower cap. That's my top packing tip by the way, I hope you like it and will never see those hotel shower caps in the same light again.
7. Sports clothes – black Nike shorts and a red Gap shirt just in case I get to go for a walk or to the gym.  It often doesn't happen but I like to take some exercise gear and trainers with me just in case I get lucky.
8. Evening clothes – I went to a cocktail party in Canberra but I dressed down in my best  jeans and a pretty grey silky top which can be layered with a camisole under it and cardigan on top if it's cold in the evening. I needed those layers after dark.
9. An evening bag – This bag is my pride and joy. I splurged money on this little metallic bag which was made in Brazil from recycled can tabs and I splurge on space when I take it with me because it's my favourite accessory. I keep my business cards in there permanently and just add lipstick, camera, iPhone, money and a credit card before I go out in the evenings.
10. Snacks – I'm traveling with my three kids so I've got sweets for them plus hazelnuts for me. Don't judge me for giving them sugary treats – it's a matter of survival when traveling with kids. Just as long as you don't give them too many.
11. Because I was going to Canberra with temperatures ranging from 0-26 degrees I took some two short-sleeved T-shirts and a belt.
12. Also a smart, warm cardigan to wear on the plane or on cold evenings
13. Plus three long-sleeved T-shirts and two camisole tops for layering. I have a morbid fear of the cold so it's quite ironic that I've been to distinctly chilly zones of Japan and Canada this year.
13.  Most of the clothes pictured here are cheap and cheerful but the cobalt blue J Brand jeans were another splurge buy that was worth it. They're comfy, flattering and wearing them fills me with confidence. Which is good. Very good.
14. A matching red top and cardigan if I want to look a bit smarter.
15. A black and white dress and tights in case I decide I'd prefer to wear dress to the cocktail party. It's also a comfy outfit to wear on the plane on the way home if I'm fed up with wearing jeans.
16. A  big woolly poncho I can carry wherever I go and a backpack for day trips.
17. Underwear and swimwear all packed in its own plastic bag so I can easily find it.
The Carry On Bag
I'm currently rolling with an Antler carry on bag – I bought myself a matching three piece luggage set for under $300 online which worked out to be excellent value. The model is slightly dated but it's good quality so it will last well so when I upgrade I can pass this bag on to the kids if they play their cards right. This is what I like about it:
It has a pocket on the outside big enough to fit my iPad or any magazines or newspapers I pick up at the airport.
There's a mesh compartment on the inside where I can put little things like my jewellery bag.
The bag can also be extended by unzipping a pouch so if I pick up extra stuff while I'm away (it happens) I can still fit it in with no dramas.
The final picture and what's not in the picture
My handbag and all the goodies in there aren't in the bed photo – I'll write another post about what's in my handbag.
I also added a day pack which I fitted inside the carry on bag for day trips.
My travel wash bag for toiletries – it's very small as you can see in what I pack in my wash bag.
The clothes I wore for the journey including some heavy jeans and my Swedish Hasbeens clogs which are heavy but comfy so better of being worn than packed.
Are you a good packer? Can you squeeze everything you need for a weekend away into your carry on bag? 
Share This Story, Choose Your Platform!