What to Pack: What's in Your Travel Wash Bag?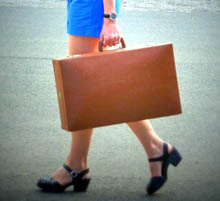 Before  you travel do you spend a lot of time worrying about what to pack and how you'll manage while you're away if you forget anything? Then the new what to pack series is for you.
Packing for a weekend away or vacation can eat up far too much time which could be spend writing stories about the last trip, editing photos or even just doing nothing much.
But if you get an opportunity grab it is my general life philosophy which is why I've got myself slightly over-booked with four weekends away in two months.
I've went to Melbourne and Canberra recently, just got back from Fraser Island and am zooming off to Heron Island soon.
As far as destinations go you couldn't get much more varied than the big, sophisticated city of Melbourne versus Fraser Island, a world heritage listed sand island (the world's biggest) and pristine natural environment which doesn't even have any roads.
But with all that traveling plus the Candy kids to raise and a business to run I barely have time to think about packing, let alone actually pack. So I've streamlined the packing process to get it done as fast as possible while making sure I don't forget any of the essentials.
Slowly but surely I've become a seasoned pro at packing and unpacking so here are my travel tips on what to pack and how, starting with the most essential item of all for women: the travel wash bag.
A Simple Packing Secret
My big packing secret is to keep some things permanently packed and to travel light so I want to share what's in my wash bag first because I save a lot of time by not unpacking it every time I get home.
Just make sure to restock anything that's run out as soon as you get home while it's fresh in your mind so the wash bag is always packed and ready for your next trip.
Wash Bag Packing Tips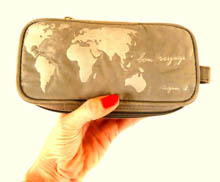 1. Get a small wash bag so you don't over pack it.
Mine wash bag is very compact but it's dedicated to washing things and toiletries because it's easier for me to find things if I have one wash bag, one make up bag and one jewellery bag rather than trying to cram everything into one big wash bag.
This wash bag fits easily into my hand luggage and if I'm going overseas I just put all the liquids inside it in a plastic ziploc bag which I can easily whip out when going through security. My mum travels business class to visit me in Australia every year so I have a huge supply of small wash bags which she's given me from those flights. This is a favourite as it zips right open (see photo below) so I can easily find everything.
I like the Kosmea travel kit pictured below because it comes on a clear wash bag so again you can easily find everything plus there's room to add your toothbrush, toothpaste and anything else you can't live without then you're all ready to go.
2. Look out for travel-sized toiletries and wash bag essentials everywhere you go.
To keep things small and light so I can fit everything for the weekend in one carry on bag I always take travel-sized products. Unfortunately it can be hard to find good quality products in small sizes. Here are a few options:
Grab some mini toothpaste tubes next time you're at the dentist. They usually have a big bowl of them at reception or just ask if they have any sample sizes of toothpaste you can take home with you.
Look out for sample-sized products which are refillable. For my cleanser I've got a tiny plastic bottle which I've been refilling with whatever cleanser I'm currently using for years. It holds enough cleaners for up to a week.
Leave that big electric toothbrush at home and take a no-tech toothbrush. It will take up a lot less room and weigh less too.
Save all those mini sachets of moisturiser, shampoo and conditioner you get in magazines for your travels.
Look out for sample sizes in chemists or splash out on some sample sizes of your favourite products so you can guarantee you'll get the same skincare while you're traveling as you do at home. Kosmea is an Australian natural skincare company and an international success story, founded on the healing properties of certified organic rose hip oil which sells mini sizes of many of its product range from $6.95.
3. Take only the essentials. You can do it if you try.
For example, we don't need to exfoliate every day. Once or twice a week might be good but your face won't fall apart if you skip that for a week or two. I take a sachet of shampoo and one of conditioner in case the hotel doesn't have them but usually shampoo and conditioner are supplied or if not they're easy to buy anywhere.
In fact you can buy toiletries most of the places you travel to so the only essentials are:
Toothbrush – Keep a decent toothbrush in your travel wash bag.
Toothpaste – A sample size from the dentist.
Cleanser – Use your favourite if you can decant it into a small container or buy a sample size of a new product you'd like to try which will last several trips.
Moisturiser – Get the best you can afford. Dehydration and tiredness make skin get dry when traveling so you'll need a good moisturiser. If you're on a business trip and won't be outside much you can use your night cream during the day or vice versa if your day cream has no sun protection factor (SPF).
Sunscreen – If you're spending time outside either choose a day cream with a built in SPF or pick up the Dermalogica Solar Defense Booster SPF30 sunscreen which comes in a small bottle.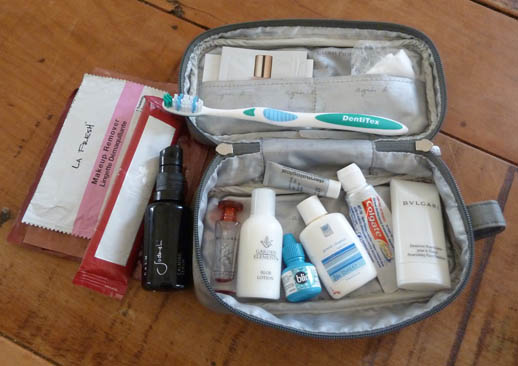 4. Add a few non-essentials. Just one or two. 
So you don't feel deprived while you're away and can feel pampered and fresh even if you're staying in a no frills accommodation add a couple of treats. I take a sample size of perfume (ask for them in chemists or buy a gift box with different samples from Duty Free) plus a few extras like a soothing eye pad to calm down swollen tired eyes and make up remover towels in case I'm too lazy to wash my face properly at bed time or can't get to a bathroom.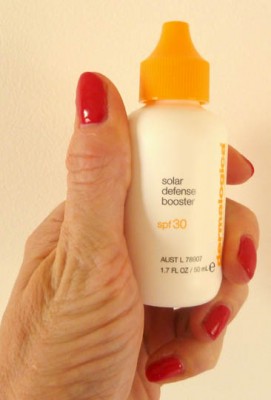 5. Choose products that are multi-purpose.
For example I use my pawpaw ointment as hand cream, cuticle cream and lip salve and I'm loving the Dermalogica Solar Defense Booster SPF30 sunscreen because it fits in my small wash bag and can be used on its own or with any moisturiser or foundation.
So that's my no worries approach to the eternal question of what to pack in that travel wash bag.
How about you? What's in your wash bag?
Subscribe to Get In the Hot Spot Now
It's fun and it's free. Just choose updates by email or by RSS feed so you stay tuned for all the latest stories.
* I was sent the Kosmea travel kit (and products) and Dermalogica Solar Defense Booster SPF30 for review and editorial consideration in accordance with my disclosure policy. Alas, I haven't been paid to write this post but I'm sharing it because I'm always searching for the best travel products and I'm sure Get In the Hot Spot readers are too. All the other products pictured or mentioned were paid for by me.
Share This Story, Choose Your Platform!