Project Triathlon at 50: Training Week 5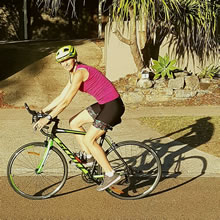 I'm over the tri training this week. I've been going too hard and I'm exhausted mentally and physically.
I made some progress on the bike (more on that later), not much in the pool and my running is going backwards – I seem to be getting slower and slower!
My training schedule this week:
Monday: Swim (60 mins) + Run (45 mins speed training)
Tuesday: Bike (60 mins skills) + Strenght work at gym (45 mins)
Wednesday: Run (75 mins – hilly 8km) + Swim Squad (60 mins)
Thursday: Run (60 mins – hilly 5km + 30 min bike ride))
Friday: Swim squad (60 mins)
Saturday: Run (13km)
Sunday: Bike (45km in 120mins) Average speed 22.6km/hour – no improvement there.  Topspeed 51.6kph – exciting)
Here's what I did with Jess in her triathlon training for women beginner course.
Triathlon Training for Beginners – Week 5
Swimming
This week as well as swimming endless laps we practice swimming four abreast in one lap to get used to the crush of a triathlon swim.
Swimming Tips
Brace your stomach muscles, that will keep your bum higher in the water, minimise drag and make you faster.
Biking
We worked on bike skills which was brilliant. At the beginning of the session I couldn't take my left hand off the handlebars at all. By the end of the session I could ride 20m with that hand off the bars. I'm so excited because I could never do that as a child and never thought I could. It means I can signal when turning and am much safer.
So thrilled after this session. We didn't workout but I felt I made a massive improvement.
Biking Tips
Practice super slow biking to improve balance.
Try biking round cones in a slalom, while drinking and with one hand on your leg getting lower and lower.
Running
We did hill reps today, running 1km up a hill then back down again and up again. I love the downhill run.
Running Tips
Running up hills increases fitness and endurance faster as well as improving overall strength.
Pump those arms while you run.
Phew! Another tiring week. What will week 6 hold?
Other posts in the Triathlon Training at 50 Series
Stay Tuned!
Get free email updates to follow the Project Triathlon at 50 story. I'll share what we do for the whole eight week training program. Thank you in advance for your support.
Share This Story, Choose Your Platform!