Could Ginseng Give You a Natural Energy Boost?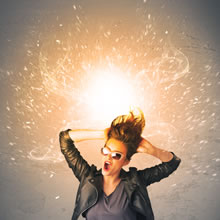 I'd read about the benefits of ginseng many times but had never tried it. I have a high bullshit radar and am deeply suspicious of the medical industry. My mistrust of the medical industry includes health supplements. However, since I'm started taking a panapoly of health supplements at the beginning of this year and am now feeling pretty damned good I've become open to taking more. So recently, when I complained to my doctor about feeling exhausted he recommended glucoasime. It's a supplement usually taken by athletes to help restore aches and pain caused by over-used, tired muscles. But even though I run about 30Km (20 miles) each week my exhaustion wasn't physical. It seemed to be my mental energy that was low. I felt drained by a lack of sleep, being over-worked and feeling over-loaded by responsibilities. But the doctor was persuasive so I went to the chemist to talk with a naturopath on his recommendation. I've never seen a naturopath before and, although I'm hippy at heart who prefers natural remedies to medical ones, it's not a service I would have paid for. But I had a good chat with the naturopath and when she recommend Ginseng to ease my mental exhaustion I decided to finally give it a try . Like I said, I've read about the benefits of Ginseng before, most recently in Rushing Woman's Syndrome by Dr Libby Weaver which recommends Siberian Ginseng for fatigue and Panex Ginseng for severe fatigue.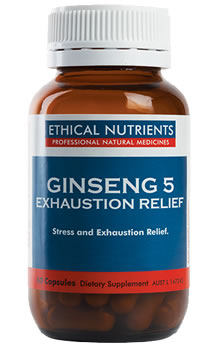 The chemist stocked Ginseng products galore, but the naturopath recommended a product by Ethical Nutrients called Ginseng 5 Exhaustion Relief (I couldn't find it on Amazon but they do stock Ethical Nutrients products). The bottle says it's for "Stress and Exhaustion Relief" and Ginseng 5 Exhaustion Relief contains a blend of different types of Ginseng including Siberian ginseng, Indian ginseng, Korean ginseng, Chinese ginseng and American ginseng. I have no idea what the difference between them all is but the effects of the capsules have been dramatic. One bottle with 60 capsules cost $35. I bought two bottles and got one free, even though the naturopath assured me I'd be able to see the benefits after a few days so wouldn't need to take Ginseng for three months to assess if it worked. The recommended dosage is two capsules a day but I've only been taking one in the morning. Even though I'm only taking a half dose I've noticed an incredible surge in mental energy. The bottle says Ginseng 5 Exhaustion Relief may:
• Minimise the effects of mental and physical stress. • Improve the body's ability to deal with stress. • Assist physical performance and work capacity. • Improve vitality, concentration, mental and physical performance. • Support the body's immune system during times of stress.
As I said my physical strength wasn't compromised, but with Ginseng I've definitely felt more energetic mentally and more emotionally resilient. I've been able to concentrate better on my work and have my mood has been more buoyant. Have you ever tried Ginseng? Or maybe you've got another natural energy boosting secret?
Share This Story, Choose Your Platform!