5 Health Supplements Worth Taking for Women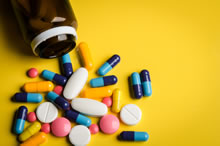 I covered a few health supplements I take religiously in Healthy Ageing: 3 Easy Changes I've Made This Year but those aren't the only health supplements I take.
In the last few years I've started popping a few vitamin and mineral pills and I am feeling better for it. In fact at 47 years old I'm probably healthier and certainly fitter than ever before.
NOTE: This post is part of our One Health Move Wellbeing Series. Find out more here or subscribe (free, private and safe) here.
You can get your vitamin and mineral levels checked to see if you need health supplements with a blood test.
It's important to take supplements if you are low on anything because being deficient in certain minerals or vitamins, in particular iron or B vitamins can badly affect our energy levels and negatively impact our mental health too.
Taking iron pills on a doctor's recommendation made me feel so much better that I started looking into what other supplements might improve my health. Now I can't take quite a few health supplements. These are the pills I'm popping.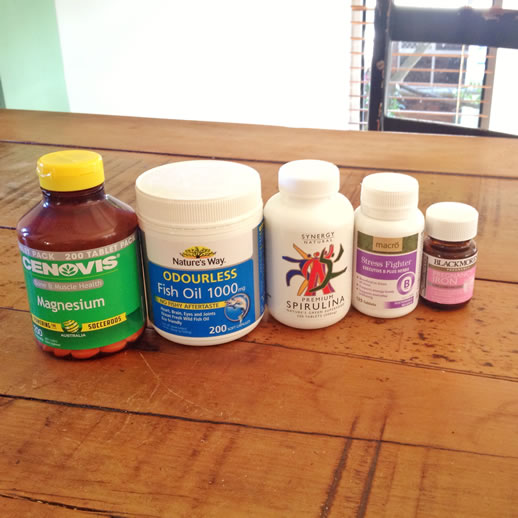 5 Health Supplements I Take
1. Iron
Brands I recommend: Blackmores pregnancy iron – No, I'm not pregnant but these were on special. I alternate between these and Swisse iron pills which are also available from most supermarket and often on special.
Why I take iron: A few years ago a blood test showed my iron levels were low. That made my energy levels low and also lowered my mood. So I wasn't at peak health either physically or mentally because of low iron levels.
Low iron has been a common problem throughout my life, probably because I mainly vegetarian, but it's a problem that's easily solved and I'm determined to stay on top of it now.
So I've started taking iron pills regularly all the time rather than let my iron levels continually get depleted.
I started off taking Ferrograd C iron pills which are only available in the chemist. Now my iron levels are more reasonable I maintain them one iron pill taken most days.
The brand I'm taking at the moment says 'low constipation' on the bottle but iron does seem to have the negative side effect of bunging you up. So I have a break from iron pills on weekends to counteract that.
Fish oil
Brands I recommend: Odourless Fish Oil 100mg by Nature's Way
Why I take fish oil: Fish oil is great for ageing joints which is why I take it but it's also important for healthy brain, eye and heart functioning.
I do worry about depleting the ocean of precious fish though and hope the fish oil capsules I take come from a sustainable source. The label gives it an eco-friendly tick so it should.
I pop a couple of fish oil capsules most days.
Spirulina
Brands I recommend: Synergy Natural Spirulina Powder
Why I take Spirulina: Gram for gram Spirulina is one of nature's richest and most complete sources of nutrition. Harvested from a microscopic fresh water plant it's a rich source of protein, iron, antioxidants, chlorophyll and essential fatty acids.
I pop a couple of organic Spirulina pills most days.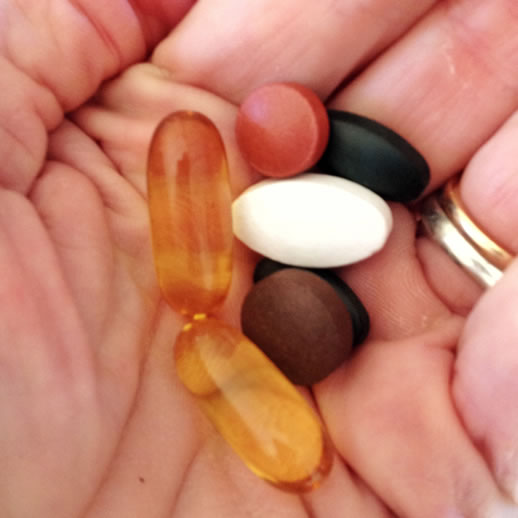 Magnesium
Brands I recommend: Cenovis Magnesium pills
Why I take Magnesium: Magnesium is an essential mineral that I take to stop me from getting cramp in my calves at night. It's such a horrible, painful experience to be woken up by cramp but taking museum pills has fixed it.
Magnesium is also good for bone formation and to reduce stress or premenstrual anxiety symptoms as an added bonus.
I take one magnesium pill a day. They're the big white ones pictured above.
B Vitamins
Brands I recommend: Macro Stress Fighter Executive B Plus Herbs
Why I take B vitamins: Since I'm no stranger to stress, anxiety and depression I figured taking for an extra b vitamins couldn't hurt. They also claim to give you more energy.
Whatever it is I can honestly say that this combination of health supplements has me feeling happier and more energetic than ever.
Do you swear by any health supplements? Leave a comment below telling us your thoughts. 
One Healthy Move Weekly Challenge
Choose one supplement or food item that will improve your heath. Find it, buy it and start taking or eating it regularly.
Join the #OneHealthyMove Revolution Now!
1. Subscribe now by email so you don't miss out on more in the One Healthy Move series. It's free, you can opt out anytime and your details will be kept private and never onsold. You have my word for it.
2. Follow the #OneHealthyMove revolution on Facebook, Instagram and Twitter and share your own updates or photos so we can see what you're doing today to create a fitter, happier, healthier you tomorrow. Don't forget to use the #OneHealthyMove hashtag so we can cheer you on.
Share This Story, Choose Your Platform!