27 Years of Nomadic Living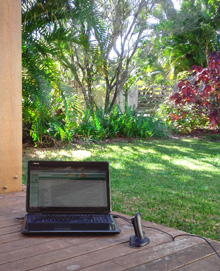 I write this outside on the floor of my old porch, wind tugging at the trees, shadows playing on the grass. I moved into a new house yesterday but there's no internet there yet.
All my belongings are piled higgledy piggledy in rooms, boxes and corridors. Life is in disarray and will take a while to get sorted out.
Yesterday I heard my son Max aged nine telling his friend that the longest he's lived anywhere is five years.
Then I realised that since I left home, aged 16, to go to boarding school, I've never lived anywhere for longer than five years either.
That was the same house Max was thinking of, and the place where he was born.
The house I'm moving out of today wins second place for longest time lived in. We've been here two-and-a-half years.
In the last 27 years I've lived in eight countries, in four different continents, and visited around 40 other countries.
I must have slept in hundreds of beds. Maybe thousands.
I love to travel but moving house is boring.
Especially when you don't want to move.
But my landlords want their house back so we must go, and the lease on our new home is only 12 months, so I probably won't be there long either. Almost certainly not as long as five years.
Hopefully, house prices will settle soon and we'll buy a house again. I'd like to live somewhere for longer than five years again.
Nomadic Living With a Family
Moving used to be easy. I never had much more than a backpack.
Now I have a husband and three children so the luggage and belongings have also accumulated.
Even though we're not huge consumers, and don't own massive amounts of stuff, there's still a lot to be carted around.
Moving house is known to be one of the most stressful times of your life. It's right up there with a death in the family or divorce.
I have been feeling the stress but, generally, I've handled it better than I would have after Max was born when I was suffering from post-natal depression.
Then even the smallest events caused untold stress and sleepless nights.
Now I've learnt to allocate the stressful events fit to the fringes of my life. The packing, cleaning and organising are on-going, but I still focus more on the things that make me happy like daily walks on the beach, laughing with the kids or friends and writing.
Our business is location independent but we are not. Our children need the stability now of going to the same school and growing up with familiar faces and good friends.
Digital Nomads or Not?
The digital nomad lifestyle holds no appeal.
I've always worked hard, saved money and then travelled and I plan more of that in the future.
While our children are still at school we'll be based here, but that doesn't preclude trips in and outside of Australia, as well as our planned six month safari in Africa.
So here I am. Definitely not a suburbanite but moving into my second home in a distinctly Australian suburb.
Definitely not a digital nomad but certainly nomadic and able to work from anywhere thanks to the internet.
We can't be defined by where we live or what we do.
Nomadic Lifestyle
We can only choose a lifestyle that makes us happy 90% of the time. Living here in a stable country with good schools, fine weather and glorious beaches does that.
But I am also learning to be flexible and eternally grateful for all that is good in my life, even when things happen that I didn't choose or want.
I don't know how long I can stay in my new house or where we'll end up after that.
But all I can do is be happy that right now the sun is shining down on me and this old porch. Soon the kids will get back from school then we'll start unpacking and preparing for fresh adventures in our new home.
Nomadic, static or just down right erratic. Whatever you call it, life is good.
Share This Story, Choose Your Platform!