Sunshine Coast Staycation: Rumba Beach Resort in Caloundra, Part 2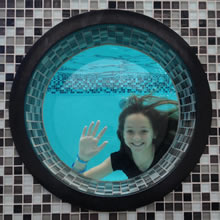 Sunday
As training for the half marathon fundraiser in Luang Prabang I was supposed to run
25km this morning. (Continued from Part 1) I set out at 5.55am and ran along the gorgeous waterfront walkways past Kings Beach, Moffat Beach and Dicky's Beach then onto the beach heading north past Currumindi Lake all the way to Kawana Waters 12.5km away.
It was a beautiful run and a perfect day but I did need music to keep my running on the way back. That's a long way!
It took me almost two hours and 40 minutes so I was plodding along and I came up short with the final distance 23.5km because I took some shortcuts on the way back. Still not a bad effort.
It was Father's Day weekend but our hero Rich cooked breakfast  and the children gave him gifts including a handmade card from Kiara.
It would be hard to beat our balcony for breakfast in style. The Glass House Mountains look amazing behind the Pumistone Passage and Bribrie Island is just across the water.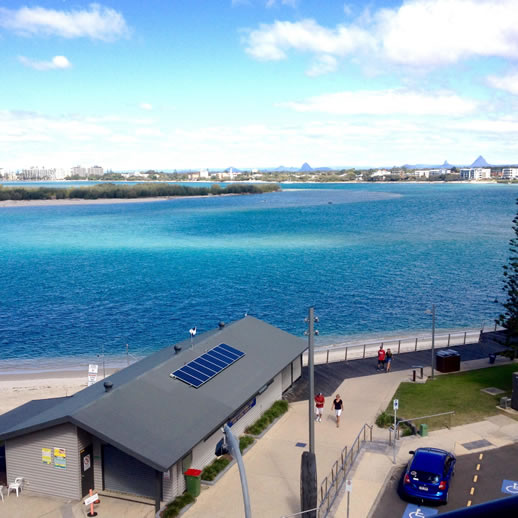 Then we borrowed Rumba Beach Resort's electric bikes which are brilliant. You can whizz along for miles and see all the sights without getting puffed out. We cycled past Golden Beach all the way to Jensen Park where the espanade walk ends.
The entire lengh of the esplanade was packed with people dog walking, fishing, picnicing, barbecuing, swimming or just enjoying a day with dad.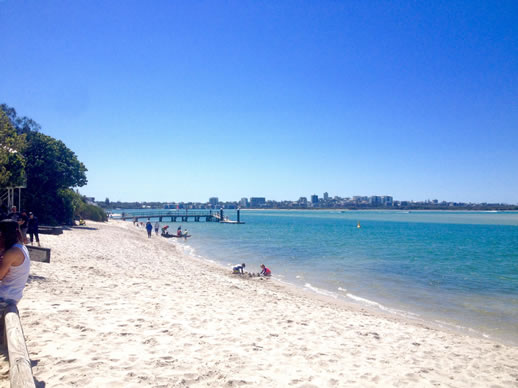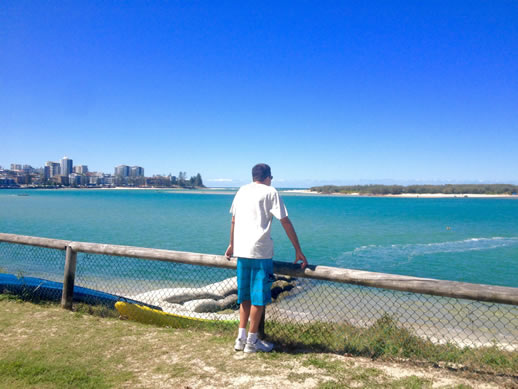 We took a million photos.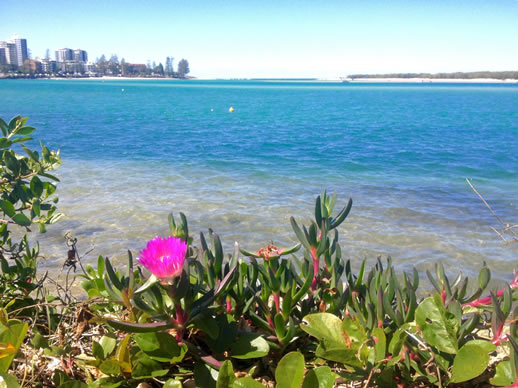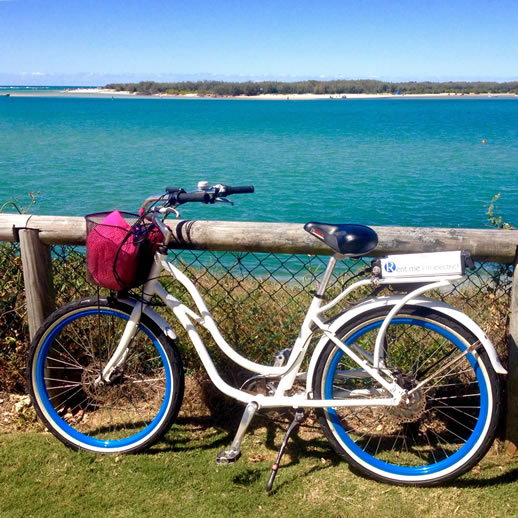 When we got back to the resort Kiara wanted to swim. Other guests were also enjoying the pool and the water was warm, even though this is winter on the Sunshine Coast. It's not winter as this Brit knows it though.
There's lots to love about life on the Sunshine Coast and the weather is definitely part of the attraction.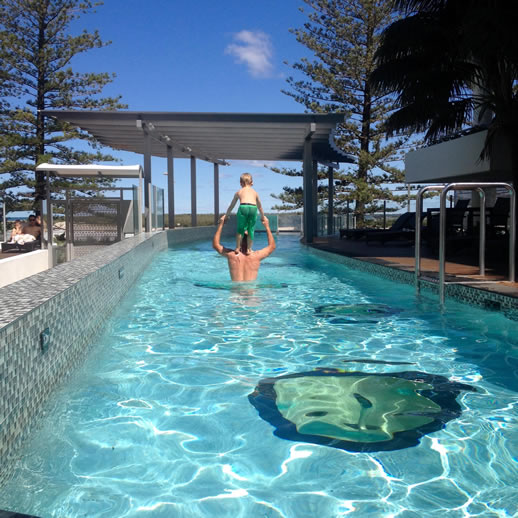 After a picnic lunch by the pool we jumped in the spa pool where I was able to find some relief for my weary thigh muscles.
We packed a lot into our staycation mixing outdoor activity with lazy days. A weekend staycation at Rumba Beach Resort was perfect but a long weekend would be even better. Just imagine how you'd feel after a whole week there.
If you fancy a Sunshine Coast staycation Rumba Beach Resort's the place.
We were guests of the Rumba Beach Resort during our stay but all opinions are my own. See disclosure for more information on my position on press trips, sponsored posts and advertising.
Get on the list!
Stay tuned for more travel stories, ideas and inspiration. Get free email updates from Get In the Hot Spot – a weekly injection of tips to help you be more adventurous and have more fun. Sounds good? Click here now for free updates.
For  more details on Rumba Beach Resort and Caloundra see:
Sunshine Coast Staycation: Rumba Beach Resort in Caloundra, Part 1
Visit the Rumba Beach Resort website for details on accommodation, prices and special packages.
Have you tried a staycation?
Share This Story, Choose Your Platform!