Caloundra Coasting: Exploring Six Beaches on Electric Bikes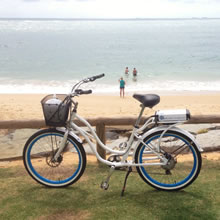 Finding fun activities for all the family can be tricky, especially when you're trying to please active tweens, cool kid teens and their weary middle-aged parents too.
What you hoped would be a fun-filled family escape can easily turn into a whinge fest if the balance isn't right.
But we nailed it on an electric bike trip in Caloundra.
Rumba Resort, one of our favourite weekend escapes on the Sunshine Coast, invited us back so we could test drive their electric bikes.
We took them out for a quick spin last time we visited but the weather wasn't great. So we were keen to go back and see if we could visit all six of Caloundra's beaches by electric bike.
On this visit the sun was shining and so were we. Even our oldest too-cool-for-school teen (16 years old, six foot 5″) agreed to come along on our electric bike trip, despite the legal requirement to wear an uncool bike helmets.
He'll never admit it to us but he looked as if he was having a lot of fun too.
The electric bikes are easy to get the hang of. They have seven gears and you can control how much back up power you get. One bar gives you a little assistance while five bars gets you cruising at up to 40km/hour (according to the big teen and not recommended) on flat ground or helps you speed up any pesky hills without breaking a sweat. We made quite a few cyclists jealous as we powered effortlessly up hill!
All the Candy kids love the electric bikes. Kiara (aged 10) is too small to handle one alone but she can ride on the back of the tandem bie4k very happily.
The single electric bikes are great for bigger kids, probably aged 12 or older, depending on their height and strength.
If you have a baby or toddler in tow, no problem, there are electric bikes available with baby seats on them too.
Oh the Places You'll Go!
Leaving Rumba Resort we headed north from Bullock Beach which is right opposite the Rumba and looked great from our ocean view apartment. Cruising along the bike path to Kings Beach where we whizzed round the fountains a few time for fun.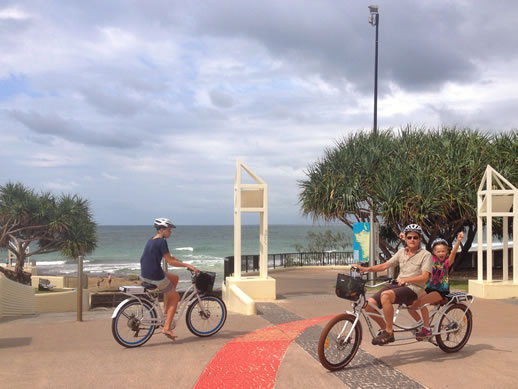 From Kings Beach it's a short up hill climb to Shelly Beach.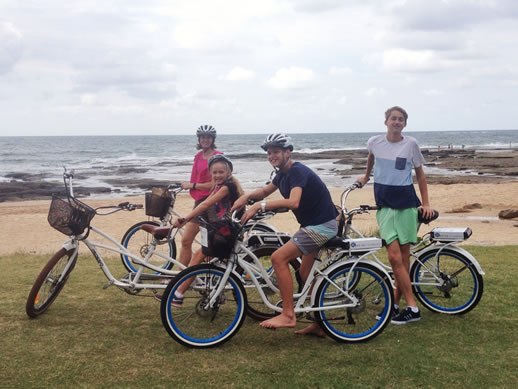 Then round the corner to Moffatt Head where the kids debiked and climbed down the cliff for selfie opportunities.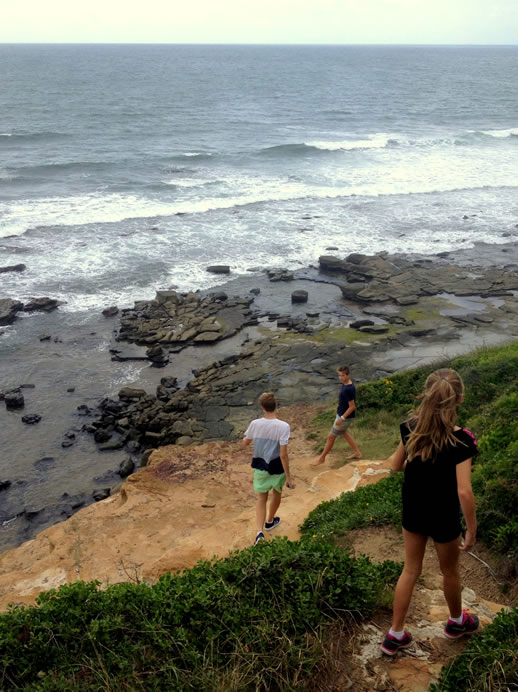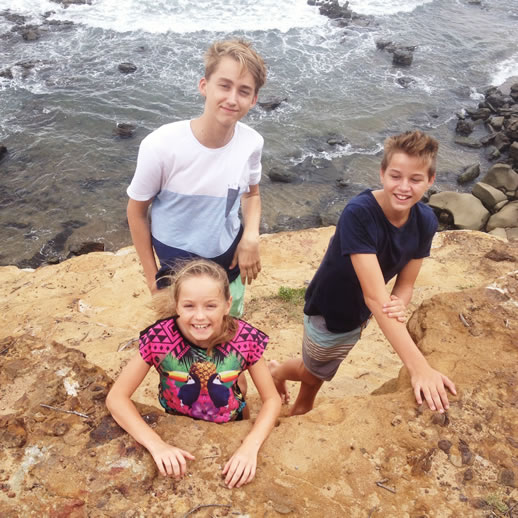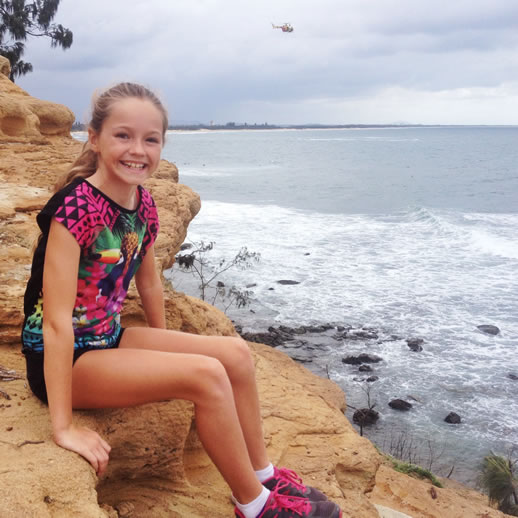 Moffat Beach is the prettiest of all – although I might be a bit biased since Moffatt is my maiden name!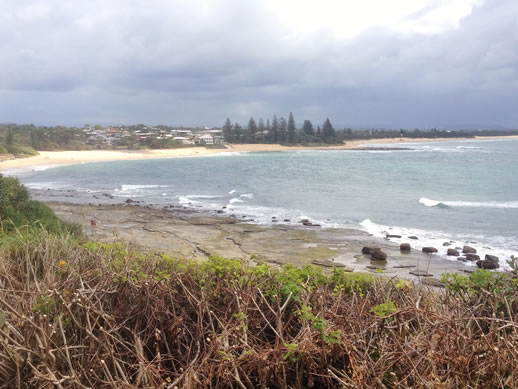 But there's more to see round the next headland at Dicky Beach.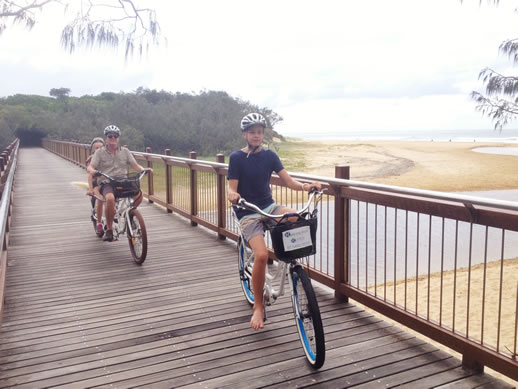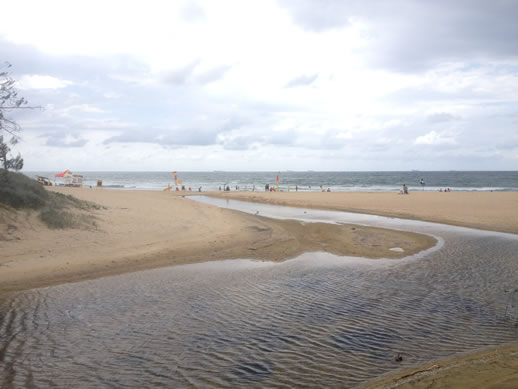 The gorgeous coastal scenery didn't end at Dicky Beach either.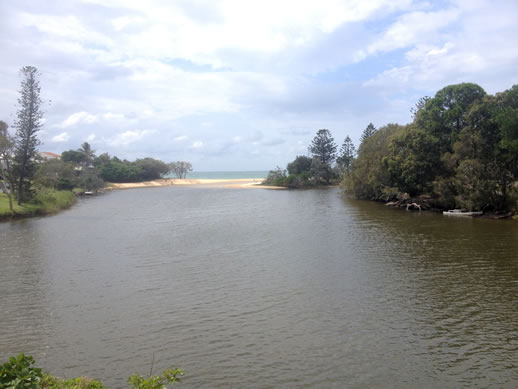 We were having so much fun on our electric bikes that we carried right on to Currimundi Lakes where a big creek widens out onto Currimundi Beach. It's stunning.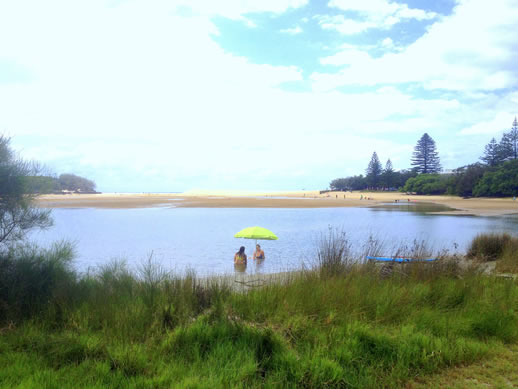 There's no bridge over the creek but the bike track carries on along the southern bank through shady trees.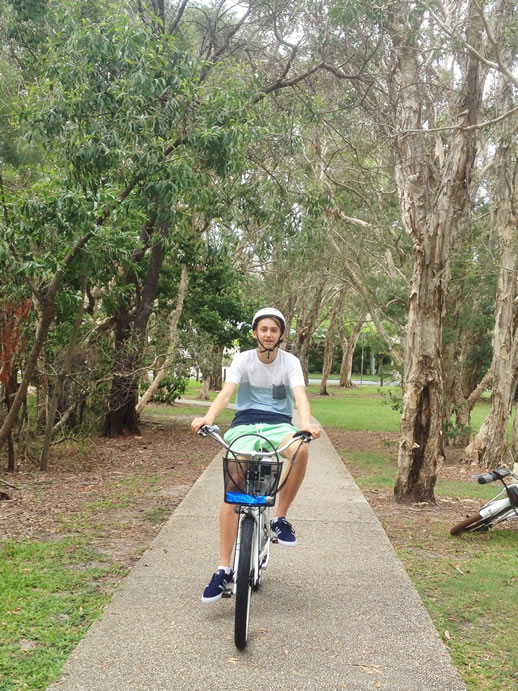 It would have been fun to explore more but, we'd covered about 10km and, with all the stops for photo ops, midday was approaching and the sun was getting hot.
We were also conscious that we needed to conserve battery life for the journey back to Rumba Resort. The electric bikes have a range of up to 50km on one batter charge depending on how much power you use but they are quite heavy and we did not want to be pushing them back up the hills.
In case you've been counting and noticed my maths is amiss there really are six beaches in Caloundra. The longest, not mentioned here, is Golden Beach which is south of Bullock Beach and easily reached along more lovely coastal bike tracks.
If you've got the inclination when you get back to Rumba Resort you can carry on another 4km south from Bullock Beach all the way along Golden Beach to the far end of it at Woorim Park.
But we'd had our fill of family fun for the day and our tummies were rumbling after a morning of fresh air, sunshine and biking.
You get just the right amount of exercise on a long electric bike ride; enough to help you build up a healthy appetite but not enough to wear you out for the rest of the day.
If you're looking for some good, clean family fun with lots of fresh air and exercise, electric bikes are the way. You can coast for miles on an electric bike so they're prefect for Caloundra where there's miles of stunning coastline to explore.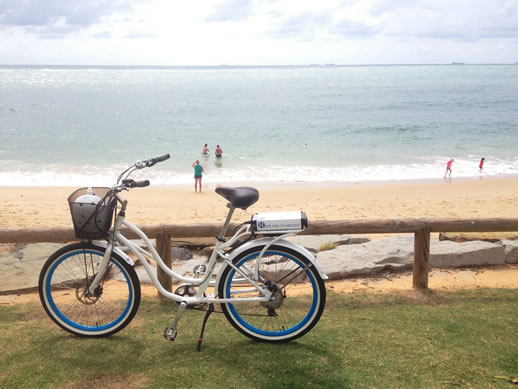 Electric bike hire in Caloundra
Most of the coastline can be explored off road on bike tracks but there are a couple of very short parts where you need to go on the road.
Electric bikes can be hired from Rumba Resort on Leeding Terrace, Bullock Beach, Caloundra. To book call 07 5492 0555 or email the friendly team at [email protected].
As of March 2015 the costs are:
Single electric bike hire  – $30 for two hours or $40 for four hours
Tandem electric bike hire – $40 for two hours or $60 for four hours
The six beaches of Caloundra to explore from South to North are:
Golden Beach
Bullock Beach
Kings Beach
Shelly Beach
Moffatt Beach
Dicky Beach
Have you ever tried an electric bike?
Share This Story, Choose Your Platform!