Family Escape at Rumba Resort in Caloundra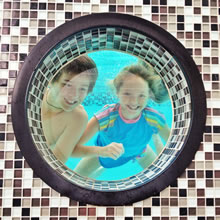 Spending quality time with the kids always tops my wish list but only really happens when we go away on a family holiday. Despite my best intentions, when we're at home there's always too much on. Either I'm busy, one of the kids is or, more likely, we all are.
Our house feels like a youth drop in center at times too, meaning there are always extra kid or three around. Like many mums I feel that when we're at home it's all about cooking, cleaning, laundry and nagging the kids to do their jobs.
Which is why I love family holidays. For me a family holiday means having time to get out of the routine, stop doing chores and do fun stuff with the kids without any distractions.
So when we got invited to stay at Rumba Beach Resort in Caloundra I couldn't have been happier.  The timing was perfect right at the start of the school holidays so it was the perfect way to celebrate the end of the school year and the beginning of our long summer break.
So how did it work out? Here's what we liked about our family escape at Rumba Resort.
Location
Rumba Resort is perfectly positioned right on the waterfront in the center of Caloundra. It's an easy 30 minute drive from either Brisbane city, Brisbane airport or Sunshine Coast airport which makes a relaxing start to your holiday because less time travelling means more time having fun.
The resort looks out across the Caloundra Esplanade and sheltered Pummicestone Passage to Bribie island. There are miles of walkways and boardwalks along the coast in either direction for strolling, biking or skateboarding, with one playground just around the corner from the resort and more playgrounds further round the walkways.
Just downstairs from the resort the esplanade is packed with restaurants, from family (and budget) favourites like the Coffee Club and Hog's Breath, to more up market options where you could enjoy a special meal.
Even though you feel as if you're at the seaside when you stay at Rumba because of the amazing sea views, the town is just on the other side of the resort with a handy convenience store that's open early and late as well as more restaurants, cafes and shops. We spotted an Italian restaurant that looked good and La Casita mexican restaurant just down the road would have ticked the boxes for the kids too.
There's a big underground car park below Rumba Resort and I loved that we could park up and then get around by foot. For me that makes the holiday more relaxing because everyone can go at their own pace, break up into smaller groups and avoid spending too much time squashed into the car. But if you've forgotten something there are some big supermarkets less than a five minute drive away where you can easily stock up on all your essentials.
 2. Facilities
Rumba Resort is the only five star resort in Caloundra and it deserves those five stars. All the accommodation is fully self-contained with suites and ocean apartments to suit your family size. We checked into one of the biggest three bedroom apartments on the ground floor and I was impressed.
Our apartment was a long skinny wedge shape with two bathrooms, a kitchen and living area as well as the three bedrooms and a massive balcony looking out across the inlet and towards the open sea. I loved that balcony, it felt like being in a private box where we could either hideaway on one of the loungers or sit up to watch the currents, tides and seabirds and spy on the other holiday makers on the esplanade.
As a mum I much prefer to stay in a self-catering apartment because, although I'd love to eat out every meal, that's not practical with three big hungry kids to feed. But all too often when you self-cater the kitchen can be disappointing or just plain annoying because it's missing a simple piece of equipment like a colander or cheese grater. That was not the case at Rumba Resort.
Although the kitchen was small everything was neatly packed in including a dishwasher (hooray!), huge fridge with room for a weeks's worth of family food and plenty of cutlery, plates and glasses so you won't have to wash up constantly. They even had a full sizeoven which looked as if it had never been used as well as a microwave and a fancy coffee machine which Luke (aged 16) loved. He needs a kick start in the morning and fancies himself as a budding barista.
Free WiFi was much appreciated too. It's essential when you've got teenagers and meant everyone could tap into the Internet without yours truly having to worry about the bill.
My favourite facility was the huge round spa bath in my master bedroom ensuite and I was also impressed with the clearly labelled light switches. I've had some very frustrating hotel experiences where it takes me 20 minutes to work out how to turn the lights off at bedtime but Rumba Resort had me covered. There was even a special light setting for watching TV and the air-conditioning can be programmed separately in the living room and the three different bedrooms. So no arguments about that.
The resort feels quite small and intimate but outside the kids counted four pools: a warm jacuzzi, a lap pool and a big pool with a separate smaller spa bath at the end. The entire end of the lap pool has a transparent glass wall which can be viewed from the esplanade and several portholes which the kids can peek out of when they dive underwater. They had a lot of fun posing for underwater photos.
There's no in-house spa at Rumba but if you want to get your pampering in the Bliss Day Spa is nearby and can cater to all your needs. I also noted plenty of Thai massage shops around town a few minutes walk from the resort which would be perfect for a quick, cheap pummelling.
Lots to do
Because Rumba Resort is right in the middle of Caloundra there are plenty of ways to entertain both kids and adults as soon as you step outside. You can swim in the pools, the sheltered inlet or round the corner in the open sea. There's bodyboarding or surfing on the open beach or stand up paddle-boarding, kayaking or sailing on the inlet. So there are lots of ways to get the kids outside, off their mobile phones and into the great outdoors.
Eating and shopping options are plentiful too, not just at the restaurants and shops below the resort. When we visited there was a twilight market on Friday evening along the esplande outside the resort and another market in town on Sunday morning. Both markets had lots of interesting food and gift ideas. We bought some citrus juices, fudge and bamboo sunglasses for Luke.
If you're staying longer and have more time there are some major tourist attractions within a 60 minute radius including Australia Zoo, Underwater World and Aussie World. For wet weather, or when you need to get out of the sun, there's the Caloundra Rollerdrome, the Big Boing indoor trampoline center and several major shopping precincts within a 15 minute drive.
My personal highlight was borrowing the electric bikes and going for a spin down the esplanade. The weather wasn't great during out stay in Caloundra but that meant we had the whole path to ourselves so we could hoon along on our bikes. We covered a few kilometers and went all the way to Jetsens's Point. The electric bikes gave us all the fun and fresh air of cycling but none of the usual complaints from the kids about being tired. They loved them.
As soon as you turn the pedal on the electric bikes the motor kicks in and gets you cruising along at a pleasant 20 km/hour with no work involved. Some of the bikes have a baby carrier on the back if you have little ones. We borrowed the tandem bike putting our smallest child, Kiara aged 10 on the back which she loved. Her big brother Max enjoyed giving her a ride too.
We spent a restful weekend at Rumba Resort but could have easily stayed for a week or longer. It's the kind of place where you can relax instantly on a weekend escape or happily settle in for a week or longer. In fact, you'd be hard pressed to beat Rumba Resort for a family holiday. I'd give it a perfect ten out of ten.
Find Out More
Check the Rumba Beach Resort website for details on accommodation, prices and special packages.
Would you enjoy a family escape at Rumba Resort in Caloundra?
We were guests of the Rumba Beach Resort but all opinions are my own. See disclosure page for more information on my position on press trips, sponsored posts and advertising.
Share This Story, Choose Your Platform!