Sunshine Coast Staycation: Rumba Beach Resort in Caloundra, Part 1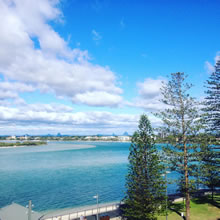 Staycations are increasingly popular. Not only do we have less time for overseas vacations these days but, if you live in Brisbane, the Sunshine Coast or the Gold Coast, there's no real reason to go overseas anyway.
We Queenslanders are blessed with warm, sunny days and some of the most beautiful coastal scenery in the world.
So, if you live on or near the Sunshine Coast, even a dedicated  traveller like me, will start to wonder what the point of going overseas is. Going overseas can be hard work but staying close to home is easy.
Staycations aren't just easy to fit in anytime. They're also a great way to save money (or get more bang for your buck), avoid a long, tiring journey and make sure you get the great service and food we're used to in Australia.
These days I won't take more than two overseas trips per year because the journey is so taxing, both mentally and physically. Maybe it's my age! Anyway, these days I prefer to have lots of short breaks peppered throughout the year rather than just one big trip.
As a family we're definitely enjoying more staycations than ever before.
One place we keep going back to for our staycations is the Rumba Beach Resort in Caloundra. It's the fourth time I've stayed there and during our most recent visit, once again it didn't disappoint.
Find out more about Rumba Beach Resort
Why we love Rumba Beach Resort
Convenenient location in Caloundra, an hour's drive north from Brisbane or south from Noosa;
Right on the waterfront and in town with beaches, walking tracks, shops and restaurants literally on your doorstep;
Big roomy one, two or three bedroon apartments with plenty of room for families to spread out;
Fully self-contained apartments with a well-stocked kitchen and full laundry facitilites;
Free WiFi so the whole family can do their thing online with no restrictions;
Two lovely big pools for playing or lap swimming and a spa pool to relax in;
Amazing views from the waterfront apartments.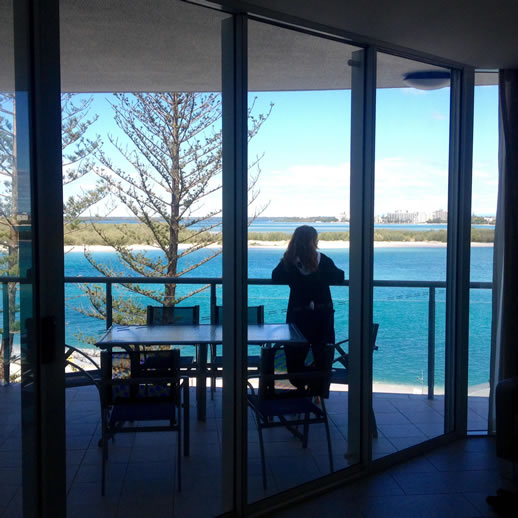 So what did we get up to on our latest weekend away in Caloundra?
Friday
The sun was setting by the time we arrived and the kids were hungry so I cooked a quick meal of teriyaki salmon, noodles and salad. I'd anticipated everyone would be starving and marinated the salmon before we left home. Phew!
After supper we wandered downstairs to walk along the waterfront and through town. We wanted to check out the restaurants and menus to plan where to eat out on Saturday.
We accidentally discovered an arts festival in town with dancing, music, food and more. Unfortunatly we were a bit late the the party but it looked like lots of fun had been had.
We ended up joining the crowds in the Baskin and Robbins icecream shop where Kiara celebrated the start of her weekend with a Turkish delight sundae and Max modestly chose a single scoop of Rocky Road in a waffle cone.
Rich and I elected to eat neat chocolate back at the apartment. I enjoy a quiet night in on Fridays!
Saturday
Rumba Beach Resort is perfect for parkrun tourists with the popular free timed 5km run or walk held every Saturday at 7am at Golden Beach. It's an easy flat run along the scenic waterfront and starts about 4km away from Rumba Beach Resort.
Last time we stayed here on a Saturday I drove to the parkrun event but this time I ran there as my warm up.
18 months ago my Golden Beach parkrun time was 30 minutes 25 seconds. This time I set a new personal best for all parkrun 5km courses completing it in 24 minutes 15 seconds. Then, feeling  tired but happy, I ran back to Rumba Beach Resort.
Rumba Beach Resort is so comfy and the views over Pumistone Passage to the Glass House Mountains so captivating that no one wanted to go anywhere today. I feel guity writing that although the point of going on holiday should be to do nothing which is what we did.
Well, not quite nothing. First we nipped to a nearby supermarket and stocked up on edible goodies and the Saturday papers which I love.
Then we came back to the apartment where the kids had a quick swim and Kiara posed for her underwater portrait.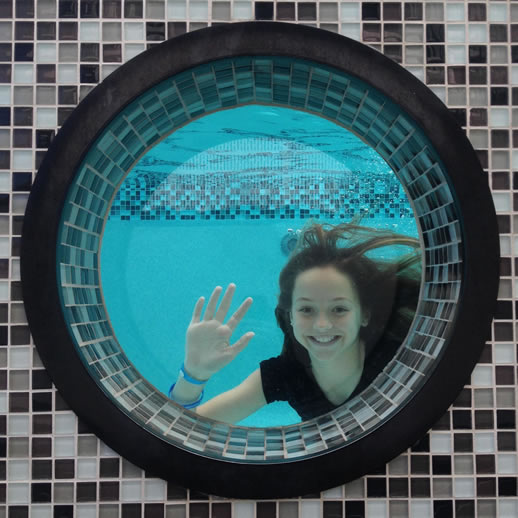 Next we feasted on freshly baked bread, smoked salmon, fine cheeses and deli delights on our balcony.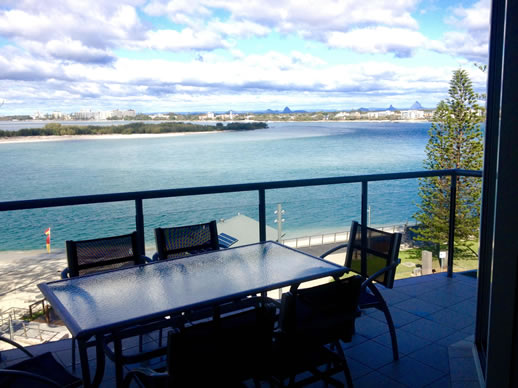 In the afternoon we  walked the kids to the cinema where, for the bargain price of $9 each, they watched the new Kubo Japanese animated movie. Instead of watching the movie with them I picked up a new pair of running shoes which set me back a small fortune.
Then we went back to the apartment to recover and lounge around some more. The kids walked home and joined the lounging around. Don't judge me for letting them! Look how happy they are…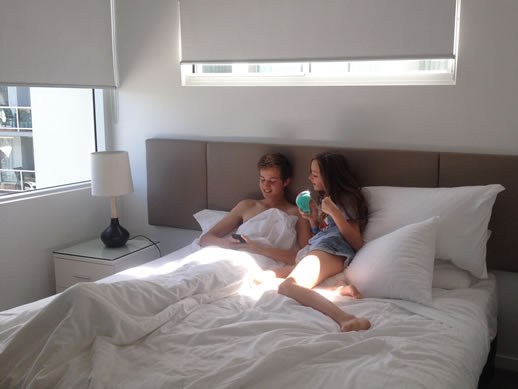 Just before sunset when the light was golden we wandered along the beach.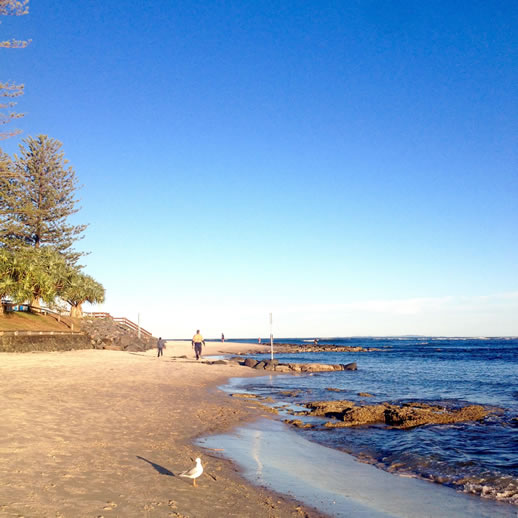 I love the magnificent pandanus trees standing guard along the coastline.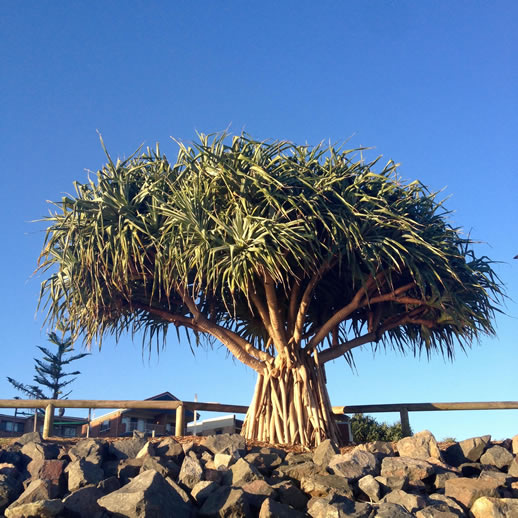 In the evening there was a free circus performace at nearby King's Beach. We walked there, joined the crowds and ordered takeaway pizza.
There were so many people mobbing Pappar'delles Italian Restaurant that it took them an hour to produce our pizzas. They were good ones though and worth the wait.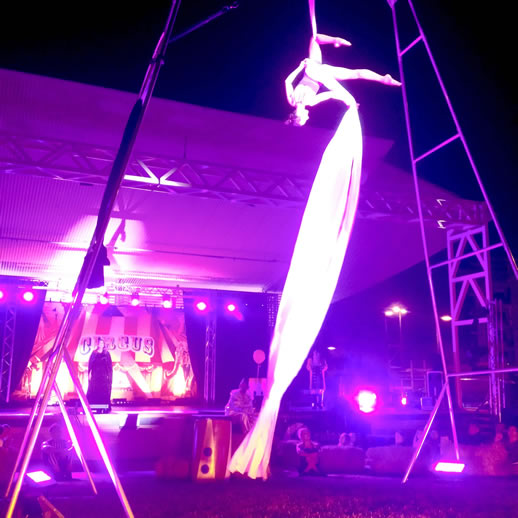 The circus was fun but after sitting on the grass outside for two hours we opted to head back to our comfy apartment during the intermission. We played a board game and then I retired to bed with my book. I needed to rest up to get the most out of my weekend…
For  more details on Rumba Beach Resort and Caloundra see:
Visit the Rumba Beach Resort website for details on accommodation, prices and special packages.
Stay tuned for part 2 coming soon!
Stay tuned for more travel stories, ideas and inspiration including part 2 of our Sunshine Coast Staycation at Rumba Beach Resort. Get free email updates from Get In the Hot Spot – a weekly injection of tips to help you be more adventurous and have more fun. Sounds good? Click here now for free updates.
We were guests of the Rumba Beach Resort during our stay but all opinions are my own. See disclosure for more information on my position on press trips, sponsored posts and advertising.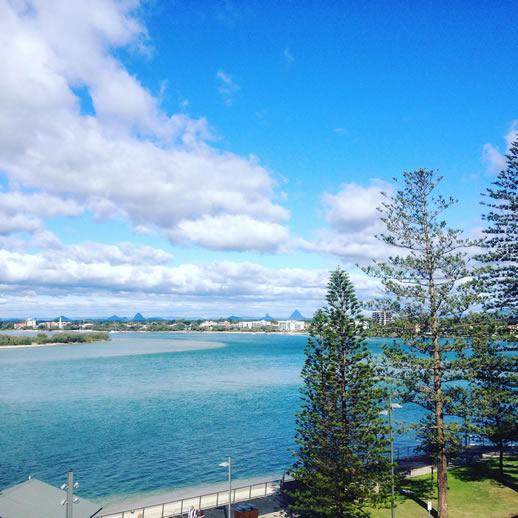 Have you tried a staycation?
Share This Story, Choose Your Platform!