Training for a Half Marathon in Luang Prabang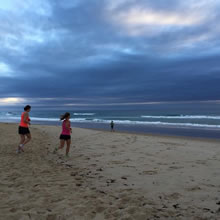 Running is becoming more and more popular, especially with women. Although I'm a late bloomer when it comes to running I've become a regular runner over the last couple of years, but I certainly never dreamed of or planned to enter a running event.
I love my regular Saturday morning free parkrun events because they've given me the motivation to challenge myself and become fitter than I've ever been before, despite my advancing years. Running further and faster has helped me learn to believe in myself and my capacity to perserve, draw on my inner strength and endure pain. All qualities that we need to thrive in life, especially as we age.
Despite that, I couldn't see why anyone would endure a run longer than five kilometers (about three miles), or why anyone would pay to run in a pack with hundreds of other people. So apart from one fun run, I've never entered a serious running event and never wanted to.
However, that all changed when Scoot Airlines and Sofitel Hotels invited me to travel to Luang Prabang in Northern Laos to take part in a half marathon to raise money for the local children's hospital. Suddenly I had a good reason to run 21 kilometers (13 miles) with a whole bunch of other runners.
The Luang Prabang half marathon will take place on October  23rd and, since I don't do anything by halves (apart from marathons of course!) I've already chosen a training program and started running my heart out.
Last week I ran 68 kilometers (42 miles) as part of my training plan. Phew! In order to achieve those distances, stick with the training plan and stay healthy I also have to spend a lot of time stretching and be in bed at 9pm every night so I can get up at 5am for my runs.
Naturally I am an alchohol-free zone these days and intend to stay that way until the race is over.
What's so special about Luang Prabang?
I lived in Laos in 1993 and loved it. In case you've never heard of the People's Democratice Republic of Lao, it's a land-locked country in South East Asia that borders Cambodia, Myanmur, Thailand, Vietnam and China.
Laos is unique in being a communist country that embraces buddhism with Luang Prabang the spiritual capital. Luang Prabang was also the royal capital of Laos until the communist take over in 1975.
The entire town of Luang Prabang has been world heritage listed by Unesco because it's "an outstanding example of the fusion of traditional architecture and Lao urban structures with those built by the European colonial authorities in the 19th and 20th centuries. Its unique, remarkably well-preserved townscape illustrates a key stage in the blending of these two distinct cultural traditions."
It's not just me who thinks Luang Prabang is a special place. Located in the north of Laos, Luang Prabang is nestled on a peninsula between the Mekong and the Nam Khan Rivers and surrounded by lush greenery and mountains.
The town itself is stuffed with fine architecture, ornate temples and orange-robed monks who all parade through the town every day at dawn.
So it's worth running a half-marathon for, especially because I'll be raising funds and awareness for the Lao Friends Hospital for Children. Even though I have to endure 13 weeks of training, running miles, getting up in the dark and forsaking alchohol!
Can you spot me in the photo below?! Hint… I'm at the back of the pack :)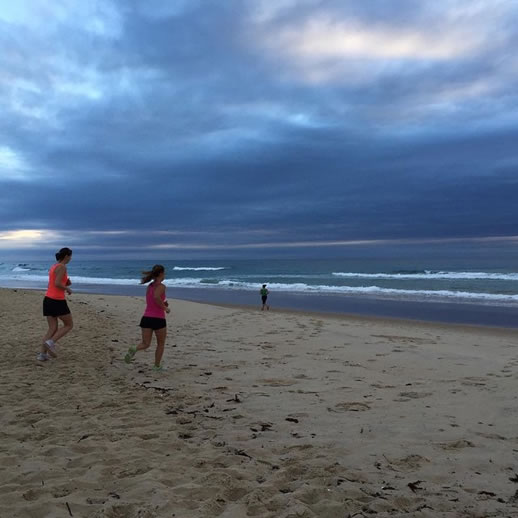 Please Sponsor Me Now!
100% of ALL donations will be directly given to Lao Friends Hospital for Children. Click here to add your donation via my CrowdRise fundraiser page – it automatically transfers your donation into the Lao Friends Hospital for Children charity account. Isn't technology magical these days? And so are you!
THANK YOU so much for donating. You can't imagine how  much it means to me and what a huge difference it will make to help sick children in Laos get healthy.
Do you have any goals at the moment or any travel plans to look forward to?
Are you a travel lover and adventure seeker?
Get free email updates from Get In the Hot Spot for a weekly injection of tips to help you be more adventurous and have more fun. Sounds good? Click here now for weekly updates.
Share This Story, Choose Your Platform!