Long Lunch in Italy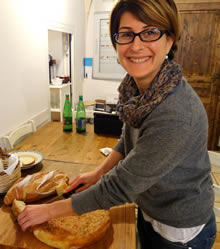 I visited Italy with high expectations for the food and wasn't disappointed. Although they were all different every eating experience blew me away and everywhere we went in Puglia, including the Salento region, it's capital Lecce and in the Valle d'Itria, we were served amazing food.
How to Eat in Pulgia: Salento Specialities is a good introduction to eating in Puglia, and there are many similar food specialties in both the Salento and Valle d'Itria regions of Puglia, but I want to share an extra special and very long lunch I enjoyed at A'cr'ianz Restaurant in Putignano in the Valle d'Itria.
Putignano is a leisurely 30 minute drive from Locorotondo and, although it's not as picturesque as Locorotondo, it has lots to offer including one of Italy's biggest carnivals (held annually in February and March) and the labyrinth of amazing caves at Grotte di Castellana.
A'cr'ianz Restaurant is tucked away outside Putignano's city center down a narrow pedestrian alley.
The owners chef Stephano and his wife Valentina are heavily involved in the local slow food movement centered around using local produce and cooking them with love.
A'cr'ianz isn't really a restaurant it's an osteria which translated means an inexpensive regional Italian restaurant serving simple, traditional, handmade food and wine.
Unlike in bigger restaurants you get a very personal experience and will be cooked for and served by the ever-smiling Stephano and Valentina.
A'cr'ianz is small but perfectly formed with a domed ceiling typical of the area, wooden tables, white-washed chairs and brightly colored ceramics.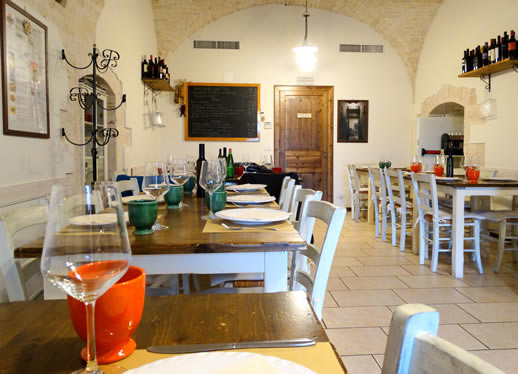 When we arrived Valentina was slicing freshly baked bread and foccacia, a type of flat Italian bread made with olive oil and the whole restaurant was filled with the smell of bread, herbs and stewed tomatoes.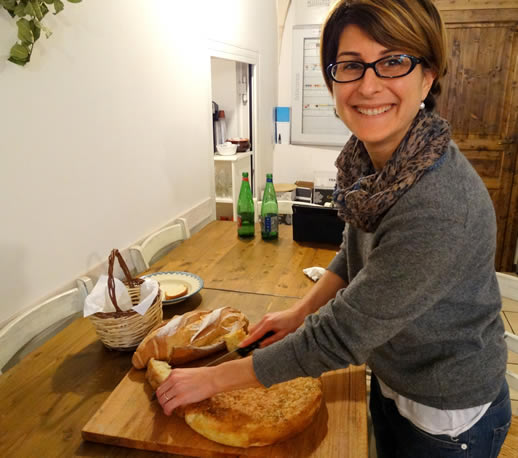 Stephano invited us to look around the kitchen and explained that having an open kitchen his guests can see is an important part of his cooking philosophy so he can show people everything is made from scratch from the best ingredients.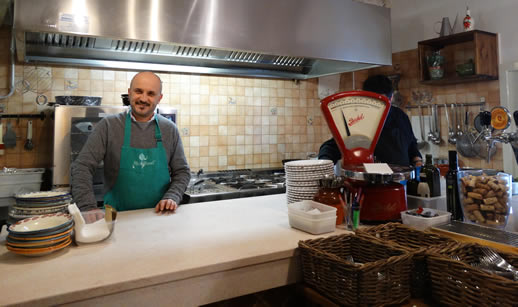 The menu which changes according to what's seasonal and fresh is written up on a traditional blackboard.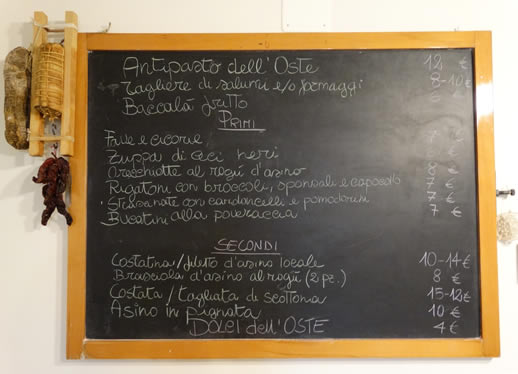 We started with the antipasti dell'oste which literally means 'the host's starters'. The antipasti will change daily according to the seasonal produce available but we were soon tucking into a huge array of dishes which included ricotta and mozzarella (made locally from cow's milk), broad bean purée, green peppers, bread balls in sauce, aubergine soufflé (which was amazing), wild herb cake and lampascioni.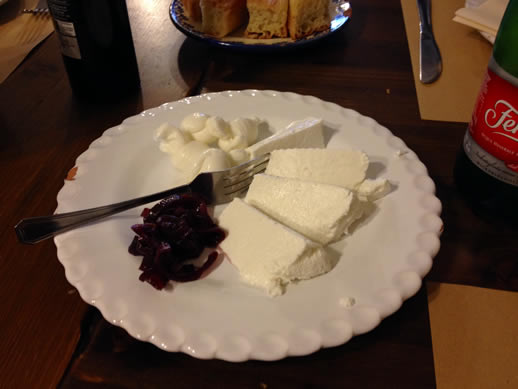 Lampascioni, a small onion similar to shallots, are a local specialty which Stephano grilled so the onions opened up like a flower and served with a reduction. As you can see all the antipasti were vegetarian and perfect for a veggie lover like me.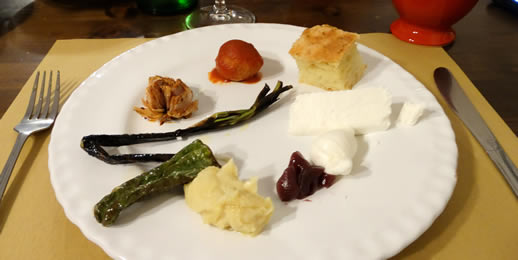 After the antipasti came the primo or pasta dish and we were delivered a plate of Strascinati con cima di rapa. Strascinati is a fresh pasta, similar to orecchiette which is popular in the rest of Puglia, but where orecchiette means 'little ears' and are shaped like ears strascinati pasta is shaped by being dragged with a finger across the work surface.
Cima di rapa is the green top of the rape plant and the pasta dish was sprinkled with bread crumbs and topped with a tiny tomato. This dish tasted rich and earthy. Even though it's made from simple ingredients it tastes divine and is definitely one of my favourite local dishes.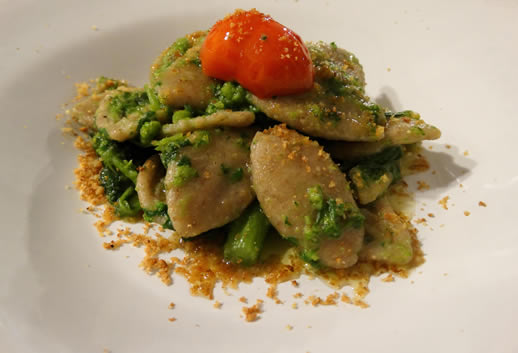 After the primo or pasta course comes the secondo, the meat course, in this case braciola d'arsino al ragu; meatballs stewed in a rich tomato sauce which had been cooking all morning. We'd been served meat balls before in Puglia made from horsemeat but these ones had a twist as they were made from donkey meat.
Donkeys are still used in Puglia on the farm and when they get too old to be useful any more they're added to the pot. I passed because I don't eat red meat everyone else said the donkey meat balls were tender and delicious served with chickpea and barley flower sprinkled on top which is a specialty of Putignano.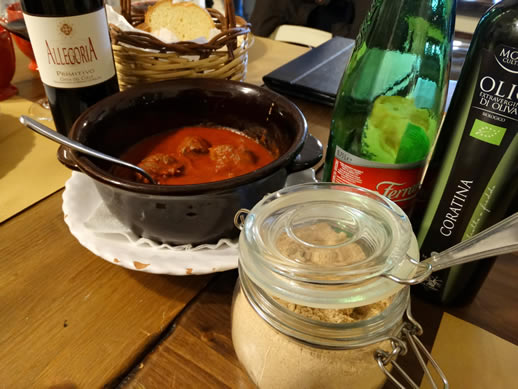 As I chocolate lover I was very excited to be served fruit ricotta with chocolate for dolce along with sweet fried pasta which is typically made for the carnival and a fruit tart with berries. The pastry was perfect.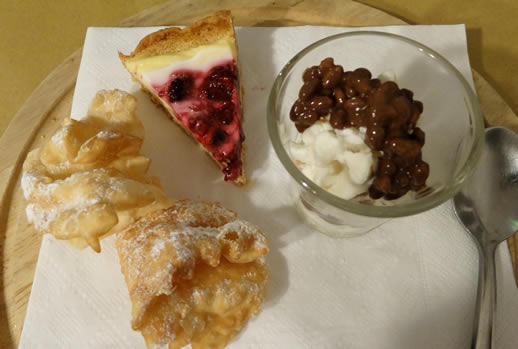 Being Puglia the meal was accompanied by lashings of Primitivo wine from the local area, a grape which is more famously known as Zinfandel in California although the grape was origially taken there from Puglia.
We finished our lunch with two types of liquor made in the restaurant and flavored with lemon and almonds. The sweet almond liquor tasted like marzipan and after a quick snifter we definitely needed the black coffee to set us up for the rest of the day.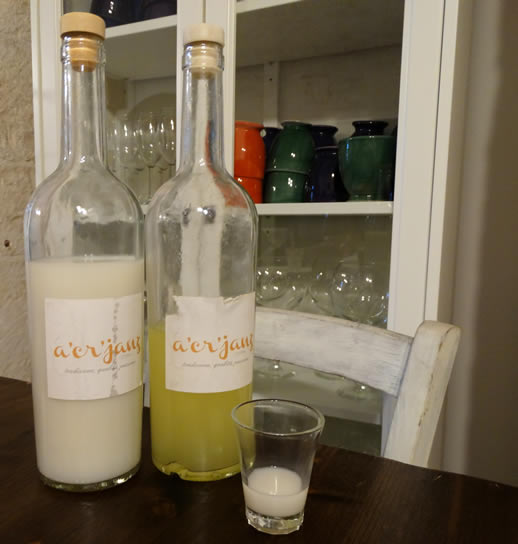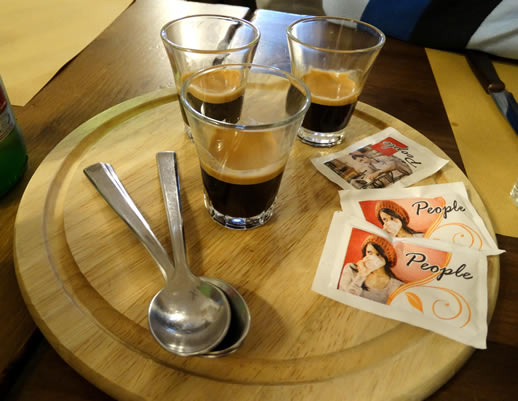 Now that's what I call a decent meal. Lunch ended at 3pm so it cuts into your sightseeing time but that's all good because in Putignano lunch at A'cr'ianz is a five star attraction.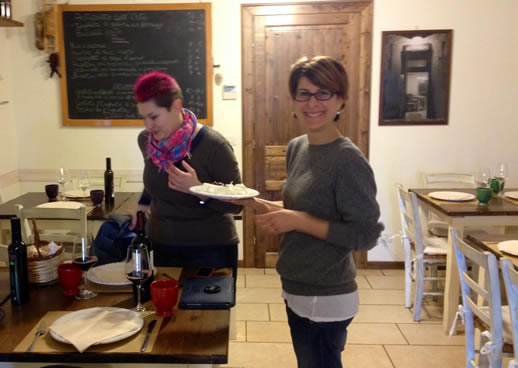 How to find A'cr'ianz Restaurant
Putignano can be easily reached via Bari or Brindisi which both have local and international flights. We hired a car and stayed in Locorotondo which makes a great base for exploring the Valle d'Itria area which is famous for the conical rooftops of its trulli.
Check out the A'cr'ianz website here and visit them at Porta Barsento 8, scalinata per via Goito (nell'orto di San Domenico) 70017 Putignano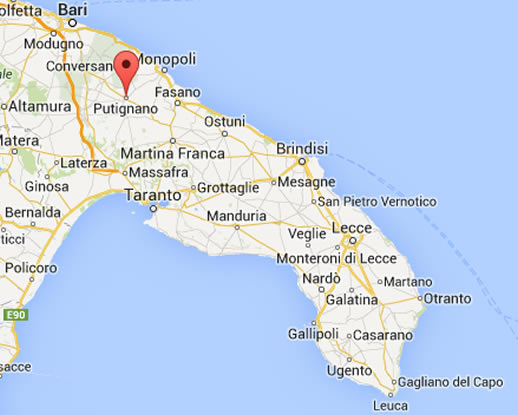 Have you had any long lunches lately?
Share This Story, Choose Your Platform!