Eating, Drinking and Sleeping in Locorotondo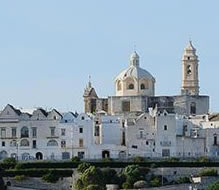 In a country famous for its beautiful towns and a region full of them, Locorotondo is reputed to be one of the most beautiful towns in Italy.
Deep in the heart of the Valle d'Itria in Puglia, Locorotondo is picture postcard perfect and deservedly listed in La guida dei Borghi più belli d'Italia (The Guide to Italy's Most Beautiful Towns).
Set high on a hill, the perfect natural fortress, Locorotondo has a round historical center and is now as well known for its wines as it is for its white limestone buildings and churches dating back to the seventeenth century.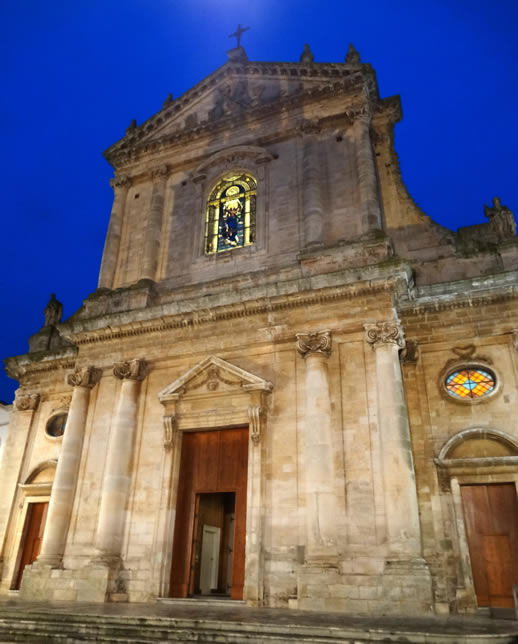 The history of Locorotondo goes back much further though. The site has been settled since ancient times and the foundation of the town dates back to around 1000 AD but it's still a living town, with a population of around 14,000 today.
The white limestone houses, baroque architecture and maze of alleys are best explored on foot. Although some of the intrepid locals manage to squeeze vehicles up its narrow passageways I don't recommend trying it.
It's more fun to explore Locorotondo on foot anyway and once inside the city walls there are slanted staircases, intriguing doorways and romantic balconies everywhere, all hung with colorful blooms.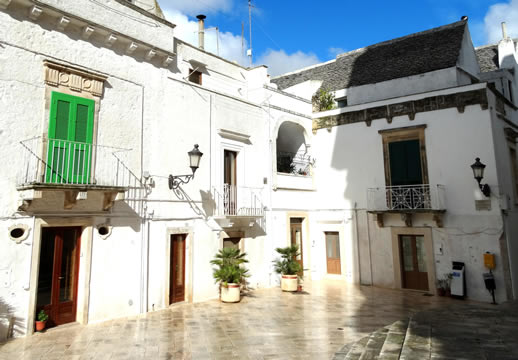 Another typical feature of the historical centre of Locorotondo are the unusual pitched roofs called cummerse, hence the name of a new holiday accommodation offering called Sotto Le Cummerse which means 'under the pitched roof'.
Sotto Le Cummerse is a relatively new concept in accommodation. Known as an albergo diffuso it's a hotel that's spread out through Locorotondo town. The idea is that visitors can rent one of the apartments which are dotted around the old town and experience life as a local.
My brother Tom and I park our rental car easily outside the town walls and check into the Sotto Le Cummerse reception area. Once the paperwork has been sorted out we're led through an old gate, up a narrow alley and down several more alleys of ever decreasing size to our apartment Casa del Concerto.
We heave our bags up a narrow staircase and put them down in the kitchen. It's tiny but has everything we need and more, including cooking equipment and a fancy coffee machine.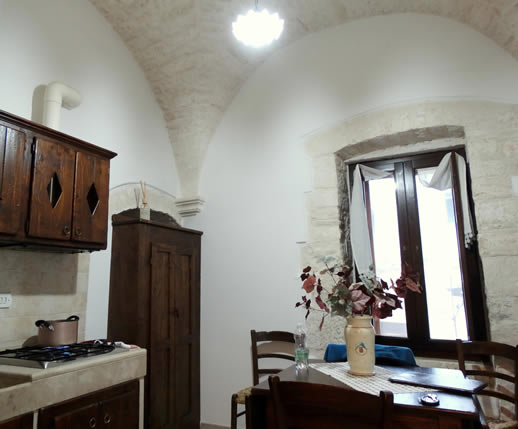 Up another narrow staircase are two bedrooms. My ever-gallant brother let's me have big room again with the gorgeous domed ceiling and huge wrought iron bed gracefully backed by a yellow wall hanging. I love it.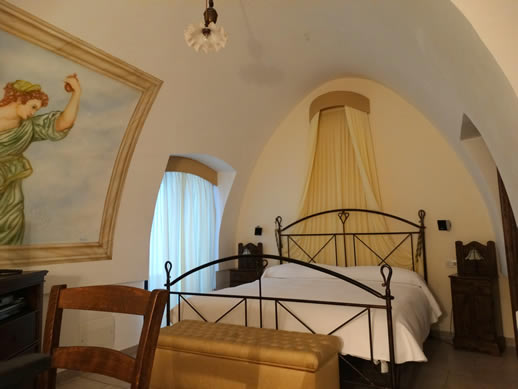 There's a smaller room for him with a single bed and he's very happy with that plus a big bathroom for us to share with his and her sinks, a loo, a bath/shower combined and of course a bidet which features in every Italian bathroom.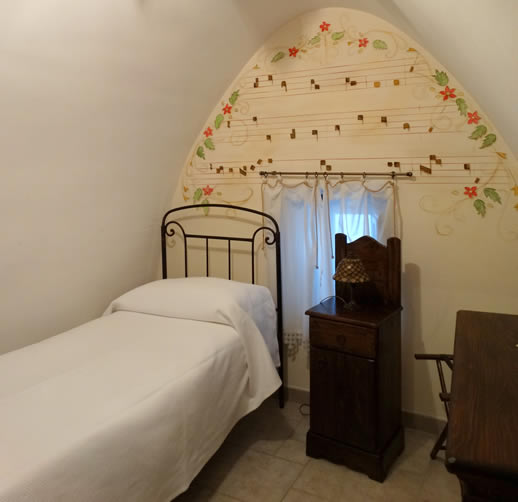 As we leave later to start exploring the area the only concert going on is the gently snoring of the man in the apartment next door. We guess the beds must be comfy.
I used to get nervous about meeting people who I'd previously only met and talked with on social media in person but I've been doing that for years now, so I'm excited about meeting Get In the Hot Spot reader and my blog consultation client Grace Kelly, who created the wonderful City Girl Confidence blog and who, by an amazing coincidence lives in Locorotondo.
Grace picks us up at reception and is even lovelier in person than she seemed online. We drive to Pupi e Pupe Cocktail & Smart Lounge, a new bar in the new part of Locorotondo which Grace has recently discovered and loves.

It's chic, shiny and fun. We love it too, even more so when Gianni the owner tell us:
"I can look into people's eyes and tell what wine they will like."

"You can look into my eyes anytime," says Grace.
Of course the local wine Gianni chooses for us is excellent and we order food to go with it which includes a tasty assortment of nibbles served tapas style.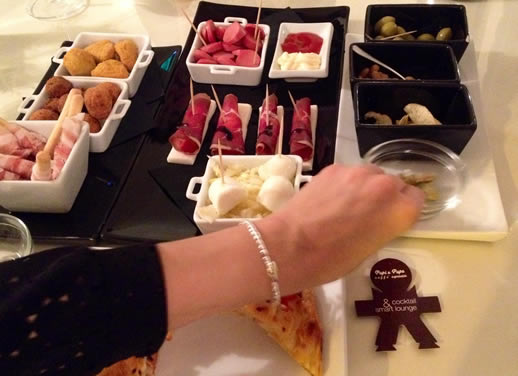 Behind the bar I notice a young Elvis look-a-like. He has the baby face, the air of insouciance and the giant quiff. I wish one of my gorgeous young single friends were here to take advantage of this opportunity. Holly G – if you are reading this I am thinking of you!
I take a photo but it comes out a bit blurry. I might have been feeling all shook up.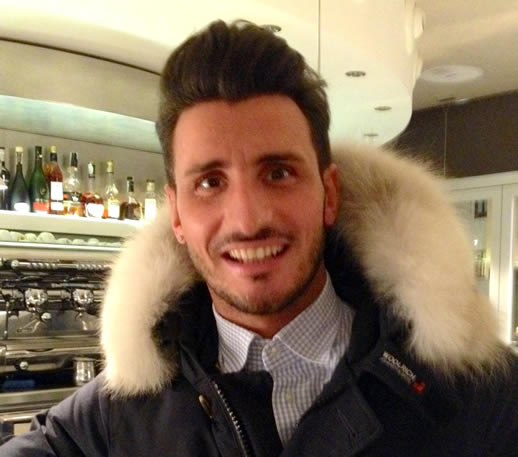 After Grace drops us off back at the Sotto Le Cummerse reception we decide to see what else is going on in Locorotondo. A  Redfoo look-a-like (it's clearly a night of look-a-likes) walks by and we ask if there are any bars nearby.
That's how we discover the Barba Baffi e Pellicce bar which serves, beer, wine and cocktails plus sandwiches to keep you on an even keel. It's a fun spot that gets funnier when the bar staff explain that the name means 'Beard, Moustache, Fur'. They direct us to look closely at their logo and the penny drops as we finally see what appears to be a glass of wine is in fact something entirely different. So that's what they mean by fur.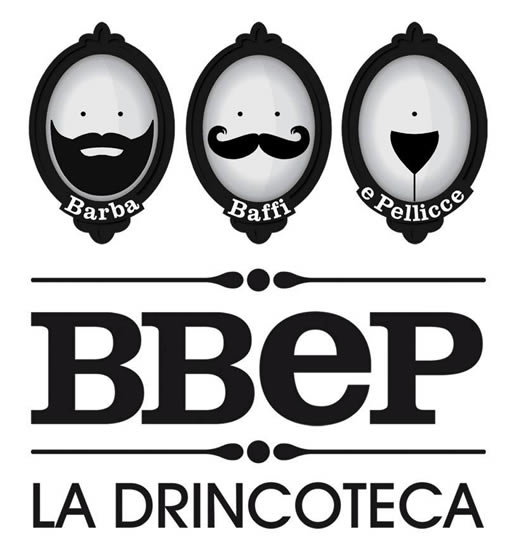 We meet Grace again on the next evening. Her favourite restaurant Bina is shut because it's Monday night but there's a new one just outside the old town walls which is recommended by the Sotto Le Cummerse staff.
Locosteria serves local specialties and cooks them perfectly. Tom and I love everything and the food even meets the high standards of Grace and her Italian boyfriend Francesco.
It's our last night in Italy, our last night in Puglia and our last night in Locorotondo. We'll be sad to leave but Locorotondo was a brilliant place to stay.
It's a beautiful town and a great base for exploring Puglia but it's not just the location and fairy-tale setting that makes Locorotondo a great place to visit.
We experienced life in our own quaint little apartment in the old town and enjoyed traditional local food but we also discovered a real community of passionate people and a fun, vibrant youth culture.
Plus the young Elvis of course, and he was very beautiful too.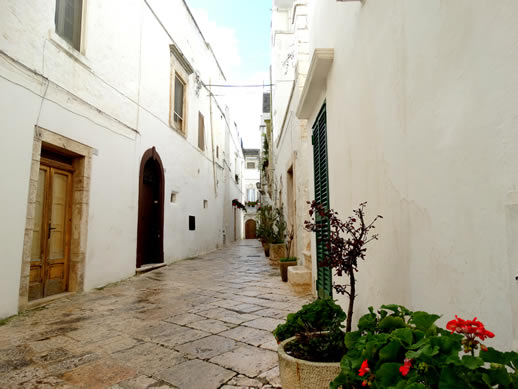 Eating, Drinking and Sleeping in Alberobello
Sleeping
Sotto Le Cummerse, Via Vittorio Veneto, 138, 70010 Locorotondo – Sotto Le Cummerse can be booked through Discovery Puglia
Bars
Barba Baffi e Pellicce, via vittorio veneto, 1, 70010 Locorotondo
Restaurants
Locosteria, corso XX settembre, 15, Locorotondo
Bina Ristorante, via Dottor Recchia, 44-50 – 70010 Locorotondo
Docks 101, Nardelli 101, 70010 Locorotondo – Sotto Le Cummerse breakfasts are served here.
Places to Visit Near Locorotondo
Centrally based in the Valle d'Itria Locorotondo is a great base and perfect for day trips to historic towns like Martina Franca, Ostuni and Putinango with the fabulous Acrianz restaurant.
You can easily reach either coast from Locorotondo and visit seaside towns like Polignano a Mare, Monopoli and Taranto.
If you're near Locorotondo you should definitely explore the amazing caves at Casetellana Grotte or go to one of the concerts or events that are held there. And beer lovers should head to BirraNova, a boutique brewery and pub in Triggianello.
Discovery Puglia and Sotto Le Cummerse hosted my stay in Casa del Concerto. Discovery Puglia offer specialized tours and accommodation in the Puglia area and Sotto Le Cummerse is a great way to experience life in Locorotondo and an ideal base for visiting the Valle d'Itria.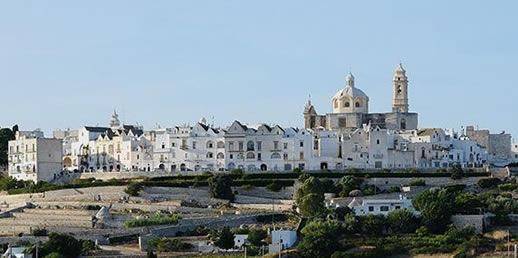 Photo credit: Sotto Le Cummerse for the images at the top and bottom of this post. All other photos taken by me.
Share This Story, Choose Your Platform!