How to Eat in Pulgia: Salento Specialities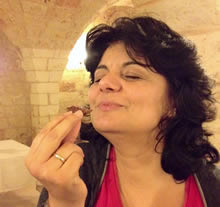 In Puglia everyone's a food and wine connoisseur. For the Pugliese eating isn't just about refueling, it's a cultural ritual that's been handed down through the generations, a social union that creates precious time to spend with family and friends and a central part of everyone's day.
Eating in Puglia is definitely not something you rush. No one seems to eat on the way to work, while standing around the water cooler or while watching TV.
In Puglia eating takes center stage and everything stops at meal times so I thought it would be fun to look at how to eat in Puglia, what the local specialties of the unique Salento area which I traveled around are and what to expect when you go out for a meal with the locals.
I'm planning to take you through one of the many very special meals I ate dish by dish soon, but I'll start with an overview of Italian meals and what to eat in Salento.
I warn you though, this will be a long blog post because a meal takes three hours to eat so there's a lot to write about.
Before we get into what to eat and drink, first let's talk about where Puglia is and talk about the Salento area in particular.
Where are Puglia and the Salento area?
Puglia is the region which is best described as the heel of the boot when you look at a map of Italy. Within that region of Puglia Salento is the southern tip, extending from the port of Brindisi (underlined in red on the map below) on the Adriatic Sea (which is a six hour ferry ride from Greece) to the port of Taranto on the Ionian Sea and right down to the small village of Leuca at the very tip of the boot.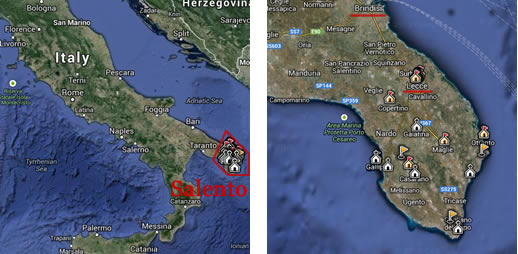 The main town in the Salento region is beautiful old city of Lecce (also underlined in red) but I also visited Otranto and Tricase on the Adriatic Coast and inland to Galantina, Martano and Cutrofiano, all of which have a distinct Salento feel, culture and cuisine.
Salento has ancient Messapii and Greek influences which are still present in the cuisine and in the local dialects and which make it totally unique and quite different from the rest of Italy. Even by Italian standards, a country is known for its great food, Salento is known to have some of the best food on offer because it's such a fertile area with a wide array of local produce.
So if you're a foodie get thee too Salento. You'll love it.
Getting to Salento
The closest international airport is Brindisi but Salento and Puglia are also easily accessible from Bari. If you're already in Italy there are regular buses, trains and flights from Rome to both Brindisi and Bari.
The best way to get around is by renting a car or taking a tour with Agrifeudi whi specialise in tours of the Salento area with an emphasis on really experiencing the local customs and culture including the food.
Eating and Drinking in Salento
Now you know how to get to Salento it's time to discover how to eat once you get there.
Breakfast in Salento
They say breakfast is the most important meal of the day and in Salento colazione, as breakfast is called, was always a feast, usually served buffet style so you can help yourself. Here's the breakfast at Masseria Chicco Rizzo in Sternatia.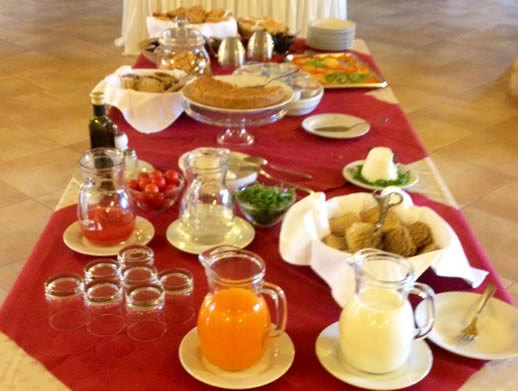 Behind the jug of milk you'll see a basket of brown rolls. These are frise di orzo, a type of brown roll which is baked twice so that it stays fresh for a long time. Nowadays we stick our bread in the freezer to keep it from going moldy, or fill it with preservatives to make it last longer, but frise were invented to stop food from going bad without adding any nasties and have been enjoyed in Salento for hundreds of years.
Because they're baked twice frise are literally rock hard. Do not even attempt to bit one without first soaking it in a bowl of cold water. If you get the timing right (around 20 seconds is good) then it will be soft and edible but still crunchy and very delicious.
Traditionally frise were carried by workers to the fields and by fishermen on their boats. When hunger struck all they had to do was soak the frise in water (sea water would be fine as it was naturally salted), mash a tomato on top and add a drizzle of olive oil if they had some to hand. Sounds like a quick, easy, healthy and delicious packed  lunch to me.
I enjoyed the frise for breakfast with spicy arugula (you might call it rocket), ricotta, tomato and olive oil. As well as frise there was fruit (including kiwi fruit which grow well in Italy), yogurt, pastries and a chocolate cake. Naughty but very nice.
Here's another breakfast beautifully laid out at the Borgoterra Historic Homes in Martano. It includes ham, cheese, hard boiled eggs and several different types of cake. As you can see the presentation is sublime. Breakfast does not look like this in Casa Candy.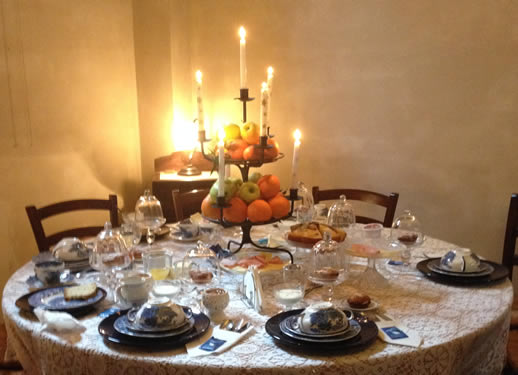 Below are some frise di orzo which were made by me. Well I helped. First you knead the dough and let it rise. Then knead it again and let it rise again thoroughly or the rolls will be tough.
Next you divide the dough into thin sausages, tie them in a knot and bake them in a super hot oven. When the rolls are cooked and cooled cut them in two halves lengthwise then bake them again until they're hard and golden brown.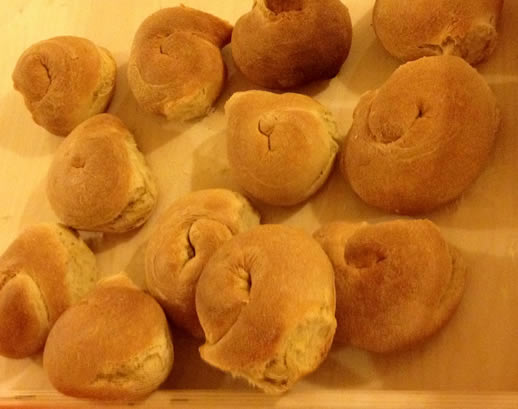 If you're not much of a baker you can buy frise ready-made in the local food markets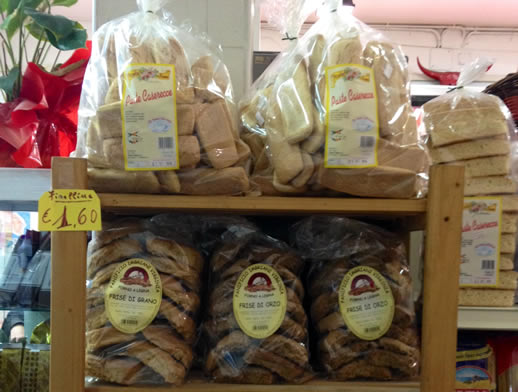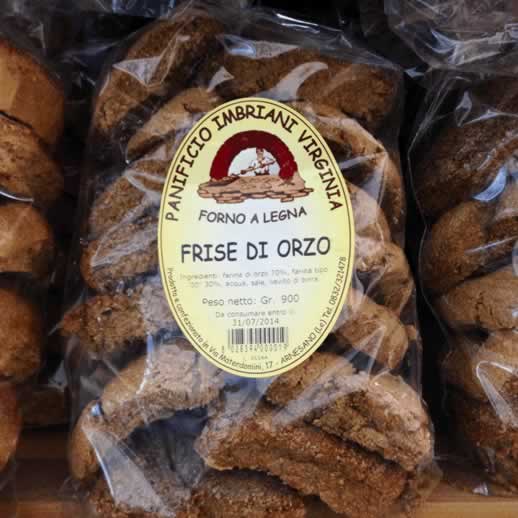 Snacks
It was most unfortunate that I wrote my weight loss tips for women and publicly announced my intention to put an end to  my middle-aged spread right before going to Italy. Of course all food restrictions had to go on hold while I was there because travel is all about experiencing new things and trying new things so that's what I did.
We were served this gorgeous bread studded with black olives for morning tea one day – along with some fresh fruit and red wine of course. Be careful though, the olives are whole with the stone still in.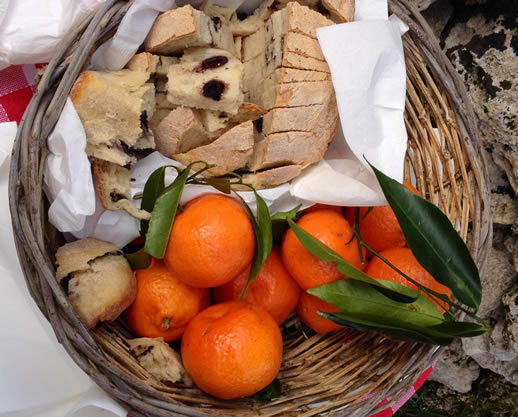 Another delicious snackerel were these fruit tarts. If you're British they're a bit like jam tarts but the pastry tastes like a butter biscuit and the fruit is dense full and bursting with the taste of a summer's evening.
Lunch and Dinner (Pranzo and Cena)
Let's cover these two main meals together as there seems to be a bit of overlap between them. I find it hard to believe that Italians eat such hearty meals twice a day but, in the name of travel research I did when I was there. This is how an Italian meal works:
Antipasti
Pasta means meal in Italian, antipasta means before the meal and antipasti is the plural which is used more often because antipasti seems to include many more than one dish.
What I loved best was that the antipasti seemed to be mainly vegetarian which is perfect if you don't like to eat much meat.
Typical antipasti may include some or all of the following:
Cheeses such as Pecorino leccese, Cacioricotta, Burrata (which is similar to mozzarella) or Ricotta forte which has a much stronger taste than regular ricotta. 
Pittule were served everywhere, either as a nibble with a glass of wine or more formally at the table. Pittule are small balls of deep fried bread dough like a savory donut. They can be plain, flavoured with herbs or stuffed with cheese and either way they're distressingly moreish.
Vegetables like chicory, rape, fennel, mashed broad beans, lampascioni (a small local onion similar to a shallot) and many other green vegetables which are local to the area and grow wild in the fields. Red peppers, artichokes and mushrooms were also in season while I was there in February and served in antipasti.
Proscuito (cured ham) or other meats.
Here's a selection of antipasti served my first night in Lecce at the La Vecchia Osteria da Toto.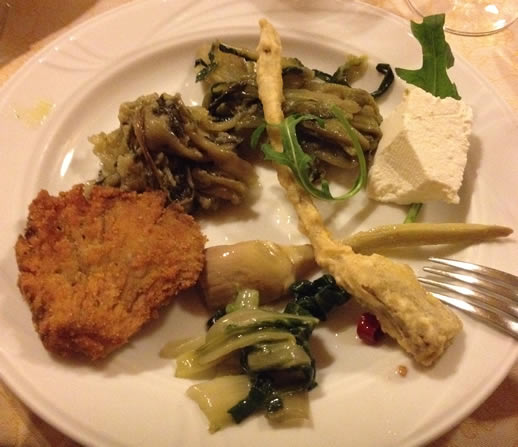 Pittule (below) which translates as deep fried dough balls taste a lot nicer than they sound.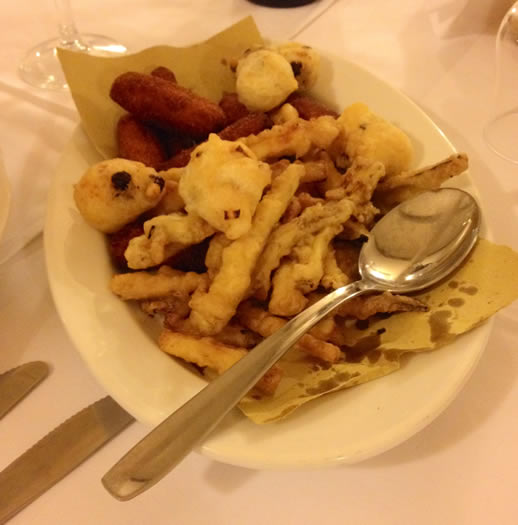 The ricotta cheese looks so beautiful and is made fresh every day to be eaten on the same day. No plastic tubs to be seen.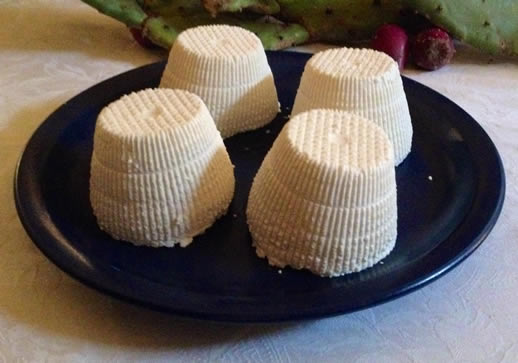 As you can see the antipasti is a meal in itself and the healthy option would be to stop there but that would be impossible. There's more food to come and it's all good.
Primo
Primo is the first course, usually pasta and you should definitely try one of the local Salento pasta dishes including:
Orecchiette con cime di rapa – Orecchiette is a type of wholemeal pasta shaped like a small ear and cime di rapa is the top of rape plant, apparently it's called broccoli rabe in the USA. This is my favorite Salento pasta dish. The wholemeal pasta has a nutty flavour and the greens tastes earthy and wholesome. You can see  orecchiette in the photo below with tomato sauce.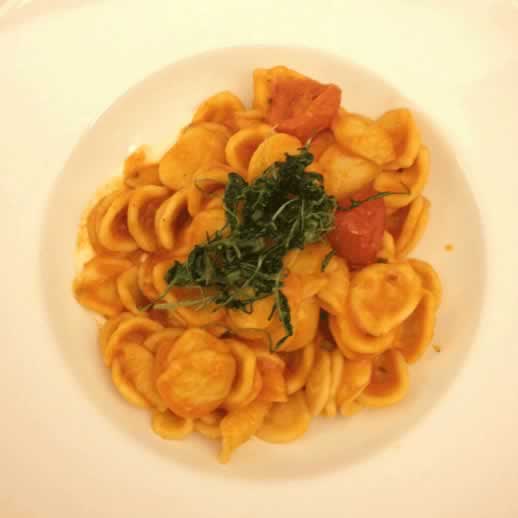 Ciceri e tria is pasta with chick peas which is my second favorite. The sauce is dairy free but it's thick and creamy on the eye and the tongue.
Orecchiette are sometimes served with minchiareddhi which is tube-shaped pasta – you can see orecchiette and minchiareddhi  in the photo below. Apparently this is a traditional dish at Salento weddings with the minchiareddhi representing the male sex organs and the orecchiette the female. I hope I understood that right! The pasta will be served with a fresh tomato sauce and pecorini cheese which is milder and softer than parmesan cheese.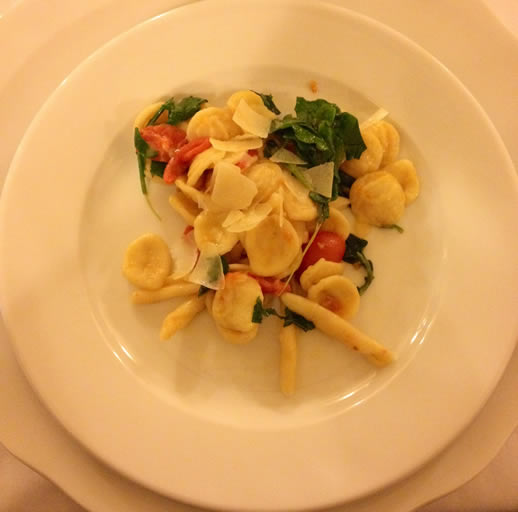 Sagne ncannulate (pictured below) are twisted lasagne sheets cut into small strips and served with fresh tomato sauce.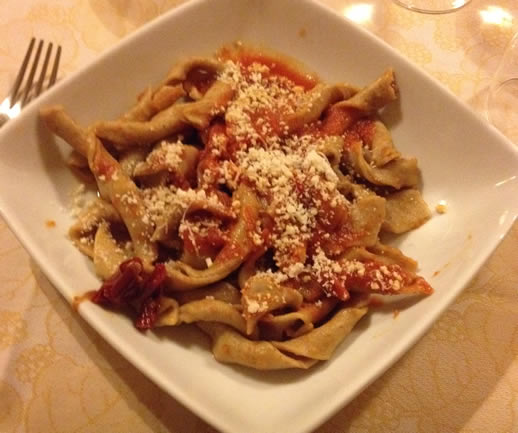 I had a divine parmigiana di melanzana or eggplant lasagna at the Naturalis Bio Resort near Martano too.
Secondo
The second course will usually be a meat course but you can easily skip it if you're vegetarian because you'll probably be full by now. Because there's so much coastline in Salento seafood may be an option especially if you're actually by the seaside.
Here's an anchovy pizza which was served at a seafood restaurant, the Trattoria Anime Sante in Tricase Porto.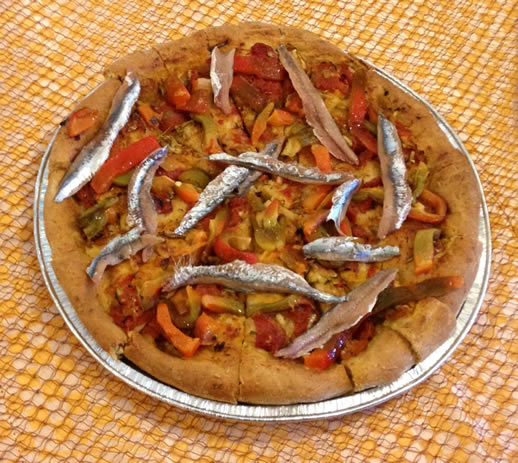 Otherwise the most common local meat specialty is horse or even donkey served as meat balls in a thick tomato sauce.
Being a non-red meat eater I didn't try horse or donkey balls (meat balls that is, not the actual testicles!) but I was assured that they were delicious and extremely tender after being slow cooked for six hours.
Here's a hearty bowl of horse meat balls served at the Masseria Chicco Rizzo.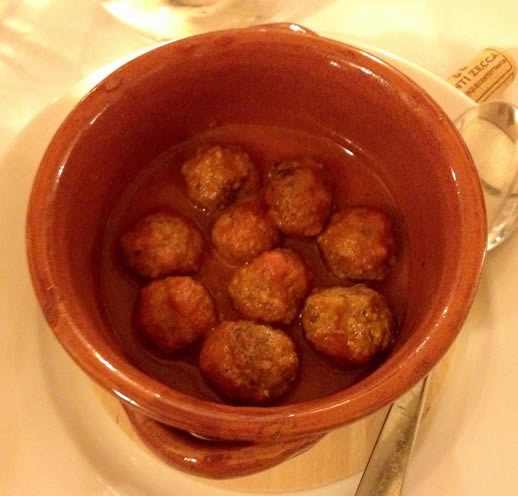 Buffet lunches
A few times we were so busy sight seeing we had a buffet lunch and this is a typical selection of food including prosciutto (cured ham), a fish roll, smoked salmon and ricotta, the naughty-but-nice deep fried dough balls known as pittule along with some humongous olives and capers. I love capers.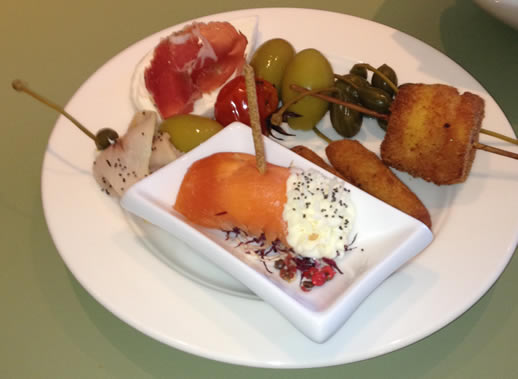 Dessert or Dolce
Here's my favourite desert as served by Gianna, the head chef and founder of Cooking Experience in Lecce where you can go to learn how to cook Salentina specialities. We made orecchiette from scratch which was fun then feasted on an array of Salentina dishes.
This beautiful light pancake was served with custard and drizzled with chocolate and olive oil sauce. Because you can never eat too much olive oil in Salento.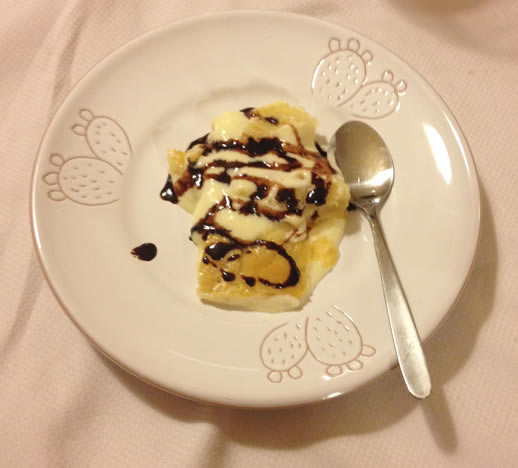 The most popular Salenteno desert seems to be pasticciotto allo zabaione which means pastry with custard and is a small sweet pie filled with custard or chocolate custard.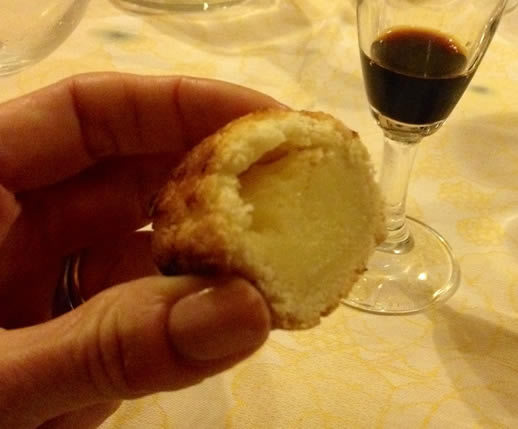 What to Drink in Salento
Coffee is the go for breakfast but you should try a hot chocolate in a cafe. They have 12 different types of hot chocolate for you to choose from – I opted for classica which was super rich, strong and so thick the spoon stood up in it. Supreme.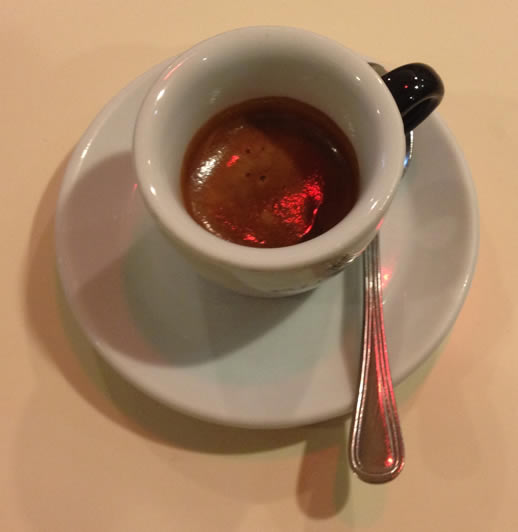 I like sparkling water (acqua frizzante or acqua gassata) but the region produces some amazing red wine, in particular Primitivo, Malvasia Nera and Negramaro which is a strong red wine that tastes of baked cherries. I'm not usually a huge fan of red wine but the Salento wines made me rethink that. I brought a bottle of Negramaro back for my husband who loves red wine. He loved me for it.
Many trattoria, osteria and other restaurants serve the local wine in a jug.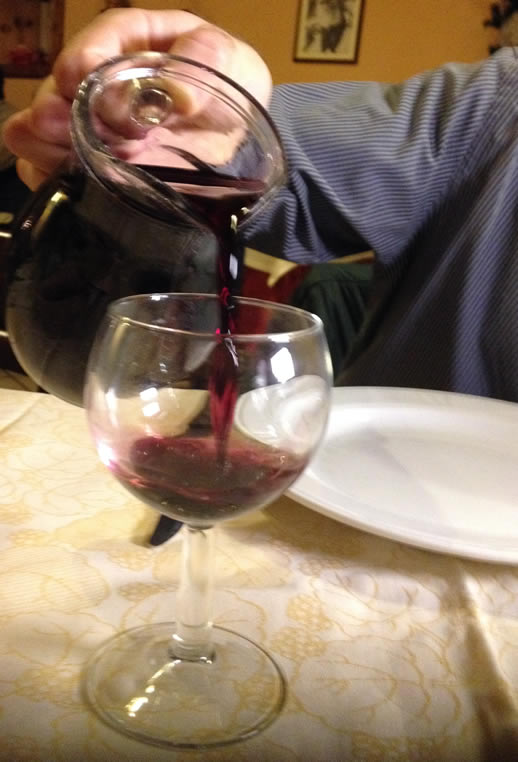 The pink sparkling wine (spumante) is beautiful too if you want a lighter drink.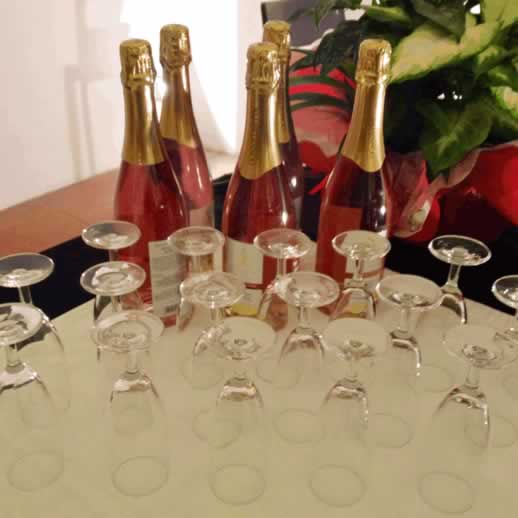 Alas unlike the Pugliese I am not a wine connoisseur (yet) but Gianna explained that when presented with a glass of Salento red wine we must first look at it and enjoy the color and light. Next you smell the wine and swirl it around in the glass to appreciate it with all your senses. Finally you taste the wine and the passion that goes into making it.
You really can taste that passion and the land in the food and drink of Salento.
The 5 Best Things About Eating in Salento
1. Eating is a hands on experience with lots of shared dishes so you can try different things. No one stands on ceremony or worries if you use the right cutlery or even none at all. We were told that if the food's on the table you start eating. Simple.
2. The olive oil deserves a special mention. There's always a bottle of olive oil on the table for you to drizzle or pour over your food or dunk your bread in. Fresh organic olive oil tastes very different from the stale cheap imitations I used to buy. The olive oil in Salento is clear and green with a strong peppery flavour. I brought three litres home with me and I'm loving it. You could call me a born again olive oil snob and I won't be offended.
Here's an antipasto with ricotta cheese and sun dried tomato which has been lovingly drizzled with olive oil.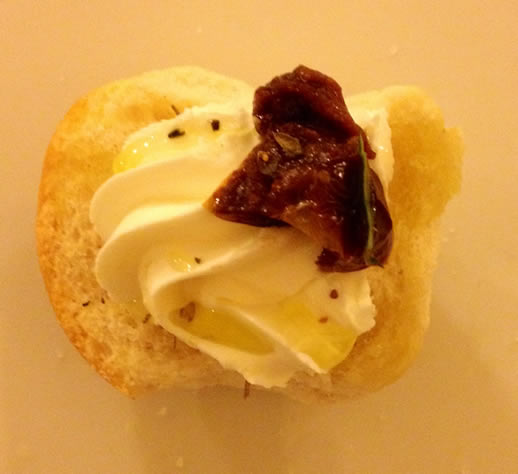 3. Salento food is fantastic for vegetarians or semi-vegetarians like me. Not eating meat has always been an issue wherever I travel but I found in Puglia I didn't even need to tell anyone I wasn't eating meat because there were so many vegetarian dishes on offer and a wide variety of meat free specialties including many green vegetables  like chicory and rape tops which I'd never tried before and which turned out to be delicious.
4. All the ingredients are locally grown or produced and the food is made from scratch. Our cookery lesson with Cooking Experience started with a trip to the market to learn about and buy fresh seasonal produce for our meal.
Here's Gianni (on the left) at the market with a small wild onion called lampascioni which only grows in the Salento area.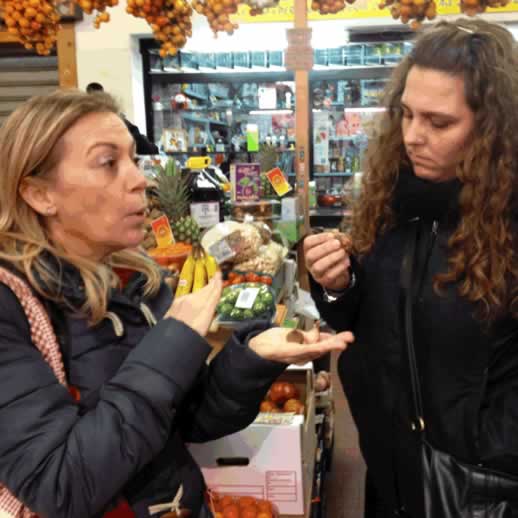 5. It's healthy – the Mediterranean diet which is rich in omega-3 Fatty acids and anti-oxidants from the many vegetables has been proven to increase longevity and overall health. As long as you can resist eating too much delicious Salento cuisine it should leave you feeling and looking healthier and happier.
We had a talk from Alessandra (pictured at the top) on the health benefits of Mediterranean food as the root of wellness and how important it is to nourish your well-being through eating healthy foods to maintain a healthy state of mind. It's a philosophy I love bringing happiness from the inside out.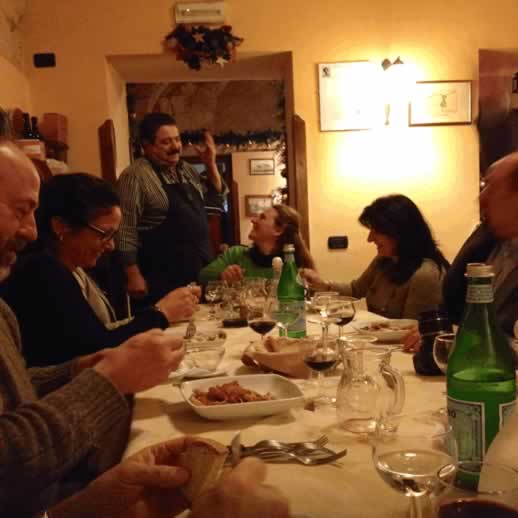 They certainly know how to eat in Salento, and how to live well by sharing fresh, tasty, diverse foods, that make them feel well too.
Salento Restaurant and Hotel Guide
La Vecchia Osteria da Toto, Via dasummo, 3 – 73100 – Lecce – A small restaurant (pictured above) with a strong focus on local Salento ingredients and dishes.
Trattoria Anime Sante, Lungomare Critstoforo Colombo, 73040 Tricase Porto, Tricase
Borgoterra Historic Homes offer small apartments so travelers can experience life in the old town of Martano.
Want to experience Salento Cuisine and Culture?
I was a guest of the Agrifeudi tour group during my visit to the Salento area of Puglia. Agrifeudi organise specialised tours and travel experiences in the Salento area including many unique, cultural and hands on experiences that can only be organised through them. They are passionate about what they do and offer a unique Salento travel experience.
Which Salento dishes would you most like to try?
Share This Story, Choose Your Platform!