Nature, Wellbeing and Happiness in Salento, Italy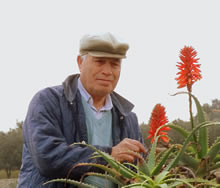 Naturalis Bio Resort is an old masseria, or farm house, in which has been transformed into boutique holiday accommodation but which is still a working farm.
Situated in the small area of Salento, in Italy's southern Puglia region, of course there are olive groves producing olives and extra virgin olive oil, but not all of the olive oil is used for eating.
The owner, Domenico Scordari also grows organic aloe vera here (the whole farm is organic) and uses the health giving aloe extracts, and sometimes olive oil too, to create a range of skincare, beauty and wellbeing products for his award-winning company Natura and Benessere.
The company name means nature and wellbeing which, as we'll soon find out, are Scordari's twin passions. But Scoadari isn't your average nature-loving, Italian, organic farmer and entrepreneur. He isn't average at all and nor is his outlook on life or his wellbeing line.
With his thick grey hair styled in a foppish Oscar Wilde do, Scordari exudes Italian style. His trousers, turtle neck and sports jacket fit snugly and a man visiting from the USA tells me he wants Scordari's shoes.
Scordari's fashion sense gets our attention but his sense of fun holds it while his passion and love for his plants, workers and products is infectious.
We tour the Naturalis Bio Resort, inspecting the sumptuous rooms and watching the workers harvest aloe leaves while Scordari explains in a gentle Italian accent:
"The most important ingredient in innovation is passion. You have to respect the plants and ask if it's okay to harvest them."
For a second this seems like a throw away line but, although he talks with a constant smile, Scordari is serious about caring for nature and working with it. Everything he does is guided by his love of the land and the plants which grow on it.
Cradling a freshly picked aloe vera leaf in his hands he explains that the aloe vera juice must be processed in two hours or less to preserve the maximum nutrients.
Standing in the Pugliese fields, surrounded as we are by nature, it's easy to feel the force of nature and see how important natural beauty is for our physical wellbeing and emotional happiness. But we don't have time to dwell on that for long because the aloe vera needs tending to.
We dash to the Natura and Benessere laboratory and factory in the nearby town of Martano to see how they extract the aloe vera juice, create bespoke beauty products and ship them around the world to sell to a discerning and predominantly female clientele. Russia, with its new found wealth and demand for the very best high end goods is a major market.
There are two main product lines: Naturalis and Dome. Scordari tells us that Dome has been specially to created so the fragrance and natural ingredients cause the skin to release dopamine into the bloodstream and create the feelings of happiness all humans crave.
He shows us a Dome Pure Emotions Euphoric Body Candle made from shea butter, wheat germ oil and aloe vera which, when melted by the heat of the flame, creates a special body massage oil designed to awaken your senses, moisturise your skin and make you feel blissed out.
By engaging the senses with the power of nature the Dome line promises to fight against stress and anxiety, uplift your mood and give you an energy boost. Suffice to say we all want one of those candles.
At the end of the tour we're ecstatic when Scordari gives us a gift bag stuffed with a Dream Care Aloe Vera & Olive Oil pillow insert infused with 15 essential oils, Naturalis Organic Anti-ageing Elixir, Aloe Vera Rescue Gel, a Naturalis Easy Lifting Mask, Naturalis Easy Lifting Cream, Naturalis hand cream and lip balm along with a can of olive oil. But alas there are no Dome candles to be had.
We thank him anyway and leave, rummaging round in our goodie bag as the bus pulls off, and talking about how the masseria, resort and factory tour was a highlight of our visit to Salento so far.
We don't expect to see Scordari again as our tour winds up but the next day he turns up at the Art Hotel in Lecce where we're staying, not to visit the spa, but to deliver a Dome gift for us including a candle and a bottle of body cream.
Natural is better he reminds us with a smile before zooming off again and it is. We knew it already but Scordari is living it and dedicating his life to creating organic, natural beauty products which make people feel better.
Back home in Australia I tuck the dream care insert into my pillow and let the smell of eucalyptus, mint, orange, lemon, pine, lavender, gardenia, aloe vera and olive oil wash over me. It's the smell of Salento, of nature and of wellbeing.
I go to bed feeling old and tired after the 37 hour journey home from Pulgia to Australia but wake up feeling fresh and new.
The Naturalis Bio Resort masseria and its plantations might be old but they are filled with love, passion and innovation. Filled with people and plants who take the best nature has to offer and create new ways to make life sweeter, happier and naturally better.
I was a guest of the Agrifeudi tour group during my visit to Naturalis Bio Resort. Agrifeudi organise specialised tours and travel experiences in the Salento area of Puglia in southern Italy including many unique, cultural and hands on experiences that can only be organised through them like the tour of the Naturalis Bio Resort, aloe vera plantations and the Natura and Benessere laboratory.
You can buy Natura and Benessere online here for shipping to Canada and the USA but I can't find a way to buy them from their own website although in theory it should work. I want to get hold of the essential oil so I can enjoy the natural, fresh, revitalising smell of Puglia in my house year round.
Do you tap into nature and the five senses to make yourself look and feel better?
Share This Story, Choose Your Platform!