Formative Experiences: Family Holidays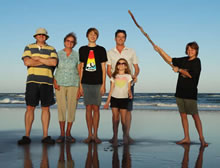 "A formative experience is one that strongly influenced you, like the first time you went to the beach and decided, from that day, that you wanted to become a world-class surfer."
Vocabulary.com
The taste of Orangina, the chill of ice-cream against your tongue on a hot day, the smell of pine needles being crushed underfoot as we walked through the forest to the beach. The constant chatter and clatter of life at a busy family campsite. My first kiss.
Hours spent jumping in the waves then getting earache because I'd spent too much time in the water. Endless debate about what to choose from the menu during our annual, and much anticipated, family meal out at a restaurant. Making friends with and playing chasing or hiding games with the locals, even though we couldn't communicate much with words because they didn't speak English and I didn't speak French.
Going hungry rather than eat the spam and canned tomato mush, which Mum always cooked on the first night, or the hare in mustard sauce, which Dad chose from the campsite takeaway. Being fascinated by how French campers took their pet dogs, cats and even birds to the campsite with them. Riding the merry go round and stretching to pull the tail off the monkey which was suspended overhead, then getting a fabulous free ride when I succeeded.
Those are a few sweet memories from our summer family holidays spent camping in France. They were my formative experiences in travel, along with happy holidays by the great British seaside when I was even younger.
So many happy memories. It's easy to see why I loved those family holidays and why I still love to travel.
On holiday Mum and Dad were relaxed and mostly stress-free, apart from that time when it rained all night and the water threatened to breach our tent. But let's not go there.
Meanwhile my brother, sister and me, who grew up in the countryside in splendid isolation, enjoyed having plenty of other children to hang out with when we went camping.
Now here I am, still travelling, still dreaming about  holidays, always seeking to recreate those days of freedom, adventure and fun.
How did your formative experiences shape you?
A formative experience is one that strongly influenced you, or even made you who you are today. Formative means something that shaped you.
A formative experience is one that that created such a strong impression on you that it influenced the rest of your life.
My formative experiences with travel and holidays gave me an enduring love of France; I went on to study French at university, I've lived in France three times and I hope to live there again before my time runs out.
Based on my formative experiences with family holidays I decided as a child that I wanted to live by the sea and live somewhere hot.
Just like when I was a kid, I still enjoy communicating with people, even when we don't share a common language, and I still love experiencing and learning about other cultures.
I still love eating out and find it hard to chose what to eat from the menu. I still love playing hide and seek. I still like trying new foods, although I will never, ever, ever eat spam or hare again!
I swim laps with my head above water because the memory of stabbing pain from earache caused by too much swimming is so strong, even 35 years later. And I wish we could take our cat with us when we go camping in Australia.
Even as I enter midlife those formative experiences and family holidays continue to influence me.
There's nothing I want more for my own children than for them to know the joy of running barefoot and carefree at the beach and in the bush. The joy of making new friends from different cultures and playing silly games together.
The joy of doing nothing of any importance.
The importance of not doing anything important.
Those are the things that childhood should be all about. Those are the things I love about travel.
What were your formative travel experiences? Leave a comment below! We'd love to know. 
Stay Inspired With Free Email Updates!
Our newsletter is a weekly injection of tips for midlife travel, wellbeing and adventure. Get In the Hot Spot will help you travel well, feel fabulous and live your dream. Hit this link now to get updates by email. That way you'll never miss out on the best stories.
Share This Story, Choose Your Platform!