Funny Family Portraits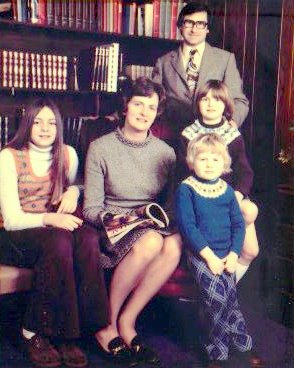 Hmm, I wonder what pattern she's gonna knit next?
Caption by Lisa Alexiou
Who Are Those Dorks?
I wanted to write something funny today as I need a laugh and you may too. Rather than my usual ramblings, I thought what might amuse you is this family portrait of me with my parents and siblings.
I'm the kid at the back with the nice pageboy haircut mum claims to this day was flattering.
I'm not sure what date this family portrait was taken, but I'd say it's circa 1974.
What Are They Wearing?
My younger brother, older sister and yours truly are all kitted out in one of mum's hand knitted fairisle sweaters. Obviously all the rage in the UK at the time. At least I hope they were fashionable then. Either that or mum had a cruel sense of humor.
My sister, on the left with long hair, seems to be in her early teens and has been able to inject a bit of style into her orange fairisle tank number by pairing it with a white turtle-neck and some brown flares.
Mum and Dad don't look too bad really, although I think they may be stuck in a 60s time warp and haven't really got into the 70s thing yet. Maybe that's why they look okay.
I'm hidden away at the back but I look a bit scared. Maybe Dad was squeezing my neck to keep me still. They always said I was a real fidget. I admit, I still am. My white, bony knees protrude from behind my brother. I suppose was wearing some kind of mini skirt with long white socks.
But let's not think about that, let's shift the attention to the little blond boy in front of me.
Why Do They All Look So Sad?
It's my brother I feel sorriest for. I'm sure Mum chose the blue wool of the sweater to match his eyes. All very well and good, apart from the fact that he seems to have had a growth spurt in between the sweater being knitted and the photo being taken. Then there's the trousers. Shudder. Diamond check patterns on trousers just don't seem to be that flattering. No wonder he looks miserable.
Caption Competition
Yes, it's fun to look back on old photos. Check out the Awkward Family Photos website if you'd like to see some  family portraits that make my family look normal.
It's all about the caption of course, so if you can come up with a funny caption for my family portrait please leave it in the comments for me and I'll use my favorite. All the entrants, and the winner, will be rewarded with my undying love for  making me giggle, no matter how cruel their comments.
Have popped up Lisa's witty caption. If you have another idea let me know:)
Continuing The Family Tradition
I'm thinking about getting a professional photo taken of my young family done too.
Just wondering what I should make the  kids wear to maximize their embarrassment in the years to come…
Thanks for reading GetIntheHotSpot.com
Please add your comments below and don't forget to get free updates by email now or with the RSS Feed, if you haven't already. That way, you won't miss out!
Please Support Me: Tell People About This Website
If you like this article, please Tweet it or email a friend with the link. My clever computer boffin has added a little tool to make it easier for you to email it to friends, or add it to your favorite social media website. I hear that if you Digg it, or bookmark it on Delicious or Stumbleupon, that will get more readers here. Many thanks for your help, I appreciate it.
Have You Read These Funny Stories Yet?
>> Puberty Bites: Talking About Puberty With Kids
Share This Story, Choose Your Platform!