Happy Holidays by the Great British Seaside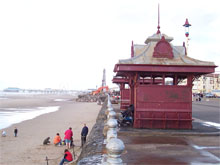 "Sand, sea, sun, surf and scones"
British Beaches website slogan
Leicestershire, where I grew up, is reputed to be as far from the sea as you can get in England. But I loved the ocean and vowed to live by the seaside when I was grew up.
My first holidays were spent in Sandilands, a traditional British seaside resort on the north east coast of Lincolnshire in England. While Sandilands was clearly named to evoke fun, sunny summer holidays the closest big town is the rather less romantically named Grimsby.
I started going to Sandilands for my holidays at the tender age of two with another family. They had two children of their own, one boy my age and another a few years younger, but they liked to take me with them because they enjoyed having the company of a girl.
I find that amazing as I can hardly bear the thought of travelling with kids, even my own children, nevermind other peoples' children. But it must have been great for my mum. If anyone offered to take one of my kids on holiday with them I'd be ecstatic.
It was a two and a half hour drive to Sandilands, with three small children packed into the backseat and the boot piled high with kites, garden spades and small dogs. Unlike my children, who argue constantly on road trips, we three children were happy travelers, angels indeed who, as far as I recall, sang merrily all the way there.
Tunes like "Oh I do like to be beside the seaside" and "Papas taking us to the zoo tomorrow" tripped off our lips for hours. Never mind that we weren't going to the zoo – the seaside and our summer holidays were far more exciting.
When we weren't singing we played I Spy, Number Plate alphabets or the number game Fizz Buzz. Finally the last few miles were spent vying to see who'd catch the first glimpse of the sea through the hedgerows and across the fields.
The father was a lawyer, a large woolly-haired man who I was in awe of. I don't remember my first holidays with my host family when I was two but I do remember every year thereafter when the father complained that he'd once had to tow my doll's pram behind the car all the way to Sandilands.
It was only years later that I realised he must have been teasing me and can't surely have towed a dolls pram behind his car for three hours. Or did he? The family are the most delightful english eccentrics you could ever hope to meet so it remains a possibility I like to entertain.
Like the journey there our holidays in Sandilands were idyllic. The very best days being "beach days" which simply meant it wasn't raining.
On beach day mornings we'd squeeze into our non-lycra swimwear, zip up our towelling all-in-one beach cover-ups and head off to the distinctly grey and rather grim beach.
The first job was to get the windbreak set up. Windbreaks are a must on any British seaside holiday. They're a length of thick canvas threaded with four wooden stakes which you drive into the sand. If you're lucky it won't be so windy that your windbreak blows away and you'll be able to spend the day huddling behind it hoping the sun might break through the clouds.
If, by some miracle, the sun does emerge then you absolutely must take a bracing swim. After all, what's the point in coming to the seaside if you don't have a dip in the ocean, even if it is called the North Sea?
After the shortest dip we'd emerge goose-pimpled and breathless, our bodies grey with cold like the sky and the sea around us. It took the rest of the day and several thermoses of hot tea to warm up again.
Mostly it wasn't swimming weather so we'd fly a kite, have running races or build sandcastles, with sandcastle building being by far the most popular activity.
The tide goes out a long way at Sandilands giving you hours to build a sandcastle big enough for three children to stand on as the tide comes in.
Both parents would plough into the sandcastle with garden spades brought specially for this job while we children contributed minutely with small plastic beach spades. All of us digging as hard and fast as we could, ostensibly to make the biggest sandcastle ever but really because it was a matter of survival. All that frantic activity was the only way to keep warm.
To create the biggest and best sandcastle in the world first the sand was piled up into a mound, then it was bashed all round to create a firmer, stronger base.
This process was repeated over the course of many hours until the sandcastle was finally pronounced ready. By this time the tide would have turned and we kids would scramble on top of the castle and stay there for as long as humanly possible.
First the sea would reach the moat. Then it would fill the moat up.
When the sea lapped all around the castle we knew our time as kings of the castle were limited. We thrilled in the ecstasy of those final moments on top, creeping in closer to each other as the sea mercilessly ate away at our fort until finally the water lapped round our toes, our ankles, our legs.
One big wave later the sandcastle was gone.
The next day we'd return to the beach and sometimes, just sometimes, we could still see a faint outline of the sandcastle, a small hump where it had once stood. The father would point it out with satisfaction and tell us we'd changed the tides. Our efforts to take a stand against nature had worked. Nature may have won, but the outline of our sandcastle could still be seen and that was a small victory for us.
Like the memory of a perfect holiday, our sandcastle had stood the test of time.
Now I've fulfilled my childhood dream to live by the seaside but not in England. I've moved to warmer climes by the tropical beaches of  Noosa, Australia where you can swim in the sea year round with hardly a goosebump in sight.
But I still remember my first holidays by the British seaside in Sandilands and I still maintain that you simply cannot beat a holiday by the seaside. Even if it is the British seaside.
This blog post was sponsored by Holiday Hypermarket who can help you organise last minute holidays from the UK to all kinds of wonderful, warm, exotic locations.
Where did you spend some happy holidays as a child?
Photocredit: Blackpool & beach huts: Jon Bennett, Sandilands beach: Richard Hoare
Share This Story, Choose Your Platform!