My First Kiss: Love Lessons Learnt in France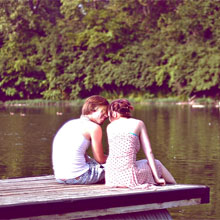 We met at sunset in the south of France. My breath stilled as he sat down on the swing next to me.
His dark, Mediterranean eyes and shy smile won me over but, with his red hair and freckled face, he didn't look French.
"Bonsoir," he said.
"Bonsoir," I repeated, surprised at first then, happy and keen to practice my school girl french, I continued,
"Comment tu t'appelles?"
"David," he replied, emphasizing and stretching out the last vowel.
"Daveeed." I breathed, smiling back.
"Et toi?"
"Je m'appelle Annabel," I answered, the well practiced rhyme tripping off my tongue.
We spoke more. I couldn't say much or understand much but we understood enough. He was staying nearby with his family and I with mine. We were both happy to get away from them in the evening, content to slip away to a peaceful place where only the crickets chirped.
The playground was quiet that night but I soon had to leave before someone came looking for me.
"Tu viens demain?" he asked. (Are you coming tomorrow?)
"Demain." I repeated. Yes, I would come back tomorrow.
We met each evening for several evenings until finally it happened, right there on the swings where we had met. Finally he leaned over and kissed me. My first kiss. So short and so sweet.
The next evening I slipped away earlier but when I arrived at the playground David wasn't there yet.
Instead an English boy called Jonathan was hanging around. I'd seen him around before and he wasn't shy, wasting no time in asking me if I'd be his girlfriend.
Of course I declined, proudly telling him I already had a boyfriend, looking over his shoulder hoping David would arrive soon.
Then Jonathan asked for my help. He said there was a girl he fancied and asked if I'd come behind the bushes so she'd think we were kissing. He believed that jealousy would force her into his arms.
It seemed a harmless enough plan and it would pass the time until David appeared so off we went.
Gradually the playground filled up and I saw from our hideaway that David was there. I wanted to go to him but Jonathan insisted I stay with him until the girl he was interested arrived. He even tried to kiss me. He couldn't understand that my mind and heart were set on someone else.
At last we emerged in the twilight and I hurried over to David, smiling, so happy to see him again. But he turned and walked away from me just like that, his brown eyes cold, his hands clenched. He said nothing but I knew what he was thinking and a chill ran over me. How could he think I had really been kissing Jonathan?
"Je t'aime," he'd said.
"Je t'aime," I'd replied and meant it too.
How could he ever think that I would kiss another boy?
"Non, non, David!" I pleaded, but that was all I could say.
I had no french words to tell him what had happened. There was no explaining this childish folly with gestures and signs and as I watched him walk away I knew I had ruined everything.
I stole away then, back to my family and then back home to England knowing I would never see David again.
I broke his heart and my own too but I'll always remember my first kiss. That one kiss we shared when we were ten years old.
I'll always remember that misunderstandings can happen in any language, even between those who love each other the most.
I'll always remember that you should never ever betray someone's trust.
I'll always remember that love, as warm and rosy as a Mediterranean sunset, should be cherished above everything else.
————————————————————————————————————————–
I'd LOVE your feedback on my Valentine's Day story.
Happy Valentine's Day to all my dear readers. I hope you are surrounded by love, light and laughter today and forever.
Do you remember your first kiss? Where were you and who was the lucky recipient?
Share This Story, Choose Your Platform!