52 Exercises: #9 Target Toning Exercise DVD (and 5 Reasons to Find a DVD You Love)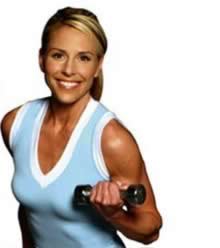 Got cabin fever, a wobbly bum and flabby arms? We all want to go to the gym, exercise regularly and get toned up but it sometimes it just doesn't happen. Life gets in the way.
There are work commitments and clamouring children to deal with. At the end of the day you're too tired to move, let alone leave the house. Then there's the expense of gym memberships and exercise clothes, because it's important to look the part at the gym, especially if you're out of shape. Wall-climbing, soccer and dance classes are fun but they may not be possible in your area or with your busy schedule.
So it's easy to see why so many good intentions to exercise fall by the wayside.
I get that. I'm a lazy person who doesn't like getting out of breath or sweating. Truly. I'm so exercise shy I created this 52 Exercises quest to force myself to exercise more, get fitter and try new things.
I did a few Jane Fonda exercise videos when I was at school and I love walking, but apart from that I literally never exercised until I had my first baby in my thirties. I started with pre-natal yoga where you get to loll around on cushions and loved that. But after pregnancy and age had taken its toll on my body producing cellulite, flab and sags I wanted to fight it.
Living on Waiheke Island fitness options were limited, but I went to a Les Mills body combat class most weeks. After we sold up and moved to Costa Rica there were even fewer fitness options but that's where I discovered my secret weapon.
It rains in Costa Rica for nine months of the year. Seriously. Even in the non-rainy season it usually rains from about 4pm until morning. That could be why they call it the rainforest.
So often you can't even get out for a walk and even if you walk in the rain the roads are terrible and not exactly designed with pedestrians in mind. You could drown in some of the puddles in Costa Rica. Beach walks are one of my favourite activities but sometimes it wasn't safe to drive to the beach.
Then a friend gave me a handful of exercise DVDs including the 10 Minute Solution – Target Toning for Beginners. I'm embarrassed to tell you this because it sounds so lame and the instructor looks like one of those too-perky people you want to throttle, but, 14 years after I started exercising, she is the only person who has kept me at it.
I didn't even know her name until I wrote this post because I don't have the DVD box and watch it with the sound off, but despite that Cindy and have become firm friends. Well, she may not know who I am but I look forward to seeing her smiley face. It's not just me either. In Costa Rica I used to invite friends round to do the DVD with me. We all agreed Cindy was hardly annoying at all compared to most exercise DVD stars and we loved her exercises because they were easy.
The DVD is divided up into five sections: bum, legs, arms, tummy and stretching. The whole thing takes 60 minutes but if you want you can just do 10 minutes on your bum and another 10 on your arms one day, or mix it up as you please to suit your schedule and wobbly bits.
The only way I can make sure I get my exercise in is to do it first thing so I get up before 6am from Monday until Saturday to fit it in. Most days I walk but on alternate days I cycle or do an exercise DVD. I've tried a few different exercise DVDs and there are a couple of others I use regularly but this is my favourite because it's so easy. Even when I'm feeling extra lazy I can still drum up enough energy for this. Although you can make it harder by using heavier weights. Did I mention you need hand weights? They're pretty cheap though.
You may not fall for Cindy and her 10 Minute Solution – Target Toning for Beginners like I did but if you want to beat cabin fever and get fit start trying out exercise DVDs until you find a few you love. Here's why:
5 Reasons to Find an Exercise DVD You Love
1. No financial burden – 10 Minute Solution – Target Toning for Beginners sells on Amazon for $7 (yes, that's an affiliate link so if you buy it I get 29 cents – can you hear that evil laugh). But you should try a few different exercise DVDs to find one you love.
Pick exercise DVDs up cheap at garage sales or borrow them from the library or friends. I got this exercise DVD free but I've probably done it once a week for four years so even if I'd paid full price each work out would only cost around 4 cents. Bargain!
You can find hand weights second hand too or just use waterbottles or bags of rice. I use 2kg (4lb)hand weights as I don't want to get toned but not build up big muscles – you can choose a weight to suit you. Start off with 1kg weights (2 or 3 lb) or no weights at all if you're a newbie. Here are some hand weights (they call them dumbbells in fun colors starting from $7).
2. No physical strain – Choose a DVD for beginners or one that offers different options for different levels of fitness.
I'm probably around intermediate fitness but if you're unfit it's best to start off slow so you don't put yourself off doing it again. If you really focus on those muscles while you do the 10 Minute Solution DVD you'll ache afterwards but nothing too bad. There's no aerobic exercise and nothing difficult so almost anyone can do it.
3. Frictionless – You can exercise anywhere, anytime, at home or in a hotel room. I've put exercise videoson my iPad and use bottles of water from the mini bar as hand weights if I'm travelling. And you don't need any fancy exercise gear – I just do it in my undies.
4. Can be customised to suit you – Even if you only do ten or twenty minutes of an exercise DVD it gets you moving and after you've done it a few times you can turn the sound down and play your own music. You can invite friends to join you or do it alone.
5. It works – Anything that gets you moving and that you enjoy is good. This isn't an aerobic workout but you are exercising. You're not going to get muscles like the incredible hulk but you're still doing weight bearing exercise which is good for muscles and bones.
Exercise doesn't have to be painful or torturous and even if you don't notice your body getting more toned it will be. I have about 10 exercise DVDs in my collection but only three that I use regularly.
I love them because they beat cabin fever and even though I'm in my mid-forties my bum and arms are more toned than at any other time in my life.
Target Toning Exercise DVD Review
Cost: $0 – Gifted by a friend but 10 Minute Solution – Target Toning for Beginners sells for only $7 with hand-weights (dumbbells) from $7.
Time Exercising: 10-60 minutes – you choose.
Average Heart Rate: 111 bpm. This is not an aerobic workout but better than doing nothing
Peak Heart Rate: 121 bpm. Very briefly.
Calories Burned: 182 calories. Nothing special but it's about toning not calorie burning.
Fun Factor: 5/10
Fear Factor: 0/10
Post-exercise Glow: 6/10.
Check out more episodes in the 52 Exercise quest now.
Thank You for Reading
If you're enjoying Get In the Hot Spot and 52 Exercises please take a moment to share this post on Facebook, Twitter, by email or any way you please. You can use the handy buttons below. I really appreciate that. Thank you.
Get the weekly newsletter – If you'd like email updates from Get In the Hot Spot click here to subscribe now. You won't get an email every time I update the blog but I'll email you weekly with the best stories.
Let's stay in touch – I'd love if you circle me on Google+. Thank you.
Have you tried any exercise DVDs? Love them or hate them?
Share This Story, Choose Your Platform!