52 Exercises: #7 MTV Dance!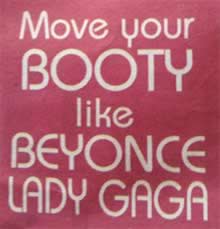 "NEW CLASS Move your booty like Beyonce Lady Gaga" the ad read.
Ridiculous as that may sound to you I was sucked in immediately.
Yes, I confess: I want to learn how to shake my booty like Beyonce and Lady Gaga. Even though I have never seem them shake their booties and even though the word booty has only recently been added to my lexicon.
"Designed for the beginner adult, have fun learning the GENUINE dance choreography from the film clips" the ad continued.
I probably didn't pay much attention to the last bit about genuine choreography, I just saw three words: 'adult beginner' and 'fun' and knew I had to try it for my 52 exercises quest.
Of course I know who Beyonce and Lady Gaga are but I've never seen one of their music videos so next I googled "booty shaking Beyonce" which showed a sedate live performance where she shook her buns for a few second while the crowd went wild.
The booty shaking seemed achievable and, if that was the reaction I'd get I was keen. Mad keen.
Then I googled "how to shake your booty" to see how hard it was and came across some rather amusing videos in which two transvestites half taught and half mocked booty shaking, along with a few comments from angry women (presumably black women) about how many white women have created YouTube videos teaching people how to shake their booty.
I loved that added controversy and the irony of knowing that the MTV dance class would most likely be filled with white, middle class women who were lusting after being able to shake their booty with as much class (or lack of it) as a downtown ho.
Sadly I don't own a sequinned one piece corset like Beyonce's so off I went to the dance class in the same baggy old shorts I wore for soccer.
It all started off well. The teacher was lovely, a not so young mother like all the other women there and I was happy to see a big crowd I could easily hide in. Around 30 women of a certain age (as the French would say) had happily forked out $15 for the opportunity to add booty shaking to their skill set.
For about the first 30 minutes we did some yoga type stretching which I love, especially when combined with pumping music blaring full blast which doesn't seem to be popular in yoga studios.
Then we moved on to learning the dance moves from the Lady Gaga video for Marry the Night, a song with about 1000 beats per second and a dance routine with about 20 moves in the eight second bit we were trying to learn.
I think it was a bit hard for adult beginners. Or at least this adult beginner. Plus really I didn't want to learn an entire video dance routine, I just wanted to learn a few moves so next time I hit the dance floor (and I am praying it will happen again) I can bust out my booty shaking and be the talk of the town. Hopefully in a good way, although at this stage in my life people talking about my dancing in any way would be fine.
But we didn't shake our booty once. Not in the literal way I was hoping for anyway where you just stand still, stick your bum out and jiggle it around as fast as possible.
So it looks as if my booty shaking days are over before they've even begun which could be a good thing.
Although I might still practice a bit with those YouTube videos I found because, as ridiculous as it is, if booty shaking is fun and it gets me moving I'm all for it.
MTV Dance! Exercise Review
Cost: $15 – Or $100 if you signed up for a term which I didn't because I have to keep trying new things. If you're in Noosa check out the class at Kirsty and Kester. I might give it another go myself when I've got all 52 exercises out of the way.
Time Exercising: One hour
Average Heart Rate: 92 bpm. Very little aerobic exercise.
Peak Heart Rate: 127 bpm but only for a few seconds.
Calories Burned: 180 calories.
Fun Factor: 7/10 – It was fun and relaxing
Fear Factor: 6/10 – Lovely, friendly relaxed group and teacher so nothing to fear at all.
Post-exercise Glow: 8/10.
Click here for more episodes in the 52 Exercise quest.
Thank You for Reading
If you're enjoying Get In the Hot Spot and 52 Exercises please take a moment to share this post on Facebook, Twitter, by email or any way you please. You can use the handy dandy buttons below. I really appreciate that. Thank you.
Get the weekly newsletter – If you'd like email updates from Get In the Hot Spot click here to subscribe now. You won't get an email every time I update the blog but I will try to create a weekly newsletter to tell you about the best stories.
Let's stay in touch – You can also join me on Twitter, Facebook, Pinterest,Google+ and Instagram.
Can  you dance? Do you dance? Are you any good at it? Does it matter? And is there an age deadline for booty shaking?
Share This Story, Choose Your Platform!