How to See the Real Costa Rica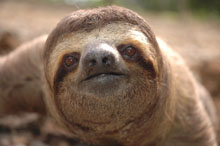 Costa Rica means the beautiful coast and it lives up to its name. Costa Rica is a long, skinny country bordered by the Caribbean Sea on one side and the Pacific Ocean on the other.
Both the Costa Rican coasts have unique scenery and culture. The Caribbean coast has tropical fish and english-speaking people of African descent, while the Pacific Coast has long beaches and Spanish speaking residents.
Wildlife is abundant throughout Costa Rica and especially the Osa Peninsula which is known to be the most biologically diverse place on in the world and that's a huge calling card.
When we moved from New Zealand to Central America with dreams of seeing toucans in the wild we never dreamed that we would have them in our garden every day, often peeking in through the window at me as I took my morning shower.
1. Get your own wheels
It's hard to get off the beaten track in Costa Rica unless you have your own car You can hire a car or buy one if you're going to stay longer than a month.
If you're going to buy a car get one in the capital San Jose. You'll have more choice and you can pick a car that might not have been roughing it around Costa Rica as much as some vehicles.
The roads are terrible in Costa Rica. In the wet season, which runs from March until November you can expect a lot of washouts and landslides. Yes that's nine  months of torrential rain,  usually from 4pm to 6am and sometimes all day too. Even in the "dry" season when the roads are good they're still full of potholes and you might have to cross rivers.
The bad roads cause heavy wear and tear on cars and cars break down a lot in Costa Rica. Car mechanics aren't that good either (many don't own their own car) so expect to have car problems. It is part of the Costa Rican experience but it's worth it. Do your due diligence before you buy a car and keep your fingers crossed.
If you hire a car you shouldn't have so many problems but either way you will need a four wheel drive vehicle with high clearance.
2. Don't book accommodation before you go
You can often find better deals or new accommodation not mentioned in the guidebooks or online once you get to Costa Rica. The best thing to do is ask the locals in shops or walk into accommodation places and ask to see what the rooms and rates are like. If you can't see what you need then ask someone if they know where you can find it.
When we decided to stay permanently in Costa Rica we rented two cabinas next door to each other in a small, locally owned set up. Three generations of Costa Ricans lived there it was owned by the mother and run mainly by her daughter and son Diego who live there his wife and their son Diegito.
There was a restaurant on site where we ate a lot but the family also let us use their kitchen so I could cook some familiar meals for my kids. We thought it would be quick for us to find a house to rent but that wasn't the case. We ended up spending three weeks as part of their family which was a great experience for everyone.
The cabinas in a were about 100 meters from a beautiful Uvita beach, the local school where our boys were enrolled was a five-minute walk away and the cabinas were surrounded by a massive shady mango trees. Of course our Spanish improved lots from speaking to the owners and our kids made some local friends.
Eventually we found a house to rent after bumping into some Americans outside a local shop who were leaving  and needed someone to finish their lease for them. Our two other houses were found through word-of-mouth.
The only place where you need to book accommodation in advance is the Osa Peninsular where accommodation is scarce and expensive. Many areas of the Osa Peninsular are only accessible by boat and transport is often included in the accommodation rate or organised by the hotel although I wouldn't really call Poor Man's Paradise where we stayed a hotel.
3. Walk everywhere
Once you've got to where you want to be ditch the car and start walking.
You can't see the wildlife if you're whizzing by too fast and it's best noticed and appreciated on foot. I spotted monkeys, sloths and giant morpho blue Morpho butterflies on my morning walks.
Snakes, dolphins and anteaters at the beach.
Toucans, massive lizards and woodpeckers in my garden.
Not to mention hummingbirds, giant crickets and bats in my house. Actually one of the bats ended up in the toilet. Don't worry, I saved it.
4. Avoid touristy places
You want to get out of San Jose as fast as you can and avoid touristy places like  Tamarindo and Jaco which are package holiday destinations.
Manuel Antonio National Park is also popular destination but it's definitely worth visiting especially if you're short on time and need to see wildlife urgently. It's a beautiful spot and we saw a lot of monkeys, sloths and many other creatures there plus it's a gentle walk so easy for children and even my mum when she visited us.
You can see wildlife almost anywhere in Costa Rica if you take time to spend time in a place and walk around slowly and carefully observing things closely.
5. Learn some Spanish
If you learn some Spanish you can shop where the local shop, go where the locals go and hear a lot of amazing stories.
I did spend some time learning Spanish before I moved to Central America, although not as much time as I spent learning to dance the salsa which definitely wasn't as useful.
We used a Spanish learning course with podcasts that we could listen to and take to Costa Rica along with printouts.
You can listen to podcasts at home before you leave but to learn a language you need to speak to people. I spoke to everyone in Costa Rica: every taxi driver, every hotel owner and everyone I met in a shop.
Most of them were subjected to the same personal questions such as: Have you got a family? Where do you live? or How old are you?
It's amazing how happy people are to see you trying to learn their language and how helpful they are.
You need a good dictionary to clear up misunderstandings and learn new vocabulary because as long as you keep improving your vocabulary you'll carry on learning.
My Spanish grammar is very poor but I can understand what people say to me and make myself understood which is the important thing.
Share your tips for seeing the real Costa Rica or any other destination. How do you get off the beaten track when you travel?
Please leave a comment or your feedback we'd love to hear from you.
Share This Story, Choose Your Platform!