World's Best Travel Destinations – Waiheke Island, New Zealand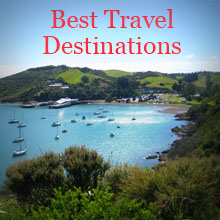 World's Best Travel Destinations is a new series where we go into more detail, not just on where to go but also what to do when you get there.
I'm opening this up to guest writers as there are too many brilliant travel destinations in the world that I haven't been to or don't know well enough to cover in this much detail.
Where better to start than Waiheke Island, one of New Zealand's prime yet little visited travel destinations which I know very well.
Why did you go to Waiheke Island and how long did you spend there?
I first went to Waiheke in 1996 when we moved to New Zealand and moved there myself just over a year later. We ended up spending eight years there and having three kids there two of whom were actually born at home on the island. It certainly makes a great place to write in your passport as place of birth.
Why should I visit Waiheke Island?
It's a beautiful island just a 35 minute ferry ride from downtown Auckland surrounded by stunning beaches and covered in lush forest and vineyards producing some of the best red wines in New Zealand.
Things to See and Do on Waiheke Island
Well it's really a place to relax, enjoy nature, walk and visit the vineyards.
Best Things to Do on Waiheke Island?
Take a kayak trip from Matiatia to spot little blue penguins and dolphin and enjoy the scenery from the water.
Hire a car or take a tour of the island loop then spend the day visiting remote beaches and swimming in summer. It takes about 45 minutes to drive from Matiatia where the ferry arrives to Orapiu at the far end. Most of the 8,000 island residents live within a 15 minute car ride from the ferry so once you get past Onetangi there are few houses.
My favourite walk is at the far end of the island from Orapiu to Pearl Bay.
Visit Stonyridge Vineyard, the Mud Brick Restaurant or Te Whau winery.
Best Places to See in on Waiheke Island
Definitely Palm Beach and Onetangi Beach. There are some great walks from Palm Beach to the main village of Oneroa.
Special Events
Waiheke Island Jazz Festival – over the Easter Weekend each year.
Waiheke Island Walking Festival – at the end of October each year.
Travel Tips
Where should I stay?
There's a backpackers in Oneroa or you stay in a B&B, or rent an bach which is a Kiwi holiday home. These can range from simple beach-side shacks to palatial modern homes.
What and where should I eat?
Te Whau is my favourite winery though they are all good. Definitely do lunch at Stoneyridge Vineyard and get real, thin crust pizza at Stephano's in Surfdale which is BYO.
Any good shopping opportunities for souvenirs and where can I buy them?
Hmm, that's a good one. There are a lot of artists on Waiheke so visit the art gallery and the little shops that sell locally made good. The local red wines and olive oils make great gifts. There's a small market in Ostend on Saturday mornings where you can mix with the local and get some great tamarind chutney.
What's the Best Way to Get Around?
Hire a car or scooter. It's best if you have your own wheels so you can explore the island, at least for a day. Stay close to Oneroa if you want to eat out in the evening or near Palm Beach or Onetangi if you're after beach days. There are decent buses running between the main villages and beaches.
Is it off the grid or Wifi friendly?
Just ask ahead before you book accommodation if you need Wifi or ask around which local cafes have it.
When should I go? Are there any times of year to avoid?
The island gets very busy after Christmas and all over the January school holidays so it's best avoided then as prices will rise. February is the best month to visit as it's still hot but any time between November and April should be fine. Your personal story
How did you get there? Are there any other options?
The passenger ferry from downtown Auckland is the only option. Hopefully you won't need the police launch or a helicopter ride to hospital while you're there.
Can you share a secret travel tip?
There's a great walk in the forest and bird reserve behind Onetangi where you can see giant Kauri trees. If you're into naturism both Palm Beach and Onetangi Beach have secret coves just over the rocks on the left where you can hang out in the buff with like-minded people.
My best memory of Waiheke Island is……….. ?
Spending the days at Palm Beach, catching the sunset and views across the harbour to Auckland from the Mudbrick Restaurant.
My biggest regret is not taking enough photos! You know how it is when you live somewhere you don't take photos. I didn't while we lived on Waiheke so the photos part from the top one are from Waiheke Island Tourism and the Mudbrick Restaurant.
What do you think? Is Waiheke Island one of the world's best travel destinations, one of New Zealand's best travel destinations or even the best? Have you been? Would you like to visit?
Share This Story, Choose Your Platform!