Win a Holiday in the Northern Territory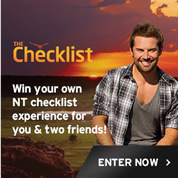 Did you get inspired by the photos and stories about Alice Springs, Uluru and Kings Canyon? Not to mention the cheeky camels I hung out with in the Northern Territory's Red Centre.
Then just watch Yahoo's Yahoo six minute online reality TV show The Checklist, answer the questions and enter now for your chance to win a Northern Territory (NT) holiday.
The more often you enter, the more chance you have of taking the grand prize worth $6,000 and winning your own NT Checklist travel experience. If you win you can take two friends with you and choose to visit the Red Centre or the Top End of Australia.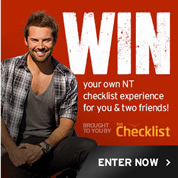 There's also a weekly winner of a $200 Virgin Australia voucher for the best answer each week.
Sorry to all my lovely overseas readers but this one if only open to Australian residents. I'll be having a strong word with them about that. As my kids would say *insert whiney voice here* "no fair".
But if you do live in Australia you're in luck. Watch The Checklist now and enter the competition here then stay tuned to see if you're a winner on the NT Facebook page here. Good luck team Hot Spot!
Share This Story, Choose Your Platform!