24 Hours in Alice Springs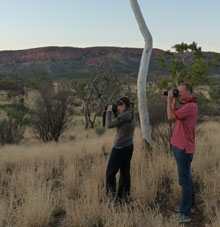 At the old Telegraph Station in Alice Springs a wallaby waits in yellowed grasses for the sun to set, for humans to leave and for the chance to scratch away at the surface of the sand to find life-sustaining water.
Alice Springs straddles the Todd River, a waterway which is noted for its absence. Stand on the bank, the taste and smell of red dust thick in your mouth and nose, and you probably won't see a river. 99% of the time not a creek, a stream, or even a trickle of water cools the sandy river bed.
For here in this town called Alice, the biggest community in Australia's Red Centre with a population of 27,000, the Todd River often flows only once a year.
2009-2011 were unusually wet. During those three years the Todd River flowed around 12 times, but when I visited it hadn't rained for six months and sometimes it doesn't rain for ten years.
Imagine growing up in Alice Springs and getting to grade six, aged 10 years old, never having seen a drop of rain.
Central Australia is one of the driest places on earth and it's a simple chain of events here in the desert: no rain, no river, no water. Yet when we walk out onto the dry river bed, water is there, we can see it, in a small hole surrounded by wallaby tail marks and filled with a few centimeters of precious H²O.
It's a mini miracle, a mirage that turns out to be real, as surprising as Alice Springs itself.
I had 24 hours to dig around in Alice Springs to see what lies below the surface but I loved what I saw and next time I want to stay for longer. Much longer.
Warning! This is a long post but it had to be – there's a lot to explore in Alice Springs. You'll love it.
8:00 – Rent a bike or take a bike tour of Alice Springs with Longhorn Cycling
Geologist-turned-mountain-biking-tour-guide, Clarke from Longhorn Cycling recently chopped off his thumb in a farming accident, but he didn't let that stop him from taking me on a tour of Alice Springs .
Don't worry, Clarke's thumb has been sewn back on and is healing nicely, but his story is a testament to the laid back nature and resilience of the people in Australia's Red Centre. Alice Springs is just about as far from the ocean as you can get in Australia, and this being Australia, that's a long way. It's may be of the dryest, harshest places on earth but it's also one of the most stunning.
We hopped on mountain bikes and cycled along the bike tracks of the dried up Todd River while Clarke shared stories of the history, geology and culture of Alice Springs. He's got some great stories and we managed to see Olive Pink botanical gardens, climb the lookout for amazing views and get our bikes stuck in the sand too.
10:00 – Browse the art galleries and quirky gift stores
Alice Springs has some world-class artists and it's the best place to buy indigenous Australian art.
The Mbantua Art Gallery on Gregory Terrace is a great place to start shopping and Alice Springs town centre is small but perfectly formed so you won't get lost.
Make sure you get a photo of the world cities signpost downtown so you can see how far you are from other travel hot spots.
12:00 – Have lunch at Page 27 Cafe
Page 27 Cafe is in the Fan Arcade which runs off Todd Mall. There are heaps of yummy salads, hot dishes and freshly squeezed juices.
I had a Vitamin C juice, which cooled me right down, followed by a smoked salmon nicoise salad. There was a lovely pink crispy skinned hunk of salmon, olives, egg and a heap of gorgeous greens. Healthy and tasty too.
13:00 Check in to Lasseters Hotel and Casino
Have a swim, a nana nap or both if you can fit them in. The spanking new pool is heated so you'll enjoy taking the plunge even in winter.
15:00 – Take a cultural and campfire cooking tour with brilliant Bob Taylor
Bob picked us up from the hotel in his big red car and we headed straight to the Telegraph Station for an introduction to Alice Springs' history, flora and fauna. It was Bob who taught me everything I know about how wallabies dig up the dry river bed to find water. Amazing it is too.
Bob's father is a renowned watercolour artist from the family of traditional owners of Rainbow valley, an important sacred place to the Southern Arrernte people of central Australia. I grilled Bob for hours about his amazing life story and it was a true privilege to learn about Aboriginal culture from an Aboriginal person. As Bob says on his website:
"We've lived it and live it. The tours will give you an understanding about what it is to an aboriginal in modern Australia. The adaption of culture and its history. Above all; come feel the country, its harshness and its beauty."
As well as seeing wallabies at the Telegraph Station Bob pointed out witchety grub bushes, where yummy witchety grubs grow fat in the tree roots, wild native passion fruit and a bush whose yellow flowers smell like chocolate when crushed. Now chocolate I love, but witchety grubs probably not so much – though mercifully I couldn't try them as there were none to be found.
Next Bob took us to Simpsons Gap with its rugged red cliffs and green waterhole where we watched the ringneck parrots drinking and the rock wallabies come out of hiding at the end of the day.
Our final stop was a secret camp in the Western McDonnell Ranges about a 20 minute drive from Alice Springs where we watched a stunning Red Centre sunset from the top of a hill while Bob went about setting up everything for our campfire bush tucker supper.
Dinner was cooked in a bush oven over a real fire with the beautiful flavours of the Mulga wood burning giving extra flavour to our meal which featured some of the flavours of the bush foods.
Surrounded by bush we sat around the campfire talking, watching the moon rise and feasting ourselves silly. Surely the best bush tucker restaurant in the world.
22:00 – Back to Lasseters Hotel
You can probably stay up all night playing in the casino if you wish. Or conserve energy like me, hop into your big bed and rest up so you can do it all again tomorrow. Maybe starting with a longer bike ride to Simpsons Gap this time.
You'll barely scratched the surface of Alice Springs in 24 hours but it's amazing what you find there when you start digging around.
Alice Springs Travel Notes
How to get to Alice Springs
There are direct flights from most major Australian cities to Alice Springs and they're surprisingly cheap. My three hour flight from Alice Springs to Brisbane on Qantas only cost $250 and Virgin Australia have some great deals too. Otherwise you can drive there in a day or two from the coast!
How long to stay
24 hours isn't long enough in Alice Springs. I hope to return to properly explore the nearby walks and 150 km of mountain biking trails, visit artists communities and spend more time browsing the art galleries. You could happily spend three days or a week in Alice Springs because there are many amazing day trips to the outback with great walks and wildlife.
When to visit Alice Springs
Winter is the best time to visit Alice Springs, from around April to November, which are the cooler months. The temperature may still hover around 30 degrees in the daytime but the nights are chilly. I love the dry heat and there was always a good cooling breeze.
What to pack
Well the great thing about Alice Springs is you can buy everything you need there. What I most needed was some lip salve and moisturizer as it's so very dry.
Alice Springs Tour Operators
Longhorn Cycling hires out bikes by the hour, day or longer. Or book a tour with Clarke, either of the town, where he'll explain the history and geology of Alice Springs, out of town to Simpsons Gap or along some of Alice Springs 150 kilometres of mountain biking trails which sounds like a brilliant family travel adventure.
Bob Taylor runs personal tours for up to 18 people including the Mbantua Tour and Dinner which I joined and several others. Find out more and book through his website. The Mbantua Tour and Dinner costs $150 which is incredibly good value and a big highlight of my trip to the Red Centre.
More Red Centre Travel Stories and Tips Coming Soon
I was a guest of Tourism Northern Territory during my trip to Alice Springs and will have more hot Australian Red Centre travel stories about Uluru and the amazing Kings Canyon to share with you very soon.
Stay Tuned for Free Updates – Either by RSS feed or by email – Whatever works best for you.
Share This Story, Choose Your Platform!