Is Uluru Worth the Trip?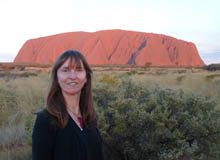 Uluru is Australia's spiritual home. Formerly known as Ayers Rock, Uluru is somewhere every good Australian wants to visit. In fact, they say you're not a proper Aussie unless you've seen Uluru.
So is Uluru (or Ayers Rock) worth seeing? When Tourism Northern Territory invited me on a four-day trip to the Red Centre it was a golden opportunity to see Uluru with my own eyes and find out if it was worth the visit.
Like most people I've wanted to travel to Uluru but thought it was too far away and maybe, just maybe, that it wasn't worth the journey. After all, Uluru's just a big rock in the middle of a hot, sandy desert isn't it?
No, no and no again. That's where I was wrong.
So is Uluru Worth Visiting?
Uluru is definitely worth seeing and that surprised me in a good way, from the moment we neared the rock when, looking out from the plane window I saw the dry brown desert was a kaleidoscope of colors with trees, bushes and shrubs that were yellow, green, orange, red and even blue.
It made me want to dive right in and that's what I did.
Uluru Travel Notes
Staying in and Exploring Uluru Town and Resort
Ayers Rock Resort is the town and I love that it includes accommodation to suit every budget, from campsites and backpackers to the five-star hotel Sails in the Desert.
I stayed at Desert Gardens hotel (4.5 stars!) and walked round the whole resort and town which takes about 30 minutes if you don't stop. For the foot weary there are regular shuttle buses between the various accommodation options and the tiny town centre which includes shops, restaurants and a supermarket.
Ayers Rock Resort has several swimming pools and lots of free activities including bush yarns, art classes for the kids, didgeridoo playing and lots more.
There are several lookouts from sand dunes where you can enjoy the view across the desert to Uluru any time you please.
Things to do in Uluru
I've already covered my sunrise  Uluru camel tour and here are three more things to do in Uluru.
Uluru Base Walk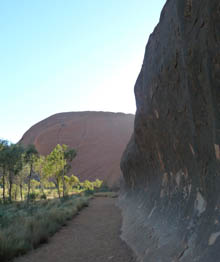 You can climb up Uluru but it's not recommended because Uluru is an important spiritual site for indigenous Australians and it's dangerous too. We hiked around the base of Uluru which seems oblong in the photos but is actually a huge amorphous rock with all kinds of interesting nooks and crannies.
Officially the base walk takes two hours but why rush? Leave plenty of time for taking photos and reading the signs so you can learn about Uluru. Rest in the shade and drink lots of water then head to the visitors centre after your walk for refreshments, souvenirs and a mini Uluru museum.
Sounds of Silence Dinner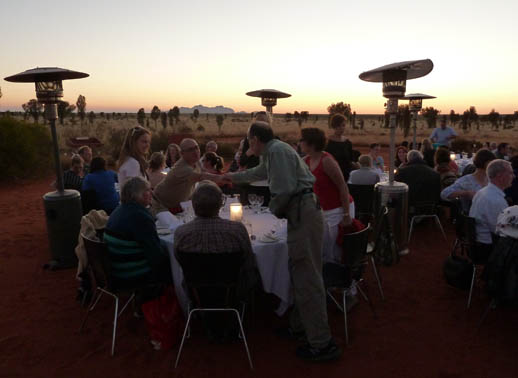 For amazing Uluru views and dinner in a supreme setting, splurge on the Sounds of Silence dinner. It includes outback-style canapes (crocodile on crackers anyone?), a three course buffet barbeque (try the lamb and quondong crumble) and as much beer or wine as you can drink. So while I was on best behaviour and getting up at 5am the next day for a sunrise hike, some guests indulge wildly.
The dinner costs $169 per person and it's a special night to remember – we sat with some lovely Italian honeymooners, a couple from Connecticut, some Kiwis and even a few Australians.
If your budget is tight you could take a picnic to the Uluru lookout.
Uluru Kata Tjuta National Park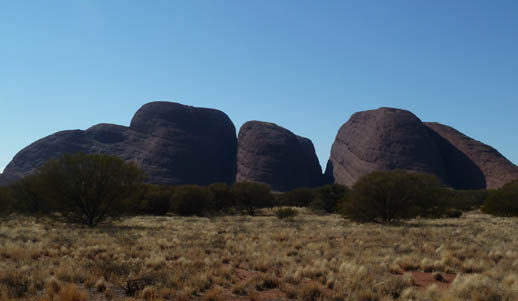 Sometimes known as The Olgas, Kata Tjuta came as a huge surprise to me. Situated about a 4o kilometer drive (30 mile) from Uluru, Kata Tjuta is a stunning rock formation with 36 domes. Yes, it turns out Uluru isn't the only rock in this desert and Kata Tjuta rivals it.
I took a sunrise tour to Kata Tjuta with Seit Outback Australia and a fantastic guide called Sarah who's studied eco-tourism. Just five of us set off in darkness to the Kata Tjuta sunrise lookout to watch the skies, desert and rocks come to life.
We breakfasted on a picnic table with more Kata Tjuta views then walked the Walpa Gorge. Walpa means windy and they don't lie. I wished I hadn't worn shorts but thank heavens I had five layers on top and a beanie (woolly hat) to keep me warm. The desert is cold at dawn. I think I mentioned that before in my sunrise camel tour story.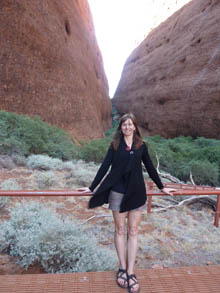 Walpa Gorge is a men's sacred ceremonial site and you feel so insignificant walking between the ancient cliffs and rocks. You feel so small and yet thrilled to be part of something so big.
So is Uluru worth the trip? Absolutely. Make sure you spend at least 48 hours at Uluru so you have time for as many hikes, sunrises and sunsets as possible.
If you can stay four days or longer so you can also visit Kings Canyon and Alice Springs. I flew into Uluru then out of Alice Springs which is a six-hour drive from Uluru passing through the most stunning scenery with plenty of places to stay and explore.
Uluru Travel Tips
If you're traveling by plane and flying into Ayers Rock airport get a window seat on the left hand side of the plane for views of Uluru which the captain kindly pointed out to us.
Where to stay in Uluru
Ayers Rock Resort has something to suit all travel styles and budgets. If you want to experience the Sounds of Silence dinner under the stars book in advance – it's popular.
Uluru Tours
Seit Outback Australia guides are all friendly and fully trained so you'll have fun learning about the desert from them. They offer many tours but I enjoyed the five-hour Kata Tjuta sunrise tours which costs $132 including views, breakfast and a hike with a clued up tour guide.
More Red Centre Travel Stories and Tips Coming Soon
I was a guest of Tourism Northern Territory during my trip to Uluru and Alice Springs and will have more hot travel stories to share with you very soon.
Stay Tuned for Free Updates – Either by RSS feed or by email – Whatever works best for you.
Share This Story, Choose Your Platform!