Glamping in Kings Canyon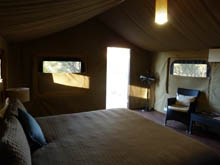 Glamping is a horrible word but a brilliant travel experience. While my kids adore camping, love being dirty and sleeping in a lumpy, sandy bed I don't. But I do love the tranquillity, scenery and simple pleasures camping brings.
It's hard to beat the Australian outback for the perfect camping experience and they don't call Australia's heart the Red Centre for nothing. Here the ground, hills and rocks are all a startling rust color, the light and air imbued with a clean, bright aura that sears itself into your memory.
They say you're not a true Aussie if you haven't been to the Red Centre's top travel destination Uluru (formerly known as Ayers Rock), so I was excited to visit Australia's most famous natural landmark for the first time. Sacred to the Anangu people, Uluru is both spiritual and stunning, a far-flung place that's definitely worth the epic journey.
But what impressed most during my travels in the Red Centre was Kings Canyon which is a three-hour drive from either Uluru or Alice Springs.
King Canyons Wilderness Lodge
King Canyons Wilderness Lodge is the perfect escape for those who love nature but not roughing it. Part of Kings Creek Station cattle and camel farm, the lodge is a short drive from Kings Canyon with just ten luxury tented cabins. Each cabin is named after an outback pioneer and fitted with all the mod cons including air-conditioning and a roomy ensuite bathroom so you can enjoy the outback setting  without sacrificing your creature comforts.
Evening drinks and canapes are served around the campfire and dining is outside except in the cooler winter months when this moveable feast reconvenes to the dining room. The resident chef creates gourmet  bush tucker which may include camel meat, kangaroo and native quandong fruit.
After supper guests gather round the campfire to share stories of their outback adventures. The night skies are amazing, all the more so for knowing that when you tire of them you'll luxuriate in the best bed the outback has to offer.
King Canyons Wilderness Lodge is just a short walk from Kings Creek Station where you can experience the outback either by quad bike, helicopter or camel. You can even check out their camp site to see what you're missing out on before heading back to your luxury canvas-clad bedroom.
Glamping certainly puts the glamour into camping and for that I'm eternally grateful, no matter how ugly the word sounds.
Travel Notes
Find out more about King Canyons Wilderness Lodge or make a booking here.
Jetstar and Virgin Australia offer flights to Ayers Rock and Alice Springs in the Northern Territory from most major Australian cities.
More Red Centre Travel Stories and Tips Coming Soon
I was a guest of Tourism Northern Territory during my trip to Uluru and Alice Springs and will have more hot travel stories to share with you very soon.
Stay Tuned for Free Updates – Either by RSS feed or by email – Whatever works best for you.
Have you ever been glamping? Would you like to give it a go?
Share This Story, Choose Your Platform!