15 Things to Know Before Riding a Camel that I Learnt on an Uluru Sunrise Tour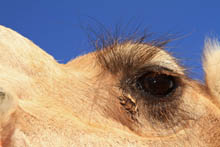 I remember being initiated into the art of camel riding in the Bronx Zoo. It wasn't a long ride but it made an impression on me. I've ridden camels in the Sinai Desert in Egypt too, but I didn't know much about these humped creatures until I went on a camel sunrise tour at Uluru.
For an hour the camels entertained us with their snorting and face-pulling while the camel handlers (or cameleers) regaled us with their outback adventure stories. Those blokes are like Crocodile Dundee and the Marlborough man rolled into one.
The sunrise was stunning but it was very cold so wrap up warm for that desert sunrise camel experience. The camels do, growing a fluffy winter coat to keep themselves warm in the winter months. The hot tea (or coffee), warm damper (bread) and quondong jam all go down very nicely when you get back to the ranch.
Maybe you should grab a cuppa too while I tell you everything I learn about camels during my Uluru camel tour.
What you need to know before riding a camel
1. One million wild camels roam the Australian outback – They're everywhere and something of a pest as they travel in groups and can vacuum up gallons of precious water in two twitches of a camel's tail. They don't follow the rules of the road either so keep an eye out for them if you're driving yourself around the Red Centre.
2. Camels go single file – They do that naturally in the wild so the camels are roped in a line for the desert tour because that's what camels naturally enjoy. They're very fussy about who goes where in the camel train too.
3. Camels smell – You would too if you lived in one of Australia's Red Centre (one of the hottest places in the world) and never washed.
4. Camels pee on their legs – Which adds to their pungent aroma but they do it on purpose to cool themselves down.
5. Camels don't practise dental hygiene – So if you stick a photo of camel gnashers up in the kids' bathroom that should encourage your children to brush their teeth more often.
6. Cameleers love their camels – After spending an hour riding their camels we did too.
7. Lean backwards on take off and landing – We mounted the camels when they were sitting down so it's important to lean back when they stand up and when they sit down to, as a cameleer explained:
"avoid landing up head first in the red sand and having a video of your camel stack going viral on YouTube."
Sadly everyone on my tour paid attention to this advice so I don't have any funny videos to show you.
8. Camel meat is a delicacy in the Middle East – Amazingly camel meat is exported from Australia to the Middle East. It's healthy and low-fat because the camel stores all its fat in its hump. I refuse to say where I store mine but I did try a bite of camel burger for research purposes and it tasted pretty good, even to a mainly vegetarian like me.
9. Camels are unique – Not just as a species but because every camel has its own personality and facial characteristics which is what makes them so loveable.
10. Camels are biologically adapted to desert life – One reason camels can go long periods without water is the shape of their red blood cells. They are oval so camel blood still flows when dehydrated rather than clumping, as human blood does. Camel are the only mammals with oval red blood cells.
11. Camels can drink up to 40 gallons of water in one go – This is why it's problematic having a million wild camels in one of the driest places on earth.
12. Camels barely need to drink at all – Eating green plants gives camels the moisture they need without drinking. One camel owner claims he hasn't given his camels a drink for four years. They recycle their urine internally too hence the rather strong pong.
13. Camels can kick in all four directions with each of their legs – Ouch! So don't approach a camel unless you know it's a tame and friendly camel.
14. Camels can close their nostrils against wind and sand when necessary – I wished I'd been able to do that when I was in the desert.
15. Camel riding is fun – You're so high up with amazing views and the side to side rocking gait is rather relaxing.
Uluru at sunrise from camel back – now that's really a camel ride to remember.
Uluru Travel Tips
How to get to Uluru
There are direct flights from Melbourne, Sydney and Darwin to Uluru (the airport is called Ayers Rock) with connections from other big Australian cities and flights are surprisingly cheap. Otherwise you can drive to Uluru in a day or two from the coast. Not recommended if you have children though.
When to visit Uluru
Winter is the best time to visit Uluru, from around April to November, which are the cooler months. The temperature may still hover around 30 degrees in the daytime but the nights are chilly. I love the dry heat and there was always a cool breeze.
What to pack
Take warm clothes for the camel ride – I wish I'd had gloves! Plus lashings of lip salve and moisturiser as the desert is so dry. Later in the day you'll need one of the best sun protection hats you can find.
Uluru Camel Tours
Uluru Camel Tours offer sunrise and sunset camel tours for $119 which includes breakfast or drinks and nibbles after the tour. I loved my camel Tamani but they are all cool camels and the cameleers patter and stories are priceless.
More Red Centre Travel Stories and Tips Coming Soon
I was a guest of Tourism Northern Territory during my trip to Uluru and will have more hot Australian Red Centre travel stories to share with you very soon.
Stay Tuned for Free Updates – Either by RSS feed or by email – Whatever works best for you.
Share This Story, Choose Your Platform!