My Sleepover at the Holiday Inn on Flinders, Melbourne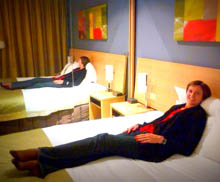 Despite decades of sleeping all around the world I'd never spent the night at a Holiday Inn until last week.
When I was a kid my bestie's dad was big in the Holiday Inn. Last thing I heard he still is so they've travelled the globe working for the company and enjoying many a holiday at the aptly named Holiday Inn.
Now it was my turn to give it a whirl.
I went to Melbourne for the Problogger event 2012 and rocked up at the Holiday Inn at 4.30 pm slightly late for a "business" meeting. So I checked into my king suite and invited the "business associate" I was meeting to join me in my suite.
I put all that business stuff in quotes because while many talks between bloggers are all about business it feels like fun.
Since I started going on trips as a professional travel writer and blogger I have a strange routine in hotels these days. Here's how it goes.
1. Dash into the room and dump my bags by the door.
2. Run around checking out everything and paying special attention to little details like bathrobes (or their absence), tea bags (I do come from British stock) and views (because when you're traveling it's important to see something from the windows that you don't normally see every day).
3. Madly take photos. This needs to be done as soon as I arrive and before I trash the joint. When I say trash I mean unpack my gear and cover every available surface in stuff, not throw the TV out of the window or anything like that.
Yes, I just have to get the all important hotel photos done first then I know the room will look as fresh and clean as it was when I arrived in the pics and no one will ever find out how messy I am.
With that done in record time I was ready to meet the PR chick and fellow blogger (hello Holly!) from Sydney who I've spoken to on the phone but never met before.
It felt a bit odd inviting her up to my suite but in fact meeting in the room was more fun and comfy than meeting in a cafe. There was a cosy sofa and even earl grey tea bags, fresh milk (not UHT) and mugs (not tiny tea  cups) so I could brew up a much-needed cup of tea. Home from home.
Half way through our chat a dear blog reader, fellow travel blogger and another new friend rocked up. It was Johanna Castro from Perth who I'd invited to sleep on the sofa bed.
Once we'd all caught up it was time to dash off to a restaurant where we were meeting a host of other travel bloggers.
Literally the entire weekend was spent like that, dashing between meetings, the conference and the hotel, to change or have another cuppa. Sometimes we even managed to fit in a bit of sleep.
What I Most Liked About the Holiday Inn on Flinders
Choice of soft or firm pillows.
Super friendly and helpful staff.
Big breakfasts delivered to my room to sustain me for the conference.
Earl grey tea bags – I might have mentioned this is important.
A lovely sign in the bathroom saying if you've forgotten any toiletries just ask and they'd get it for you.
The pool with twinkly fairy lights looked lovely by night.
Fluffy dressing gowns because Melbourne was chilly, even in spring.
The location is fabulous, slap bang in the middle of the city within walking distance of hundreds of amazing shops, cafes and restaurants. It was also only a ten minute walk from Etihad Stadium where the conference was held and the Southbank casino which I visited last year to interview poker star Jo Hachem.
The only real problem was the WiFi which stubbornly refused to work in suite 713 on the seventh floor. The kind staff tried their very best to fix it and offered to move me to another room but by then I'd unpacked all my clobber and couldn't face it.
Anyway, I think it was a secret message from someone important and wiser than me telling me not to waste time in my hotel room surfing the Internet but to get out there and meet people at the Problogger Event. So that's what I did.
My biggest regret is that I couldn't stay longer and didn't have time to mooch around Melbourne exploring properly. Next time I'm in Melbourne I want to:
Go to Kinfolk, a cafe under The Hub at 673 Bourke Street which was recommended by a friend who says it's "one of my fave Melbourne hangouts".
Explore the Lanes – I dipped into them last year and discovered a few Melbourne secrets but I'd like to see more street art.
Make it to Richmond's Bridge Rd and look for bargains at the outlet stores.
It's always a bit strange sharing a hotel room with someone you've never met before ( I did it in Las Vegas for BlogWorld too) but Johanna from Zigazag was a gem and having someone to chat with made the whole event much more fun.
So finally, after all that sleeping around, I can say I've now slept at the Holiday Inn. And a very good sleep it was too.
Travel Notes

To find out more about visiting the Holiday Inn on Flinders check out their blog with the latest specials. You can also connect with them on Twitter or find the Holiday Inn Australia on Facebook where they offer more specials and giveaways.
Want to Hear More About the Blogging Conference? 
All the gory details including some silly photos and red hot blogging tips are over on Successful Blogging.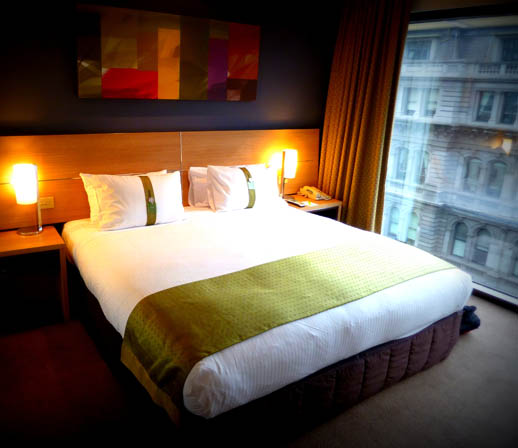 Have you slept anywhere good recently?
Share This Story, Choose Your Platform!