What's the Worst Thing that Could Happen?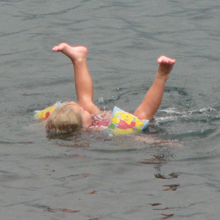 Sponsored post by InsureandGo Travel Insurance
Are you a worrier? If so it's perfectly normal and nothing to be ashamed of.

Most of us are but for some reason travel fills us with more fear than anything else.
In fact, one of the reasons I started blogging about my travel adventures was because so many people got that far away, wistful look in their eye and said to me:
"I'd love to travel more."
You see the thing is they can. You can. Anyone can. Travel is easy and accessible to all of us if you just overcome your fears and take the plunge.
Irrational Travel Fears
Of course there are many fears to be overcome and some of them are even real fears too.
Did I feel scared about going to live in rural Zimbabwe for a year?
Was I nervous about moving to New Zealand when I'd never even been there before?
Did we have sleepless nights about selling most of our belongings and house then moving to Central America with three kids?
Of course the answers are yes, yes and yes!
But it was worth it.
The vast majority of fears are completely irrational and when you look at all those travel experiences I mentioned above, the worst thing that could happen was probably that I didn't like it and ended up coming back home.
Yes, I'd have wasted money. Sure I'd look like a fool when I came home early with my tail between my legs. Finally all those naysayer would be able to roll their eyes and say:
"I told you so!"
But I went on those trips anyway because if you never dare to try anything, if you never dare to shake the status quo then you're more or less guaranteed to end up feeling dissatisfied, resentful and unhappy. To me that's a much greater fear.
That's why I've written before about giving fear the finger and why I try to do something scary every day.
But there is one proviso for travelers.
You have to prepare yourself for those travel disasters which you could never foresee. The times when you get sick, your bags get lost or stolen or your plans change through no fault of your own.
Overcoming Travel Fears
Travel is a huge expense. It's not just the cost of air fares, accommodation and food. There's also the loss of income when you're not working.
Sometimes you can save money by taking a two day train ride instead of flying. If you do your homework you can often find great accommodation for a fraction of the cost you'd expect to pay for it. Simple things like making one meal a day a picnic will save you a small fortune.
But travel insurance is one thing you should never skimp on because sometimes bad things do happen to good travelers.
I've seen horrific things happen to other people on my trips.
Travelers who've knocked out all their front teeth when they were in a remote area of Africa.
Travelers who were walking down a road in Costa Rica when an all terrain motorbike careered on top of them giving them severe burns down their legs.
Travelers who suffered months of illness in India because they couldn't afford to change their flights home.
The good thing is that although these things may ruin your trip they don't have to ruin you financially.
I've been pretty lucky in my 25 years of travel. Of course I've had a few things stolen over the years but things are replaceable so that doesn't matter.
The worst was when my sons ended up in hospital in Singapore and in Costa Rica. Not at the same time thank heavens.
Luke was six when he slipped at a water park in Singapore and ended up being hospitalized, tranquilized then stitched back together.
Our flight was the next day and it was touch and go if we'd make it. In the end we caught the flight but it really didn't matter that much. We had travel insurance so we were covered if we'd needed to cancel our flights and stay longer.
So instead of worrying about money and unexpected costs we could concentrate on the real issue of looking after our son.
Max was five when he slipped by our pool in Costa Rica. I know what you're thinking and trust me, I've told those Candy boys a zillion times not to run or jump around water but some people never listen do they?!
Max had a really nasty injury which needed x-rays, a dentist, a doctor and a nurse to attend to him. More stitches were involved in places you just don't want to have stitches and we had to plug up his nose to stem the bleeding for a whole week afterwards.
That time we never even needed to use our travel insurance because the bill was just under the excess but I'd never waive my travel insurance.
How Travel Insurance Keeps Travel Fears At Bay
It's having travel insurance that gives us peace of mind and allows us to take small risks because we know that if something terrible happened we'd be covered and looked after.
If you're covered for all eventualities you can just be happy and enjoy your trip.
So just get some decent travel insurance before you leave and don't worry about the things that could happen.
If you're anything like me they"ll probably never happen anyway.
This blog post was kindly sponsored by InsureandGo Travel Insurance.
If you check out Insureandgo's website you'll see that kids get free insurance on single and family policies. Amazing really. Especially now you know what my kids are like.

Share This Story, Choose Your Platform!