A Waterhole in Zimbabwe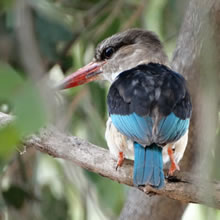 We eat a quick breakfast outside on the deck at Kanga Camp overlooking Kanga Pan. At the end of the dry season in October, it's the only inland waterhole in Mana Pools National Park.
Sit here for a few hours and you're sure to see elephant, impala and baboon. Stay longer and you might see leopard, buffalo and lion, kudu, eland, warthog and more.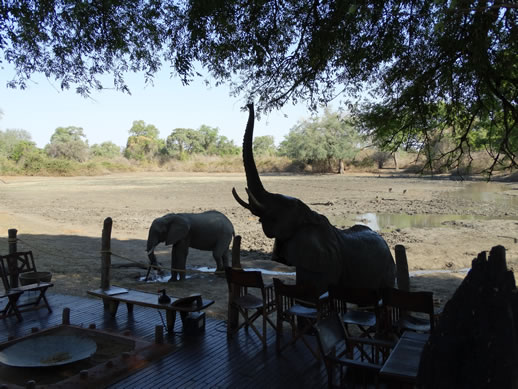 There's a small resident crocodile who feasts on doves, a pair of fish eagles who keep vigil in the tree tops and a troop of vervet monkeys who live one of the big old sausage trees. It's impossible to pick a favorite species but everyone loves the Kanga pack of painted dogs who occasionally bring their many playful puppies to drink at the waterhole.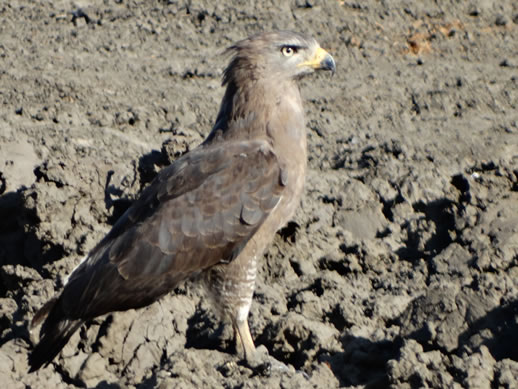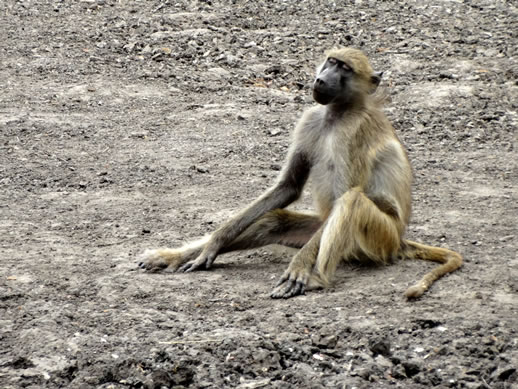 The painted dogs have even been known to hunt at the waterhole, once chasing a terrified kudu into the plunge pool. Staff pulled the tired kudu out but it wasn't long before the painted dogs caught and killed it. A vibrant antelope one minute turned wild dog dinner, eaten in minutes and evenly shared between the pack. Within an hour there was nothing left but a carcass to be picked clean by vultures and then dragged into the undergrowth by a hyena where it was finished off. But for us the day is just beginning…
Night has fallen and our stomachs are full. The barbecued meat and veggies, cabbage in peanut butter sauce and sadza, the staple diet of Zimbabwe made from ground maize cooked with water into a thick paste was filling. Yet we still followed it up with apple tart.
The food is good at Kanga Camp in Mana Pools and the four German visitors joke about putting on two kilos during their short stay. Maybe it's no joke.
Our dining room is outside, a wooden deck, overhung with trees whole leaves and blossom create a permanent fall like confetti dropping all around us.
Nyengae and Reggie the Zimbabwean bush guides take it in turns to shine the spotlight. Right in front of us is a muddy waterhole, the main drinking point for many animals whose main territory is inside Kanga Camp's private concession.
We see buffalo, big, intimidating, helmeted, horned. A bushbuck, shy and nervous. Then someone spots a lioness. She comes out of the bushes, walk slowly down to the waterhole and drinks. In the light of the spotlight we see a buffalo watching her. They are old enemies with grudges dating back for generations.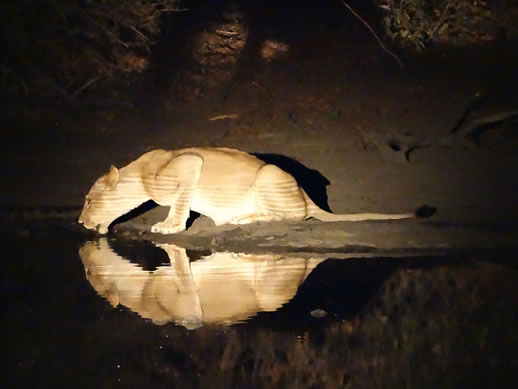 They watch each other, eyeball to eyeball. The spotlight pans around the waterhole again and two more lionesses are revealed. One by one a lion and two cubs come down to the waters edge to join them.
Now there are six lions and three buffalo. The buffalo get spooked and walk away towards the bush but the lions have a plan. They surround them, the lion lying down behind them while the lionesses prowl in front of the buffalo and beside them.
But the bufflo have a plan too. They fan out back to back so there is no way the lions can surprise them. They have strength in numbers and are strong buffalo, not the old, weak or young their rivals like to pick off. These three buffalo are not easy takings and the lions wander away.
Maybe picking up the scent of the bushbuck, they head to the bushes where he exited stage right. But one of the lion cubs stays behind. He's spotted a civit cat and makes a run for it but the civit cat takes off too. The mama lion calls her cub and he goes to her obediently.
A crash in the bushes and a thirsty elephant appears. He does not want to share the waterhole with a pride of lions. He stomps his feet, thunders and sends up a cloud of dust in warning.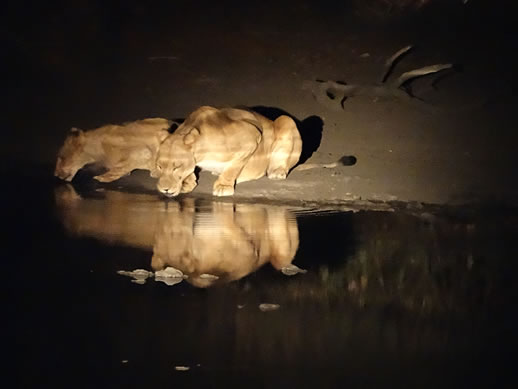 One by one the lionesses and their cubs disappear into the night. The lion is still there though, lying down, waiting, probably disappointed there will be no easy meal prepared for him by his wives tonight.
More elephants arrive; one, two, three. They chase the lion away and he follows his family into the night. They are hungry tonight.
Another sweep of the waterhole with the spotlight and there she is, a female leopard who probably hid in the bushes and enjoyed the show just as we did. Now the lions have gone it's safe for her to drink. So she does, casting her eyes around, glancing behind her, drinking, drinking, quickly, quickly. Then she leaves and only the elephant are left.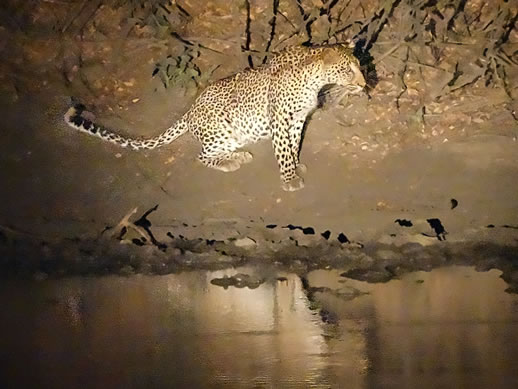 It's late now but in the space of 60 minutes we've seen buffalo, lion, elephant and cheetah. Not to mention the crocodile and bushbuck.
We go to bed. That was prime wildlife viewing for us but it's just another day at the waterhole here in Zimbabwe.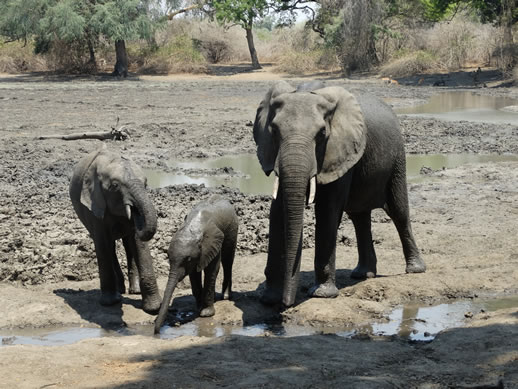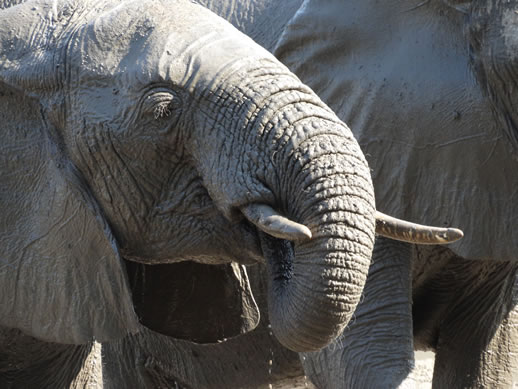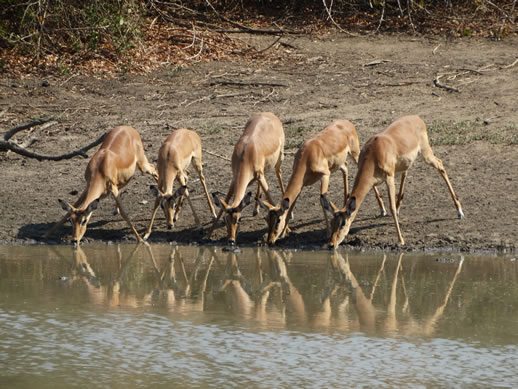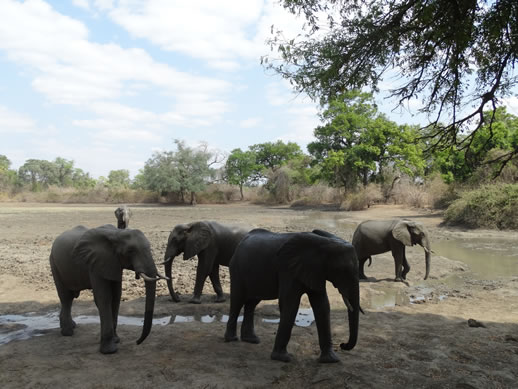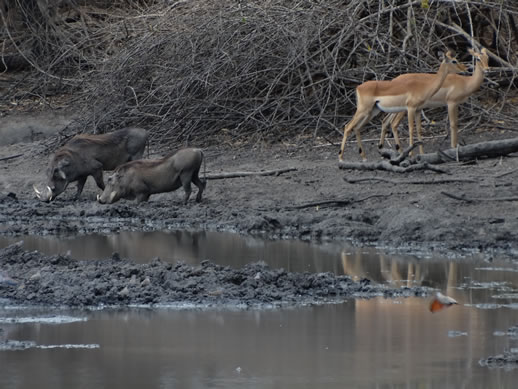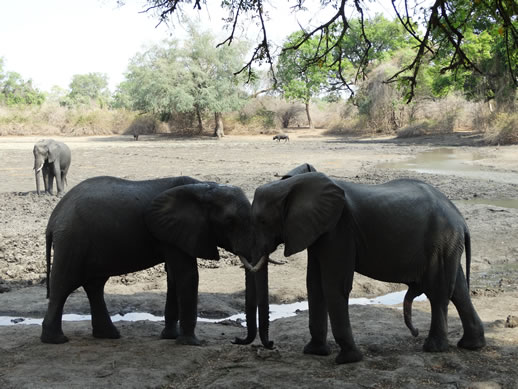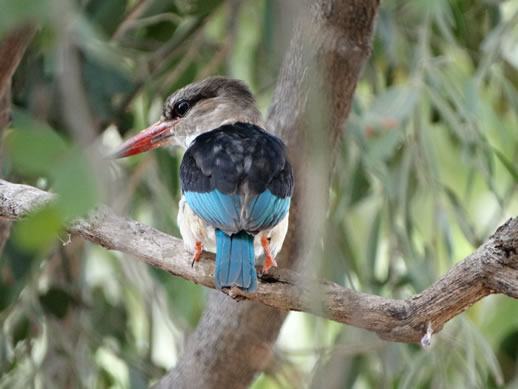 Would you like to stay by the waterhole at Kanga Camp?
Check out more stories and photos from Kanga Camp in Zimbabwe:
Creature Comforts at Kanga Camp in Mana Pools
Endangered Species: Painted Dogs of Mana Pools
Join Thousands of Happy Readers: Free Weekly Newsletter
Are you a travel lover who'd like to stay healthy and fill your life with fun, excitement and adventure? Click here to subscribe now for a free weekly email updates from Get In the Hot Spot.
Share This Story, Choose Your Platform!