Creature Comforts at Kanga Camp in Mana Pools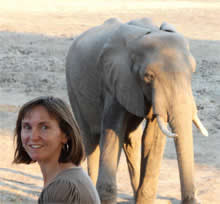 "Creature comforts: things that contribute to bodily comfort and ease of mind, as food, warmth, or sleeping facilities."
The Free Dictionary
You don't have to be rich to experience the wonders of Mana Pools National Park. There's a government run campsite where you can camp by the Zambezi River with hippos wandering past your tent and hyenas chewing your saucepans at night. Well, that's what happened to me when I stayed there 21 years ago and something tells me nothing has changed so if you do camp there make sure you put your saucepans away at night.
I've put up with worse things than hyenas chewing my kitchenware to travel and I've stayed in all kinds of dodgy dives in my time. Which means that when I stay somewhere nice I appreciate it all the more and that was definitely the case when I stayed at Kanga Camp in Mana Pools National Park, a UNESCO listed world heritage wilderness area on the Zambezi River in Zimbabwe.
But the thing is I'm not a fancy schmanzy type of girl and OTT places can make me feel a bit uncomfortable, especially if you're travelling in a developing country.
So Kanga Camp in Mana Pools was my type of place. It had all the creature comforts with none of the gaudy bits. Here's what I especially loved:
1. A comfy bed
Getting a good night's sleep is vital for our health and happiness. Not to mention making sure we have enough energy for any travel adventures that may come our way and aren't too tired to enjoy all the new experiences.
Kanga Camp supplied what's needed: a comfy mattress and pillows, crispy fresh cotton sheets and a mozzie net in case there were any bugs because nothing keeps you awake like a mosquito buzzing round your head. There weren't any bugs around though so I didn't really need the mosquito net but it is fun to sleep under one and part of the African safari experience.
2. Hot and cold running water in a private bathroom
The bathroom is in the open air which makes showering and the bush loo a very special experience. One night I brushed my teeth while a family of elephants wandered by. They didn't blink an eyelid but I was bug-eyed.
3. Yummy food and lots of it
I was too busy taking photos of the wildlife to photograph the food but when I arrived the Germans guests who'd already been at Kanga Camped three days joked that they had put on a few kilos. By the time I left I decided it wasn't a joke. The food is good and there's lots of it.
Breakfast was a quick meal of fruit, cereal, toast and muffins before early morning safari.
Then there was morning tea with muffins. Enjoying morning tea on the banks of the mighty and very beautiful Zambezi River was a highlight.
Lunch back at the camp was a two course affair followed by afternoon tea with cake after a siesta and soak in the plunge pool.
In the evening we enjoyed a three course meal with candle lit dining and a bush inspired table setting while we spotted more wildlife, compared notes and shared stories.
4. Knowledgeable staff
Like all the Zimbabweans I met the Kanga Camp staff were super friendly and went out of their way to make me feel comfortable and welcome. What I especially appreciated was being able to spend all day long with bush guides who didn't seem to mind answering my endless questions.
You get so much more out of a trip when you can spend time with people who really know the country, the wildlife and the environment.
Here are a few people who made Kanga Camp great:
5. Interesting guests
I don't want you to think I'm a snob but when it comes to travel I am. There's nothing worse than getting to some far-flung destination you've been dreaming of for years and have saved hard to visit only to find it overrun with grockles – which is a very British and slightly derogatory term for a tourist.
Popular safari spots like the Masai Mara in Kenya and the Ngorongoro Crater in Tanzania are overrun with tourists. If anyone spots a lion the poor things is instantly surrounded by safari vehicles stuffed with hundreds of tourists from all over the world.
At Kanga Camp there were never more than five of us in a safari vehicle and the Kanga Concession is private so the only people there are those staying at the camp.
Even when we went out into the main part of Mana Pools National Park and down to the Zambezi River there weren't many people around. Mana Pools is off the beaten track with more wildlife and less people which is the way it should be on safari and why I recommend Zimbabwe.
But back to my travel snobbery. Kanga Camp attracts a discerning sort of traveler who loves Africa and wildlife. All the guests who stayed there while I was there had been to Africa and on safari before and they'd all been to Kanga Camp before too.
I guess when you find a great travel destination you just want to keep going back.
6. The plunge pool
The plunge pool at Kanga Camp is an instant way to chill out on a hot day. Most of the wildlife are hiding in the shade during the hottest hours of the day so you might as well keep cool too.
One of the bush guides told me he's seen people swimming in the Zambwezi but that's a definite no no – unless you'd like to experience being eaten alive by Nile crocodiles and/or hippopotamus!
7. Wildlife galore
There was an African Bush Camps wildlife and fauna checklist in my tent which came in very handy and I need to write a post about all the different wildlife I saw in the Kanga Camp concession and in Mana Pools but here's a quick overview:
Baboon
Vervet monkey
Scrub hare
Tree squirrel
Spotted hyena
Leopard
Lion
Serval cat
African civet cat
large spotted genet cat
White-tailed mongoose
Banded mongoose
Hippopotamus
Blue wildebeest
Common duiker
Kudu
Eland
African buffalo
Bushbuck
Waterbuck
Nile crocodile
Stripe-bellied sand snake
It's a birders paradise too and I love a bit of birding. These are just a few of our feather friends which I spotted in Mana Pools:
Grey heron
Hadeda ibis
African spoonbill
Hooded vulture
White-backed vulture
Lappet-faced vulture
Tawny eagle
African fish eagle
Western-banded snake eagle
Crested Frankolin
Swannsaon's Francolin
Helmeted guineafowl
Crested guineafowl
Black crake
Three-banded courser
Double-banded sandgrouse
Red-eyed dover
Mourning dove
Cape turtle dove
Green spotted dove
Giant kinfisher
White-fronted bee eater
Little bee eater
Lilac-breasted roller
Broad-billed roller
Trumpeter hornbill
Red-billedhornbill
Crowned hornbill
Ground hornbill
Fork-tailed drongo
Yellow-bellied Bulbul
Heuglin's robin
Long-tailed starling
White-browed sparrow
Weaver birds
Red-billed firefinch
Blue waxbill
I guess spotting wildlife isn't really a creature comfort but spotting it from the camp deck, the bathroom and even my bed was. It's great to see wildlife when you go on a game drive or game walk but seeing wildlife all day long as you hang out at camp is a life enriching experience you'll never forget.
What creature comforts do you like when you travel?
I was a guest of Zimbabwe Tourism Authority during my stay in Zimbabwe and of African Bush Camps during my stay at Kanga Camp in Mana Pools. African Bush Camps have high end safari camps offering a personal and unique experiences in two of Zimbabwe's best national parks: Mana Pools, which is my personal favorite, and Hwange National Park which is close to Victoria Falls. 
My trip to Kanga Camp was facilitated by Matt at Zimbabwe Bookers, the definitive online accommodation finder for Zimbabwe. 
Share This Story, Choose Your Platform!