Time Travel Photos: Growing Up in Dingley Hall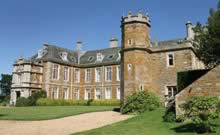 One of the best things about living at Dingley Hall was seeing the look on your friend's face when, after droving up the long driveway and turning the corner, the building came into view. But I could never leave them gaping for long before I confessed that we didn't actually live in the whole house.
Dingley Hall was the ruined shell of a grade 2 listed building in the English countryside when it was bought and divided it up into 11 houses and apartments. It's quite common with buildings of that type and although Dingley Hall is a private residence I'm sure there are similar places that have been turned into hotels where you could stay.
We moved to Dingley when I was ten and my mum and dad lived there for about 30 years, long after I flew the nest. But I still spent a lot of time there when I came back from my travels. Our house was The Cloisters which had three towers, walls a foot thick and small drafty windows. I've spent a lot of time sitting by the open fire trying to stay warm.
The last time I was there with the Mucho Man and the Candy kids for mum's 70th birthday party we took some mock wedding photos by Dingley Church which is at the bottom of our garden because it's the perfect setting for an English country wedding.
Now we're really married and thinking of buying our own house here in Australia. I'm sure it won't be stately in any way but I hope we can fill it with more magical memories.
Where did you grow up?
Share This Story, Choose Your Platform!