Who's the Mucho Man?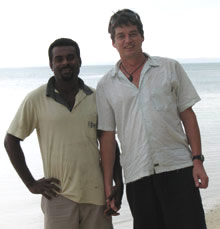 "Macho, macho man!
I've got to be a macho man!"
Macho Man lyrics, the Village People
I have to write and publish this post fast before my husband comes home.
You'll need to read it quickly too, just in case he comes home and unpublishes it.
You see he's strangely shy and doesn't want me to splash his photo, vital statistics and safely guarded secrets all over the internet.
But, if I'm fast enough, by the time he gets home it will be all over bar the shouting.
As lovely, loyal and regular readers of Get In the Hot Spot know, the Mucho Man is my husband.
Now it's time to create a special blog post about him so that any time I mention the Mucho Man I don't have to explain who he is and why he's called the Mucho Man. I can just link here.
So here's a quick overview on the who, what and why of the Mucho Man.
Who's the Mucho Man?
He's my husband, Mr. Rich Candy. Yes, that's his real name.
Which man is the Mucho Man?
He's on the right in the photo up top which was taken during our honeymoon in Vanuatu.
The other man is called Cliffy. He was our taxi driver on the outer Vanuatuan island of Esprito Santo.
We stopped off at this deserted beach and when I suggested taking a photo of them, mainly because Cliffy was hilarious and we wanted to have a lasting memory of him, he took Rich by the hand for the photo. So romantic.
Still, you've probably visited many countries like India, anywhere in Africa and the Pacific Islands where seeing two men holding hands is a common sight and most likely not an open display of homosexuality.
I told you Cliffy was funny, but the Mucho Man is going to sulk for days because I've shared this photo. It's just not very macho.
Why's he called the Mucho Man?
Rich called our web design business Mucho because he wanted a name with a spanish feel to it after our 18 months in Central America. More importantly I think, because he's funny and wanted to become the Mucho Man.
Is he really Mucho… I mean Macho?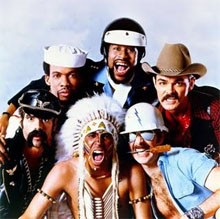 If you're reading this and you don't know the song Macho Man by the Village People check it out in the YouTube video.
I can happily confirm that the Mucho Man is definitely not macho – not like the guys in the Village People video anyway.
The Mucho Man's biggest muscle is definitely his brain.
Where did you meet the Mucho Man and when?
We met in Egypt, in the Sinai by the Red Sea way back in 1991. I was 23 and he was 29.
We were in this little village called Dahab and his friend asked my friend to play backgammon with him so me and Rich played together while we waited.
After about 300 games of backgammon over the course of a week (there's not much else to do by night in Dahab) we started getting used to each other.
When did you get married?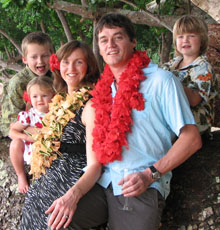 We got married 14 years later in 2006 with our three children in tow.
We eloped to Vanuatu for the wedding to avoid the stresses of a big family wedding. We have friends and family in Europe, New Zealand and just about everywhere in between so organizing all them was just going to be too hard.
Plus it was the excuse for a brilliant holiday and at last I was able to officially get what's possibly the best surname in the world and rightfully call myself Annabel Candy.
The Mucho Man didn't want to marry me. It wasn't me in particular, I don't think.
He just didn't feel the need to get married to anyone, ever. But I managed to convince him you should try everything once and anyway, if he wasn't going to marry me who would with the three kids?
We've only been married five years we've been together 20 years. It's astounding. Almost half my life.
Is he English like you?
Yes, but he was born and raised in Kenya. Or Keeeeeeeeeenya as posh white Kenyans call it. The whole Candy family now has both British and New Zealand passports.
What does the Mucho Man do?
Rich takes care of all the techie stuff in our web design business and on my blogs. He's clever like that and I don't have the patience.
He's much more than a techie though. He project manages the jobs, works with the clients and graphic designers, organizes all our accounting and he's super handy round the house too. Unless there's a rugby match on telly.
You forgot to share his vital statistics
Six foot two with eyes of blue. It's true.
Hurry up and spill the secrets then!
Sorry I can't. He's just come home so I have to publish this post right now.
It's probably for the best though.
I think I might get away with what's been written here  so far but spilling the secrets would be taking it a step too far. Publishing that picture of him holding hands with the taxi driver is pushing it.
The Mucho Man might go all macho on me if I write anything more.
Who's your Mucho Man? Who do you love, depend on and appreciate more than anyone else?

Share This Story, Choose Your Platform!