My Mum and the Turkish Waiter: 7 Fun Travel Lessons from a 77 Year Old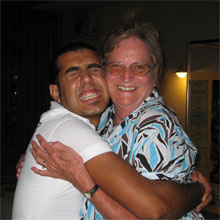 I love this funny travel photo of my dear old mum and a Turkish waiter because:
a. It's hilarious. I think my mum secretly loves it too, although she will never admit it.
b. It's my mum's 77th birthday this week and I thought writing a story would be a good gift. Even if it is accompanied by a dodgy photo.
Regular readers ( I love you!) will know I'm not averse to a little gentle teasing of my family and don't hold back from sharing dodgy photos of us either. Although obviously every photo of me is airbrushed to within an inch of its life.
In the past I've poked fun at my family in this very public forum of my blog and even called us dorks because we certainly looked delightfully dorkish back in the seventies. Travel back in time to see the funny family photo for yourself if you doubt me or check out the photos of me in misfit confessions.
Some readers think my family will be mad at me for posting embarrassing and unflattering photos but I don't have much choice as we seem to be a sadly unphotogenic family. Well, I am anyway. Fortunately we like to laugh at ourselves and so my family are all still speaking to me. Well, most of them. And of course we all look wonderful in real life.
So here are some travel lessons learned from my mum including the back story about her close encounter with the Turkish waiter. It's all quite innocent as you'll see.
7 Travel Lessons From My 77 Year Old Mum
1. Have fun when you travel
Don't worry about embarrassing your children, your loved ones or anyone else. Just have fun when you travel, muck in with the locals and don't take yourself too seriously. That should be your main aim in life as well as on your travels.
The photo above is a case in point. Last year my mum went on holiday to Turkey with three friends. When mum commented that she liked one waiter's spiked hair another waiter offered to spike her hair too.
So mum agreed.
Soon her hair was standing up stiffly after being doused in Turkish hair products and teased upright. If you look closely at the photo you can see mum has a little quiff on her head.
Then the Turkish waiter, mums' friends and mum all had a right old laugh. And a big hug.
2. Take any travel opportunities that come your way
Before my dad died eight years ago mum and dad were always jetting off here, there and everywhere. They traveled all over the place, from France, where we spent most of our family holidays when I was a kid, to the USA and Africa after we kids left home.
There was no end to their travels once the nest was empty and they came to visit me and their new grandchildren every year in New Zealand too.
Now my dad has passed away it's harder for mum to travel. She doesn't want to travel alone so whenever she gets an offer of travel or an invite to go somewhere she grabs it, whether it's a trip to Italy with Auntie Prue and the nieces, grand-nieces and nephews, or a school reunion somewhere less exotic.
You never know when you'll get another opportunity so if you like to travel and you get a chance to go somewhere you love or have always wanted to visit go.
3. Start traveling as soon as you can.
Fresh out of St. Thomas's nursing college in London (she's very proud 0f that) my mum hopped on a P&O cruise liner and embarked on a round the world trip while being paid for it.
Admittedly she did have to work as a nurse on the trip and deal with such calamities as passengers who rubbed shampoo all over their bodies then got second degree sunburns.
But she also got to do cool stuff like visit Sydney before the Opera House was built and row round Sydney Harbour in a boat. She talks about that a lot.
4. Support your partner's travel plans.
Years ago my dad was gagging to fly on Concorde but mum wasn't interested but she told him to go for it anyway. Dad  happily jetted off to Venice for a long weekend on Concorde not long before it was pulled and the opportunity lost forever.
When you're in a long-term relationship and you don't agree on every travel plan and dream your partner has, the best way to keep everyone happy is to let your partner follow their travel dreams.
Let them enjoy their travels knowing that they will miss you and come back refreshed and happier than ever to see you again. My dear Mucho Man is very good at this.
5. Be practical, not a princess.
It wasn't always travel by Concorde and luxury safaris for my parents.
When we were kids the highlight of the year was a camping holiday in France. We always packed a spade so when it rained heavily one night, as it always did, and water started to pour into the tent mum would get up and start digging a trench that directed the rain water safely away from our tent and onto some other hapless camper's spot.
There are always problems and unexpected occurrences to overcome when you travel. You just have to be practical and tackle them head on.
6. When flying always have a complete set of spare clothes in your hand luggage just in case

This is mum's number one rule for travel. Her reasoning is that someone might vomit on you and, if that happens, you won't have to sit in the stinky vomit-stained clothes for the whole flight because you'll just be able to change into your spare set of clothes.
I am happy to report that no one has ever vomited on my during a plane ride, not even my own children. People hardly ever seem to vomit on planes at all. In all my 44 years of traveling I can't once remember someone having to whip out the vomit bags which are handily installed in every plane seat pocket.
But despite this mum drummed this lesson into me so hard that I still always have a spare set of clothes in my hand luggage. Just in case.
7. When the worst things happen deal with it

For example, if someone near you does vomit just grasp their head firmly in both hands and swivel it away from you so they vomit on the person on the other side of them, not on you.
My mum demonstrated this tactic during one long car journey to France many moons ago when my brother was overcome by car sickness.
Mum quickly wrenched my brother's head my way whereupon he vomited right into my shoes.
Fortunately I'd taken the shoes off but they did have to be abandoned by the roadside.
Mum came out fine except she had to cough up for new shoes.
And listen to me complaining about it for the next couple of decades.
Dear old mum. I hope you have a happy birthday and many more years of happy travels.
Are there any funny travel photos or stories about you or loved ones that make you laugh?
Share This Story, Choose Your Platform!