67 Minutes to Make the World a Better Place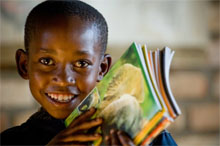 "Education is the most powerful weapon which you can use to change the world."
Nelson Mandela
A little birdy at South African Tourism told me it's Nelson Mandela's 94th birthday on July 18th. That's pretty special isn't it?
But hearing that Mandela spent 67 years of his life fighting to make the world a better place is mind blowing.
Nelson Mandela is one of my true heroes.
I'd love to visit South Africa to meet him (well, you know how I love to dream), to see his stunning homeland and experience the South African wildlife and culture. But most of all I'd like to see what legacy Mandela has passed on to South Africans today and support them in their growth post apartheid.
Tourism plays a huge part in keeping many South Africans in work and in earning foreign currency, both of which keep the South African economy and people healthy and happy. South African tourism is still growing fast but it has many prejudices to overcome.
I'll always remember going to see the movie Cry Freedom which was set in the late 1970s during the apartheid era of South Africa. I cried and cried in the cinema watching the story of the anti-apartheid activist Steve Biko and the Soweto uprising when hundreds of African school children were killed and injured during a protest march.
Having been educated at some of the best schools in England it seemed so unjust and unreal that some children dream of a better education for themselves and are prepared to fight for that.
But I know from my job as a volunteer teacher in Zimbabwe over 20 years ago, and from my work with World Vision today, that many children are still denied the education they want and deserve. I'm not just talking about in developing countries like Zimbabwe or the poorest countries in the world, but even in the richest countries in the world like Australia.
South Africa Tourism and Mandela Day's 67 minute challenge
I love the idea behind Nelson Mandela International Day which takes place every year on  July 18th to inspire people to take action and help change the world for the better, and in doing so build a global movement for good.
To celebrate those 67 years Mandela spent fighting for freedom, South Africa Tourism is encouraging people around the world to do good for 67 minutes on Mandela Day. Each person has the power to change the world, from volunteering, to switching off lights to fight climate change, to putting a smile on a friends face, every action makes a difference.
"Take Action, Inspire Change and Make Every Day a Mandela Day is the motto of Nelson Mandela International Day and we are hoping that Australians join us in celebrating both the birthday of an incredible man, and the ongoing legacy that he has provided to the world."
Lalie Ngozi, General Manager Australasia, South African Tourism.
3 ways to make the world a better place in 67 minutes
I'm sure you'll have heaps of ideas for what you can do to make the world a better place but here are a few to get your started:
1. Pick  up litter from your local beach, park or other beauty spot.
2. Help children with their reading in a school. Even  if you only listen to a handful of children read it will make a difference to them and the teacher.
3. Sort out some good quality books, toys or clothes and take them to a charity shop.
No time? Donate to World Vision who help make the world a better place

In case you didn't know I'm a World Vision Ambassador so, if you can't give 67 minutes of your time to doing something good today, I'd love it if you make a donation to World Vision. They work with families all over the world, from Australia to Afghanistan and from South Africa and Serbia, to overcome poverty and injustice as well as giving immediate relief to families who are going hungry.
I recommend you check out World Vision's multiplying gift appeal. Basically, for every one dollar donation from you World Vision then donates up to 10 times that amount in food aid from the world food program which goes to desperately hungry families.
Find out more about sponsoring a child through World Vision so they can eat and go to school or make a donation here.
Then join me in dreaming about visiting South Africa on the South African Tourism website.
"A winner is a dreamer who never gives up"
Nelson Mandela
What are your ideas for making the world a better place?
Share This Story, Choose Your Platform!