5 Secret Sydney Beaches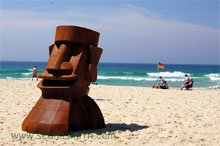 When I was a wee girl growing up in Bonnie Scotland, beaches were all about seaweed and stones.
There are sandy beaches in Scotland, but we spent most of our time at the more typically Scottish sort. And we four kids loved them!
We went to many, many beaches. Dad loved his boat and we spent our summer holidays sailing around the Hebridean islands. We scrambled over boulders, climbed cliffs, and loved to turn over rocks to chase the wee beasties that leapt about like fleas.
Many years later, I was flying into Sydney from Asia for the first ever time. The plane started to descend and I saw sandy beach after sandy beach spreading out below me.
'Crivens,' I thought, 'we must still be far away from the city.
Then the plane landed.
It has never occurred to me that you could have beaches in a city, as part of the city, right there on peoples' doorsteps. I was gobsmacked.
In Sydney, many people really do have beaches right on their doorstep. In fact there are around 150 beaches in the Greater Sydney area. Gasp!
My Aussie mate picked me up from the airport and later that arvo (as I realised the afternoon is called) we grabbed our cossies (as I found swimming costumes are called) and headed off to Cronulla, the most famous surfing beach in Sydney's south.
The waves astounded me. No wonder there's so much sand, the rocks have all been pulverised. I quickly learned to stay within the flags.
We splashed and jumped about for hours that day and I learned to bodysurf. We used the beach showers, we had a cold beer which tasted like no other beer ever had. It's the salt, the sun and the exhaustion that makes it taste so good.
I'm pretty sure that's when I became an Aussie, right there at the beach that first day in Sydney.
Having lived here for many years, I can now say joyfully that I'm a bit of a beach expert, maybe even a beach bore?
And these days, I am most fond of the smaller ones, the prettier ones and of the rock pools. They may not be famous like their big brothers next door, they may not attract surfers from all over the world, but my faves are now the hidden gems. And there are lots of them, many slap bang next door to a fabulously famous beach.
So here's my list of five of the best kept secrets of the Sydney beach scene:
Tamarama Beach
The little brother round the corner from Bondi has an atmosphere all of its own.
Locals call it Glamourama and a visit explains why. There are beautiful bodies galore, all sizzling on that hot sand and occasionally loping down to the water for a dip.
Actually, at Tamarama maybe dip isn't the word. This beach is famous for its rips and its big surf. The first time I swam here I ended up crawling out of the water on my hands and knees, feeling as if I'd done a spin cycle in a gigantic washing machine. And that was between the flags!
Shelly Beach, Cronulla
Just around the corner and along the walking track from the main beach at Cronulla, this is a sweet little sandy beach with an ocean pool. It is much quieter and more intimate that its huge surf beach brother.
There's a very beautiful art deco pavilion which has showers and toilets including, on the top floor, some toilets with the best ocean views in the city!
The huge rock pool juts out from the beach. If you're doing laps you're best to stick far out in the pool as the beach area is often busy with toddlers, buckets, spades and sandcastles. Bring a mask and snorkel as the fish life can be excellent in the pool.
Shelly Beach has a large reserve behind it, a reserve being Sydney-talk for a large park. Towering palms provide plenty of shade, so BYO picnic blanket and hamper and spread out to enjoy a long, lazy day by the beach.
Little Manly Cove
Just across the peninsula from world famous surfing mecca Manly Beach, Little Manly Cove is on the Harbour and a completely different beach.
There's no surf, the views are all of yachts, of the many small peninsulas jutting into the Harbour, and of multi-million dollar mansions.
There's a netted area, the bollards are fabulous for leaping into the water from, there's a rocky headland to explore and – best of all – a great little café right at the beach, selling coffees, drinks and takeaway grub. Perfect!
Whale Beach
Just south of the millionaires' playground of Palm Beach, around the lofty cliffs is Whale Beach.
It's a much smaller beach, nestled between two striking cliff faces and with the most spectacular rose gold sand.
The rock pool at the southern end is home to early morning swimmers summer and winter, as many of these pools are.
When I grow up, I'd like to be like those guys, fit, strong and so very calm when facing an icy plunge in the pool.
Cafes and restaurants are near the beach, and the homes clinging to the steep hill behind the beach make a spectacular a backdrop to the beach and the wide blue ocean beyond.
MacCallum Pool, Cremorne Point
Hop on the ferry at Circular Quay, get off at Cremorne Point and then amble along the walkway to this completely hidden gem on the waters of the harbour.
Macallum Pool is a public swimming pool, set just by the waters of the harbour and fed by them. It has a deck all around and is completely free to use.
The views over Sydney Harbour are absolutely gorgeous. The huge trees by the pool are glorious to see too. The water is refreshing, the ferries glide by, yachts bob.
Macallum Pool is only lacking a café, but then again, it wouldn't feel so hidden and so special with any more amenities, or people.
After a dip and a laze and a picnic you can walk all the way around Cremorne Point and catch a ferry back from Mosman Bay.
An ideal Sydney day out, slow, healthy and with spectacular views to enjoy.
What are your favourite beaches in Sydney or anywhere else?
Five Secret Sydney Beaches is a guest post by Seana Smith.
Seana blogs about Sydney with kids, weekends away and family travel at her author website and blog.
Seana is the author and co-author of three books Sydney For Under Fives, Australian Autism Handbook, and Beyond The Baby Blues. Find Seana on Facebook here and on Twitter here.
Share This Story, Choose Your Platform!