In My Shoes: Me, Aged 23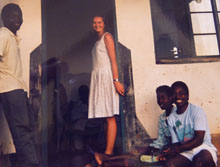 I packed three pairs of shoes for my year in Zimbabwe:
1. Sensible sandals to wear at the school where I'd be teaching.
2. Trainers to walk the seven kilometer dirt track from school to the tarred road with buses to the capital city Harare.
3. Black platform shoes to go out dancing in once I got there.
I mostly wore the sensible sandals and the trainers that year, both pairs quickly becoming engrained with the red dust that surrounded Mupfure School.
What shocked me most about my year in Africa, the environment and the people, were my student's living conditions. A few people lived in small houses built of breeze blocks but they were rare. The villages and houses were mostly made of mud, wood and leaves.
The children I taught were bitterly poor, living in round mud huts with thatched roofs. Inside a fire burned, the atmosphere thick with smoke and so dingy you could hardly see the people until the whites of their eyes and their smile through the gloom.
Food was cooked on the open fire with wood the mums collected and carried home along with all their water. Buckets or wheel barrels to carry wood or water were essential and many women would walk miles to get it, often enlisting their daughters of all ages to help them.
Each family living inside a fenced compound to keep out wild animals and polygamy was the norm with polygamists needing to provide one hut for each wife. The richest villager had six wives, several more than the village chief.
I was lucky as a teacher I lived in one of three staff houses, each one with four bedrooms and a total of 12 staff. Not too cramped except many teachers came with wives, babies and assorted family members who were better off living with them. We had a tap outside so we didn't have to pump water like the villagers did and even, when it was working, electricity to light the bare bulbs that hung from the ceilings.
Our houses were made from breeze blocks painted white with a thick curtain of red mud splattered almost up to the windows by rain.
It didn't rain much that year though. "The worst drought in living memory"* fell upon Zimbabwe in 1992, then one of Africa's most prosperous countries, and ravaged the country and its people. International aid donations of maize were organised but many Zimbabweans still died along with over one million cattle. Aids continued to ravage the country too with early deaths common in the village.
The children I taught, my children as I thought of them, were the sons and daughters of subsistence farmers. If the rain didn't fall then the crops wouldn't grow and they and their cattle wouldn't eat. Child obesity was not a problem there. Every child was thin. Many were too thin, their twiggy arms and legs and bloated stomachs a sign of malnutrition.
It was a hard year. A year when I tried to walk in the Zimbabweans' shoes but couldn't as mine were so very different from theirs.
But It was far harder for the Zimbabweans. I was born into a life of privilege. Today I have 17 pairs of shoes. But the Zimbabweans taught me that there is more to life than shoes and money. That family counts, that life may be brief but it should also be fun, that we are all so alike yet so different in the most amazing ways.
We will never be the same but we all have the same secret fears and dreams. We all have the same right to food, education and opportunities so that we can all be healthy, be happy and achieve our dreams.
*Source, State of the environment in Southern Africa, SADC, 1994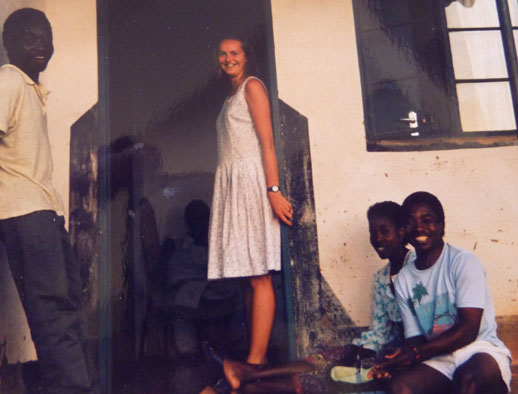 What travel experiences have affected you most?
Share This Story, Choose Your Platform!