Would You Eat Chickens' Feet?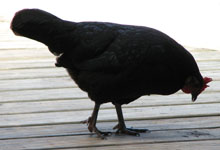 I didn't notice what Mr. Chiunda was wearing on his feet the first time we met. All I could really focus on was the crunch as he bit into his meal with relish, chewing slowly, assessing the blackened remnants in his hand and chomping down again.
It took me a while to realise the bowl in front of him contained chicken's feet and the twig in his hand, the gristle stuck between his teeth were chicken feet too. Or parts of them. Skin, bones, claws.
Mr. Chiunda tucked in with relish, barely taking the time to greet me even though we would be house mates and colleagues. He the headmaster, I the new teaching volunteer sent over from England to help him educate his students and share the load of teaching in trying circumstances in a rural area of Zimbabwe.
It didn't take long for us to reach a mutual dislike of each other. In five seconds I pegged him as unfriendly, untrustworthy and uncaring.
I'm not sure if he assessed me likewise in those first moments or if he already knew before meeting me that I would be a thorn in his side. A disruptive influence in staff meetings, a rebel who would disobey his orders and a potential threat to his dreams of freedom.
Maybe he didn't like my hair, my shoes, my clothes. Many didn't. But more likely he saw me as a threat. Someone was sure to unmask him. It could have been me. But no one did. No one could have because Mr. Chiunda held all the power.
Mr. Chiunda who was waited on by his nephew Nicholas, a virtual slave yet smiling and willing worker in return for a free education.
Mr. Chiunda who called a staff meeting to make sure his male teachers had free access to beer and prostitutes no matter what their wives thought about it.
Mr. Chiunda who led a band of teachers through the village, stooping under door ways, slowly letting his beady eyes adjust to the dim light inside those thatched huts so he could search people's houses and repossess any books they'd squirreled away there.
Mr. Chiunda who disappeared and never came back. Quietly vanished overnight along with all the school funds. Both school fees paid by those poverty stricken subsistence farmers who dreamed of a better life for their children and the money we'd painstakingly raised for building and gardening projects that now would never be completed.
Many of us dream of a better life. For Zimbabweans in 1992 a life in America or Europe was unreachable, unthinkable. But some Zimbabweans made it over the southern boarder to South Africa where it was rumored life was better, jobs easier to come by, food cheaper and more readily available. But getting to the promised land cost money. There was the trip down south, the bribes needed to cross the border and the costs of setting up a new life.
Mr. Chiunda shoes were tight, brown, highly polished by Nicholas so no trace of the red dust that surrounded us stuck to them. His body slim, his clothes neat. His plan well-thought out and executed.
Mr. Chiunda took his opportunity and ran with it.
Was he a coward, a thief and a confidence trickster? Or was he a brave man who did what so many others would have done if they had only had the chance? Fleeing a country of poverty and despair to start a new life somewhere better. Using his position of responsibility to access those school funds and take them with him. That was his golden ticket. His one hope of a better life.
I think about him often and wonder. Did he take his wife there later? Did he secretly contact her when the dust had settled and tell her where he was and help her join him with their newborn baby? Or did he leave that  young wife and baby to find out via bush telagraph that he had gone and leave them to slowly discover that he wouldn't be coming back to Zimbabwe, that he wouldn't be coming back for them. Not now and not ever.
Those are shoes you wouldn't want to walk in but if you did where would they take you?
Would you stay or would you go?
And if you went how would you live with what you had done? Would you stick with what you knew, with a life of crime, of exploitation and manipulation? Or could you start afresh with love, with hope and charity, constantly trying to make amends, constantly trying to discover if we can ever make our wrongs right?
What's the most revolting food you've encountered on your travels?
Along with chickens' feet crispy fried giant caterpillars is another delicacy I politely declined to eat in Zimbabwe.
Share This Story, Choose Your Platform!