Snow Time, Fire Festivals and Hot Springs in Japan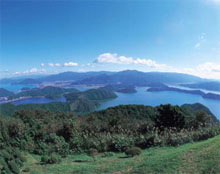 Fukui Prefecture is thought to be the happiest place in Japan and the locals certainly seemed happy when I arrived in Katsuyama for the Sagicho Matsuri Fire Festival.
Their secret to happiness apparently comes from the rural lifestyle and connection to nature with the fire festival,  a traditional celebration which has taken place in February for over 300 years, a case in point.
Despite the snow that was blowing in when I visited Katsuyama locals take to the streets during the fire festival to eat, drink and enjoy musical performances including Taiko drums and traditional Japanese pipes and bells.
These performances are a prayer for healthy crop growth in the coming year, protection from summer fires and a good harvest come autumn.
As snowflakes flutter to the ground from a heavy white sky, mochi rice cakes are toasted on the fire and Ippongi sake, produced locally and sold only during the festival, warms people up.
On the last night of the festival huge wood piles are burnt along with amulets that provide protection for the crops in the spring and summer months.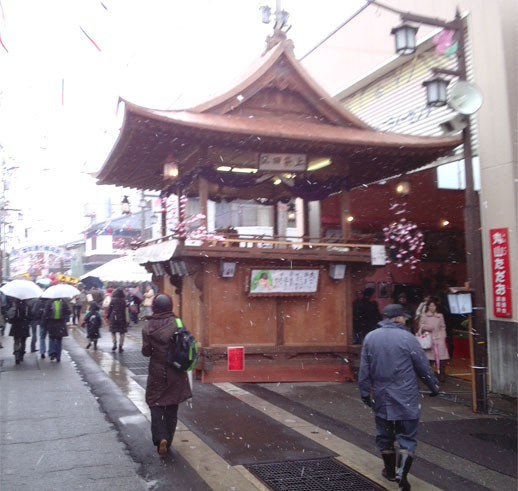 The Ski Jam Ski resort with five separate ski slopes is only a 20 minute drive from Katsuyama so snow sports lovers can combine their ski or snowboarding fix with this traditional Japanese cultural experience.
With a cold snap upon us, or a winter shogun as the Japanese call it, we'd started the day with a drive up the 11 kilometer Mikatagoko scenic route. Also known as the Rainbow line it's a popular romantic outing passing little fishing villages and the five lakes of Mikata with their vivid and varying colors.
The Mikatagoko scenic route is a popular romantic spot and Lover's Sanctuary right at the top of the route was chosen as one of 100 romantic Japanese places suitable for a marriage proposal.
Here you can buy a "vow lock" – a little padlock and key that promises ever-lasting love. According to the promotional blurb:
"your vows will remain at the mountain top with a lock that has long been believed to have mystic powers. After a search in India, the locks were found. Near the lock-shaped monument glitter many "vow locks" are left by visitors. Get your own "pledge lock" at the mountain top!"
The scenic view point was a white out when we stepped out of the bus but just as we were about to leave the clouds parted and we caught a glimpse of the view we'd come all this way to see.
There's a cable car at the top if you want to get even better views and the photo above shows the lake view on a clear morning.
We defrosted at the end of a busy day with a trip to the Relaport hot springs also knows as Tsuruga Kirameki Spa Relaport. It's a traditional Japanese onsen on a grand scale with hot pools both inside and out and luxurious massage showers.
After stripping naked in the females only area I locked my belongings safely in a locker and dashed outside squealing in sub-zero temperatures before immersing myself in steaming hot water.
Surrounded by snow my icy breath evaporated in the hot steam as all tensions ebbed away. Clean and reinvigorated I feasted on local crab and sake in the Relaport Restaurant.
A very happy ending to another happy day in Fukui, possibly the happiest place in Japan.
Travel Tips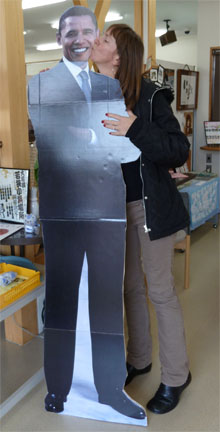 Fukui lies along the Sea of Japan, not far from Osaka or Kyoto. With its scenic coast and snow-capped mountains Fukui attracts visitors year round for its winter sports, sandy beaches and relaxing hot springs.
The Katsuyama Sagicho Matsuri Fire Festival is held every year on the last weekend of February and the ski season runs from late December until early April. Get more information about visiting Katsuyama here and more information about winter sports in Fukui  here.
The Mikatagoko scenic route past the five lakes of Mikata is a toll road. It's a 20 minutes drive from Tsuruga and costs 1,000 Yen. Find more details here.
Fans of Barack Obama can take a side trip to Obama City in Fukui Prefecture where you can get your photo taken with President Obama himself. Or at least a cardboard cut out version of him.
For more information about Fukui, including the Relaport hot springs and accommodation options, visit Fukui Tourism.
I was honored to be a guest of the Hokuriku-Shinetsu District Transport Bureau. To find out more about Fukui Prefecture or to plan your trip visit the Fukui Tourism Guide website.
More Travel Stories About Japan
Share This Story, Choose Your Platform!