Is it Safe to Travel to Japan? What You Should Know One Year After the Tsunami.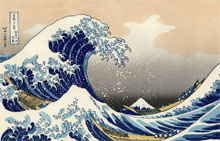 2.4 million people would prefer not to know. That's the drop in tourists traveling to Japan after the March 11 tsunami in 2011 as compared to the year before.
But tsunamis are nothing new to Japan. In fact the word tsunami comes from Japan, with detailed data recording earthquakes in Japan from the year 684.
The first recorded use of the word tsunami in English was back in 1896 in National Geographic Magazine after a tsunami hit Japan yet again. There's no denying that Japan is a country that has experienced, and been devastated by, gigantic waves caused by earthquakes deep below the ocean for thousands of years.
But most of those tsunamis and earthquakes hit the same spots repeatedly as was the case with the 2011 tsunami.
There exist in Japan markers placed hundreds of years ago inscribed with words like these:
"This is where the tsunami reached. Do not live below this marker."
But, on my trip to Japan last month, my guide also explained that, as the years went by the memories of tsunamis past faded.
Then, as the population grew and land became short, people were forced to move to less populated areas.
Plus so many industries in Japan, where seafood is a huge part of the diet, are based on the coast so it's easier for Japanese people to live close to the ocean where they can find work.
The 2004 Boxing Day tsunami shocked us because people from all over the world were hurt or killed and because it affected holiday resorts. Reading that news we travel lovers got the terrifying sense that it could have been us there holidaying on that beach.
But nothing could have prepared us for the images and video recordings of the March 11 tsunami in Japan. Nothing.
The unstoppable force of that water seared itself onto our minds and hearts. The devastation, the lives lost and then the horrific aftermath with the radiation leak haunt us still.
Of course the natural instinct is to stay away from Japan. But, just as tourism has dropped off radically, so the suffering escalates and endures because, like many countries, tourism is an important part of the Japanese economy.
I just returned from a trip to Japan and I am happy to report that Japan is safe to travel to and around.
Of course it's advisable to avoid Fukushima with its unsafe levels of radiation. But the rest of Japan is open for business and pleasure, including the best places to travel to like Toyama and Kanazawa in the Hokuriku region and Kyoto.
My flights beween Sydney and Tokyo, both to and from Japan, were packed with Australians heading for their winter holidays and winter sports.
"We love ski-ing and we wanted to visit Japan so that's what we did." One fellow passenger told me.
"But weren't you scared about tsunamis, earthquakes or radiation?" I asked, and was answered with a snort and a shrug.
"Not really. Life's too short to worry about things that may never happen. I'm probably more likely to get run over by a bus. You've just got to get on with life. That's what the Japanese are doing and that's what has to be done."
It was an honor to visit Japan recently. To speak to the Japanese people, to experience their culture and share their lives for a short time.
There's no doubt that tourism will bounce back in Japan.
There's no doubt that we can help that happen.
There's no doubt that we can aid the Japanese people by spreading the word that it is safe to visit Japan.
Japan and the Japanese people welcome travelers. They will thank you for visiting them. They will appreciate your support.
And you will be entertained, enraptured and enriched by your travels in Japan.
That's what every smart traveler really needs to know.
What excites you most about travel to Japan? The food, the culture or the people? Or maybe something else like the amazing snow monkeys?
Photo credit:  Hokusai painting – see it at the Victoria and Albert Museum in London

Share This Story, Choose Your Platform!