Have You Ever Slept in a World Heritage Building?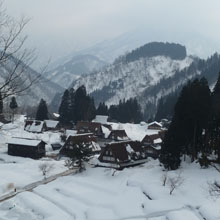 You've probably visited UNESCO appointed world heritage sites like the Statue of Liberty, Stonehenge or the Sydney Opera House, but there is only one place in the world where you can actually sleep in a world heritage building.
If that's something you'd like to experience head to the Gokayama villages in the Hokuriku region of Japan. Hokuriku is famed for heavy snowfall in winter, sensational seafood and, above all, for its gassho-zukuri-style thatched houses that were listed as world heritage sites in 1995 and many of which are now traditional Japanese style inns.
Here's a breakdown of my first day in Japan which ended with a dreamy sleepover in a world heritage thatched inn:
06:10 – Touch down in Tokyo
Having flown into Japan after a nine hour flight from Australia, three other lucky Australian travel writers and I were welcomed by our lovely guide Yoshi San and plopped straight onto a domestic flight from Tokyo to Toyama City one hour by plane. I even caught a peek of Mount Fuji out of the window. The business man sitting next to me nodded sagely and confirmed:
"Fuji San beautiful."
He wasn't as excited as me though.
11:00 – Tea ceremony at the Toyama Suiboko Art Gallery Museum
It's freezing in Toyama in February but icy climes and deep snow weren't going to stop me from making my first ever visit to Japan. So I borrowed hats, scarves, gloves and thermal undies from friends and piled them on just before getting off the plane.
First we admired the simple beauty of the ink paintings at the Toyama Suiboko Art Gallery, many by Japanese masters, then we settled in for a tea ceremony where we were served a sweet treat in the shape of a cherry blossom and frothy green tea in gorgeous bowls.
Our elegant tea master wore a kimono decorated with snowflakes and answered our endless questions about the who, what and whys of a Japanese tea ceremony. I'll cover tea ceremonies in more depth another time.
12:00 – Lunch in Toyama
We found out why Toyama is famed for its seafood over lunch at the Sushi Ei restaurant. Being an avid sushi-lover and self-proclaimed aficionado of raw fish I was looking forward to this. Suffice to say it exceeded all expectations.
13:00 – Head for the hills of Gokyama
As we drove into the mountains deep snow was piled up by the roadside and the trees were frosty white. Slowly the hillsides became more sparsely inhabited until finally the road ran out in Ainokura village where we would be staying the night.
Only a 45 minute drive from Toyama, tiny Ainokura has about 20 gassho-style buildings making it one of the biggest Gokayama villages. After piling on the layers including thermal undies, Icebreaker tops and many other non-fashion items we ventured outside. We were the only brave visitors that day and the snow muffled all sounds so what's usually a peaceful spot was engulfed in a deep, mystical silence.
Pulling on some snow boots we walked through a carefully shoveled snow corridor to a vantage point where we could look down on the tiny community.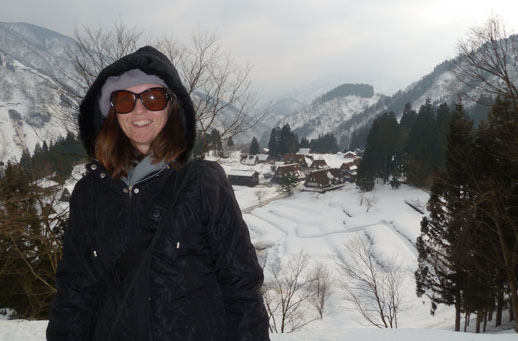 Gassho means "hands in prayer" and refers to the steeply pitched thatched roof tops of the buildings which look like bridged hands pointing to the heavens and are designed so heavy snow slides off the roof. In this area flat roof tops are dangerous and in modern houses the owners have to climb on the roof to shovel snow off, a dangerous activity that's not needed in the gassho building.
No nails are used in the construction of gassho-style buildings and the roof tops are rethatched every15-20 years. The strong construction allows them to survive the harsh conditions and massive snow falls the area is famous for, but allows plenty of space for family living. In former days the attics were used for raising silk worms and producing gunpowder.
15:00 Visit the Sanshoraku sake brewery
Our guide is the 17th generation sake brewer at Sanshoraku. The brewery was certainly around well before 1880 when it was first recorded.
16:00 Sink into the hot tub at Gokasansou Hot Springs

Local spa baths or onsen are a unique part of the culture in Japan and I couldn't wait to try them out, even though it involved stripping naked and washing myself in front of strangers, then going outside in sub-zero temperatures in the nude.
I did it though and it was such a treat to get clean, then soak outside in a natural hot spring with snow piled up around us and only the mountains to protect us from prying eyes. Sorry, no photos!
17:00 Check into the Syoshichi guest house
Most of the houses in the traditional gassho villages are inns or guest accommodation now, but the Syoshochi guest house is rumored to be the most luxurious. This is traditional Japanese accommodation at its finest with timber beams and interior walls made of paper. Here you eat sitting around the fire and sleep on futons laid down on tatami mats woven from reeds.
Our generous hosts laid out a massive feast for us including locally caught fish, forest vegetables and hot sake.
After supper we were entertained with a KoKiRiKo Uta dance performed by two female dancers, one male dancer and three gorgeous old men making the music.
We were warned that these inns have no central heating and would be cold in winter but in fact we were snug as bugs in rugs. The central fire glowed all night, there were gas heaters in all our rooms and a toasty warm brick tucked up under the duvet with us.
While many dream of visiting the Statue of Liberty, Stonehenge or the Sydney Opera House, dreaming the night away in a thatched roof gassho-style building on a peaceful mountainside in Japan is an unrivaled experience.
Where to Stay
Ainokura village where we stayed has seven guest houses but Syoshichi is the finest. It has separate loos for men and women with shared basins. The public bathhouse is a two minute walk from the guest house.
The nearby public bathhouse and guest house Gokasansou also has accommodation including one western style room with a private bathroom.
Getting to Gokayama
Toyama is the closest city to the Gokayama area. It's about a one hour flight from Tokyo or three hours by train. Once in Toyama you can book a tour, hire a car (make sure you ask for an english-speaking GPS navigation system) or take a public bus from nearby Takaoka train station where you can catch a public bus to Gokayama.
Hot Tip
Hokuriku and the surrounding mountains are beautiful in the spring and autumn months but you'll have to share them with other visitors. If you visit in winter get some heated pads called kairo (pronounced kai-ear-oh) from a pharmacy or supermarket in Toyama City to slip in your pockets, boots and on your back. They're a modern miracle and Japanese winter survival secret our wonderful host Yamaguchi San and tour guide Yoshi San shared with us.
I was honored to be a guest of the Hokuriku-Shinetsu District Transport Bureau.
To find out more about Toyama visit the Toyama Tourism website – they have some stunning photos and I so want to visit the waterfall and snow corridor but they are only accessible in the summer when the weather thaws. Looks like another visit will be in order.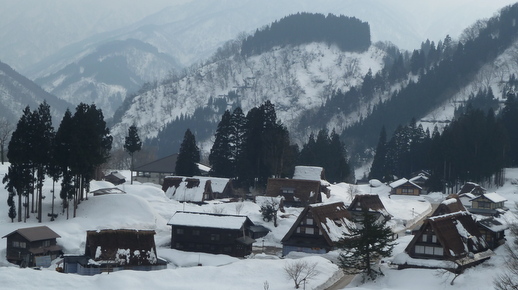 Share This Story, Choose Your Platform!