24 Hours in Kanazawa: Historic Japan Travel Tips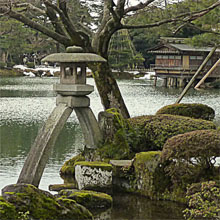 "You can forget your lunch but never forget your umbrella."
That's a local saying in the Hokuriku region of Japan which has sub-zero temperatures and heavy snowfall in winter, hot, humid summers and plenty of rain all year round.
But it's worth braving the elements to visit historic Kanazawa City which is about a four hour train ride from Tokyo on Japan's north-west coast.
Kanazawa boasts fine examples of traditional architecture including an old castle and is one of Japan's best preserved towns because it was spared in WWII bombings.
But Kanazawa is perhaps best known for Kenroku-en Garden which is considered to be one of the three most beautiful gardens in Japan.
1pm – Lunch at Hacchouya Restaurant
However the saying goes I recommend you don't forget your lunch while in Kanazawa because the food is as interesting as the history and scenery.
Kanazawa is the capital of the Ishikawa prefecture and you can dine on local specialities at Hacchouya Restaurant, on Katamachi. The Hacchouya Restaurant is part of a local chain and prices are very reasonable.
On weekdays you can get the set lunch of local specialities for around $10. The menu changes daily depending on what's fresh and what the local fishermen have caught.
Our meal which was beautifully presented with many different dishes included a local duck stew with taro, roast mackerel with Japanese fish sauce, miso soup with teeny tiny mushrooms, nut and squid pickles, tuna sashimi and cod dumplings.
It's beautifully presented, healthy and very tasty – my favourites were the roast mackerel and the tuna sashimi.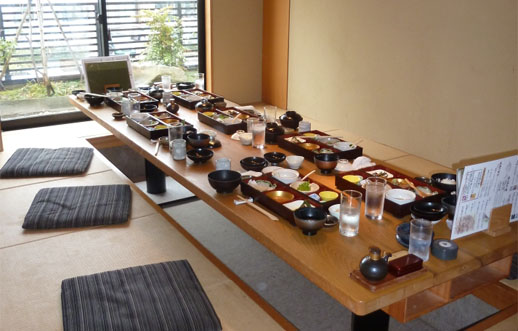 2pm – Higashi chaya-gai geisha district
Kanazawa has three traditional geisha districts and there are thought to be around 50 working geisha in Kanazawa. Wander round Higashi, soak up the atmosphere and do some window shopping. The beautiful displays in the sweet shops are bound to tempt you inside and look out for the giant balls made from twigs hanging outside the sake bars.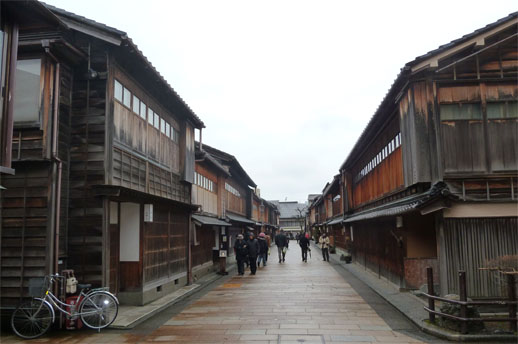 3pm – Gold leaf experience
Kanazawa City produces 99% of Japan's gold leaf which continues to play an important role in Japan's Buddhist culture. Don't miss the Sakuda Gold and Silver Leaf Company while you're in the Higashi district.
Sakuda has a shop where you can buy gorgeous gold leaf souvenirs, with everything from soap to ceramic owls benefiting from the gold leaf treatment. You can even have a cup of tea with gold leaf in it, then make sure you visit the bathroom with its gold walls.
For just 600 yen (around $7) you can design and make your own pair of gold leaf chopsticks which is fun. Don't try sticking a bit of gold leaf on your front teeth to see what you'd like with a gold tooth though. I'd show you the photo of me with a golden tooth but I don't want to scare you.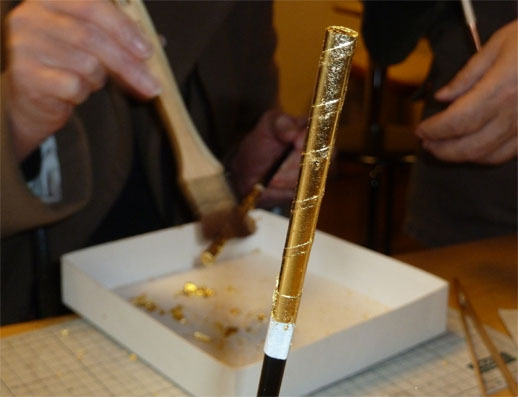 4pm – Omi-ichiba Market
Omi-ichiba food market is awash with color and exotic scents. If you have time to spare cross the road, walk through Starbucks and look at the clothes in the small department store and fashion shops.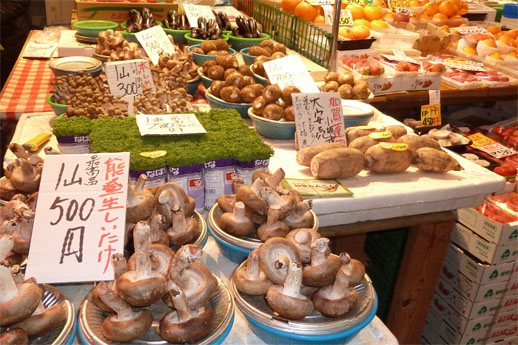 6pm – Kanazawa Station
If you don't arrive by train be sure to check out futuristic Kanazawa Station at rush hour. Voted one of the 14 most beautiful train stations in the world Kanazawa station's wooden drum-shaped Tsuzumi Gate and glass Motenashi Dome were initially greeted with controversy because they clashed with the traditional architecture of this old castle town. Now even its skeptics have come to see the beauty of this sleek modern design.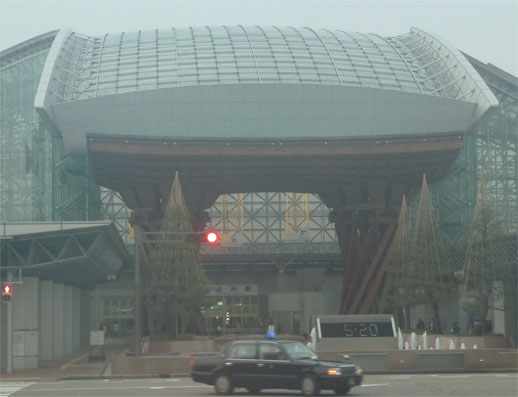 8pm – Dine at Totoya Restaurant
Just a short walk from the train station and the Ana Crowne Plaza Hotel Totoya Restaurant has a lively public dining area and bar lined with huge sake bottles as well as private traditional tatami rooms where the table is sunken into the floor.
The food is sublime and the set menu will allow you to try a range of dishes and new tastes with each dish more beautifully presented than the one before.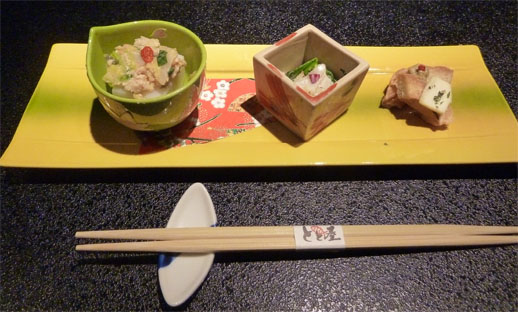 10pm – Sleep at the Ana Crowne Plaza
The Ana Crowne is a major luxury Japanese hotel chain and the Ana Crowne Plaza in Kanazawa exceeded my expectations. I stayed in a deluxe double room with fresh flowers, biscuits and a welcome note from the manager laid out to welcome me.
The room had two double beds, a sofa, a desk,  free Internet,  a Japanese nightie and a fluffy robe. I used and enjoyed them all. Not to mention the fancy Japanese loo in the bathroom with heated seat and all the posterior washing options you could ever wish for and many more besides.
The Ana Crowne has a sleep program which includes information about how to get a good night's rest along with relaxing bath salts and face masks to help you wind down. What with that and my very own massage chair in the room I was guaranteed a good night's sleep and I got it. The buffet breakfast is sublime too.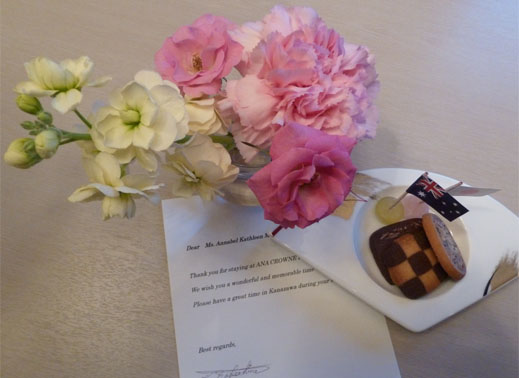 9am – Nagamachi Samurai District
Walk around this well-preserved area where once Samurai roamed. The narrow streets bordered by canals and mud walls covered with reed matting are now a chic residential area. Visit the Nomura Samurai House to see what a traditional Samurai house looked like inside and enjoy this intimate traditional garden before you move on to Kanazawa's most well known garden.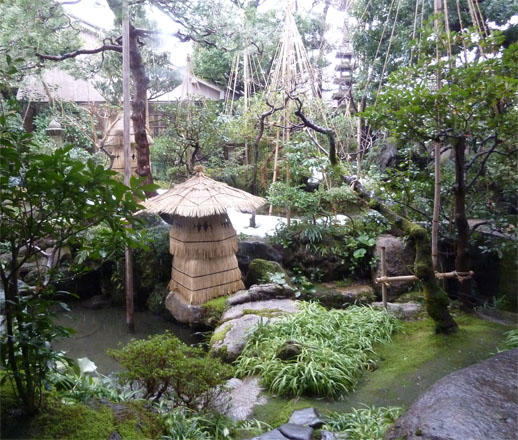 10am – Kenroku-en Garden
Walk off your breakfast at the stunning Kenroku-en Garden which is one of the greatest gardens from the Edo period and remains one of Japan's best gardens. If you like the simplicity and elegance of Japanese gardens  you'll love Kenroku-en which has had thousands of years to grow, mature and become encrusted with lush mosses in a thousand shades of green.
Make sure you get your photo taken in all the right hot spots, in particular by the fountain and on the little bridge.
In winter the trees are protected by conical bamboo scaffolding to stop the boughs breaking under the weight of snow. Come spring the bamboo frames are taken down and nature runs riot. In March the garden is a sea of pink as 200 plum trees bloom, in April 400 cherry trees blossoming draw the crowds and come May the gardens are carpeted purple with flowering 10,000 irises.
On a clear day you can enjoy views to the mountains and the Sea of Japan.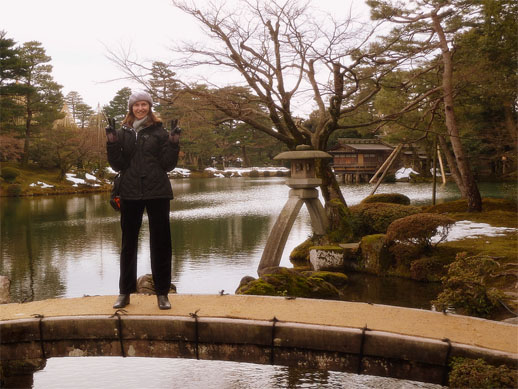 11am – Kanazawa Castle
For history buffs Kanazawa Castle is right opposite the Kenroku-en Garden. Check out the heavily fortified gates and views.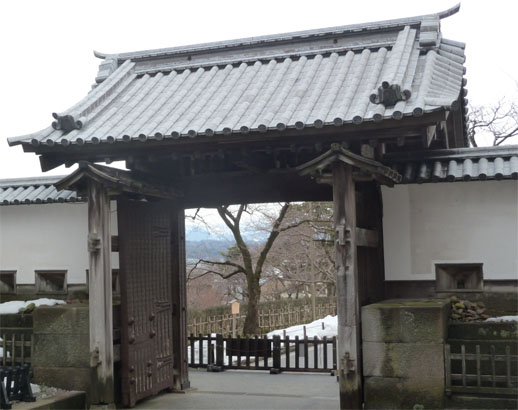 12pm -Lunch at Kenroku-en
If you've got time stay for lunch at one of the many restaurants just outside Kenroku-en garden. They all have large photos of the food outside making it easy for you and your waiter as you can just point at the meal of your choice.
Getting to Kanazawa
By train: From Tokyo Station take the hourly train to Kanazawa. The journey takes just over four hours and an economy ticket costs around ¥15,000 or will be covered under a Japan Rail Pass if you have one. You can also get an express train to Kanazawa from Osaka or Kyoto which takes 2.5 hours and costs about ¥7,000.
By plane: There are regular flights from Tokyo to Komatsu Airport then it's a 40 minute drive or shuttle ride to Kanazawa City.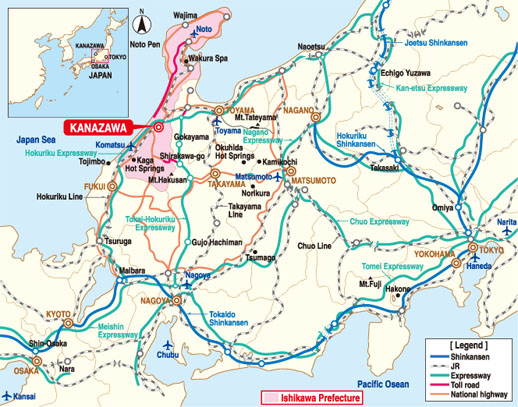 Travel Tip
Kanazawa and Kenroku-en Garden are worth visiting in any season but most people visit in spring (April, May, June) and autumn (September, October) when the temperature is mild and the trees are adorned with spring blossom or autumn leaves.
I was honored to be a guest of the Hokuriku-Shinetsu District Transport Bureau. To find out more about Kanazawa or plan your trip visit the Kanazawa Tourism website.
What would you do if you were in Kanazawa for the day?
Share This Story, Choose Your Platform!