A Heavenly Day Out in Hervey Bay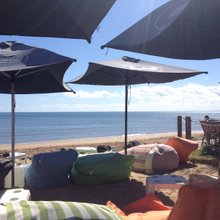 The sea's as flat as the pancakes the kids at the table next to us are devouring; and perfectly calm and ridiculously blue. We found plenty of things to do in Hervey Bay when we last visited and have been hanging out to get back here. Hervey Bay is only a two and a half hours from Noosa or four hours from Brisbane so it's an easy escape for a family holiday or a weekend break. Now we're wondering why it's taken us so long to come back.
The great thing about Hervey Bay is that it seems to be Queensland's best kept secret. We haven't been whale watching yet but Hervey Bay's whale migration season from June to October rightly draws the crowds. Still, even if the whales aren't around Hervey Bay has lots to offer and, most importantly without the crazy crowds, parking problems and over-inflated prices that can take the shine off living in Noosa.
So what constitutes a heavenly day in Hervey Bay? Here's how we spent our day in Hervey Bay.
While the family are sleeping I sneak out for a sunrise photo walk with the other early birds.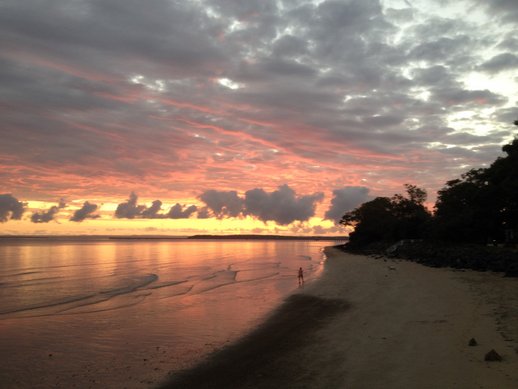 Breakfast
For later risers, Enzo's on the Beach in Scarness is the perfect place to start your day in Hervey Bay, open from 7am. Right on the waterfront, you can sit outside by the beach or inside if you prefer.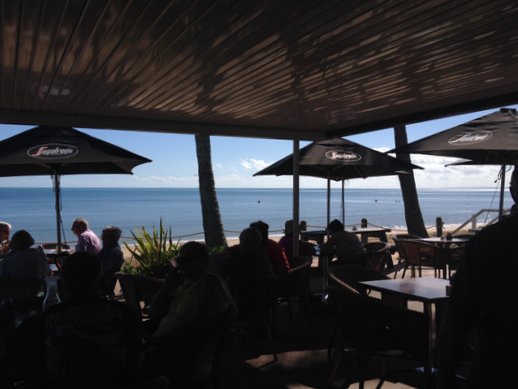 The breakfast menu is extensive with all the usual favourites, some interesting twists and lots of side dishes so you can create the breakfast of your dreams.
Max aged 14 and 6 foot 3″ is always hungry and rarely satiated. He orders eggs on the beach with spinach and hollondaise sauce and can't quite finish it. It's 1-0 to Enzo, although I think the iced chocolate with whipped cream might have helped fill Max up.
Kiara picks hash browns, avocado and haloumi, a healthy choice she balances out with a spider; a scoop of icecream served in lemonade. Yum!
Meanwhile Rich announces that we (meaning me!) should make a Mexican omelette like this at home sometime.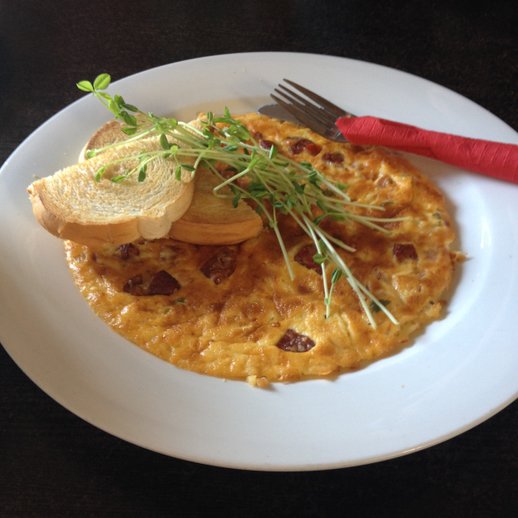 My mouth's full of veggie stack with a poached egg, haloumi, tomato, spinach and hash brown so I don't comment.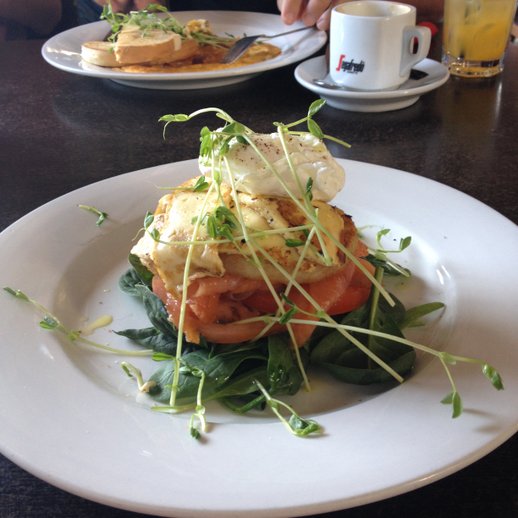 Enzo's on the Beach hits the spot for breakfast. There are also bean bags with umbrellas on the sand if you want to settle in for a relaxing day with stand up paddle boards for rent if you want to get out on the water.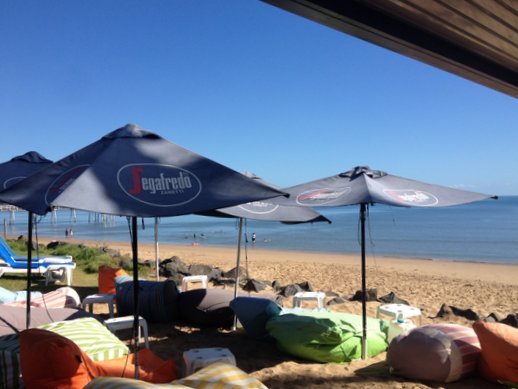 Morning
But our day is only just beginning and there's lots to do. We set off for a stroll along the long waterfront path which is perfect for walking, biking or pushing a pram.
Just a couple of kilometres west in Torquay we stumble into the Aquavue Cafe. Aquavue is a Hervey Bay institution headed by Larry who runs a tight ship and entertains guests with his tall tales and hard won words of wisdom.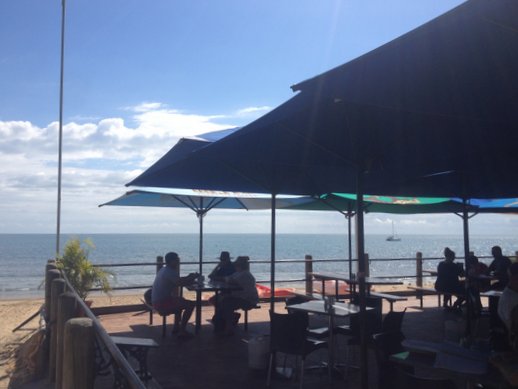 We're here for the watersports and start off with a leisurely paddle on the stand up boards. There's a strong headwind making it hard to get moving but we don't need to go anywhere at all. It's just nice to be out on the water and better still when we spot a turtle paddling just below the surface. It even pops its head out right in front of us.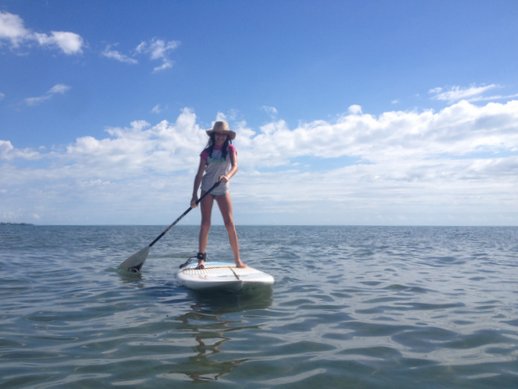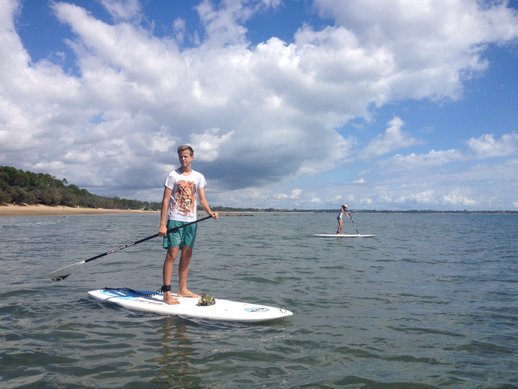 There are a variety of watersports available at Aquavue with kayaks and a catamaran for hire plus banana rides, water skiing,tube rides and knee boarding. The water is perfect for it but Kiara had so much fun on Aquavue's bikes last time we were here that she wants to take one out again.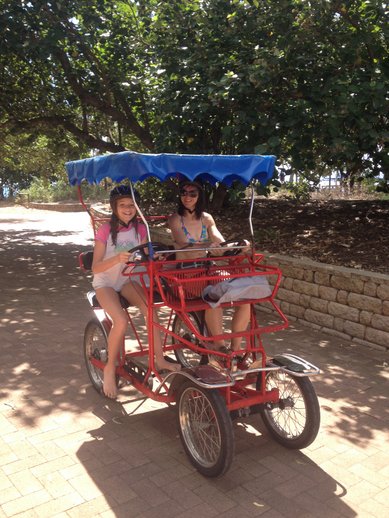 So we go for a spin down the promenade, basking in the glow of the envious glances people throw our way, narrowly avoiding crashing into anyone and stopping regularly to read menus and try the playground and exercise equipment.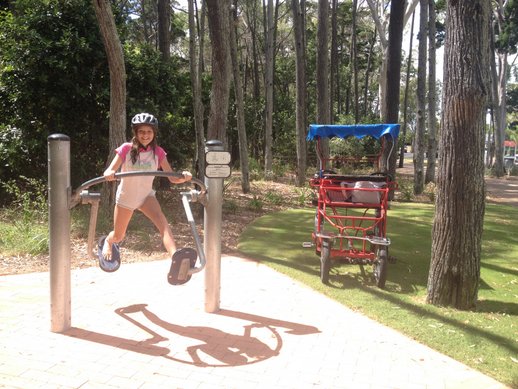 Lunch
Aquavue's jetski tours to Fraser Island come highly recommended but alas we don't have time for that today. We make use of the Aquavue shower before heading to the open air restaurant for lunch.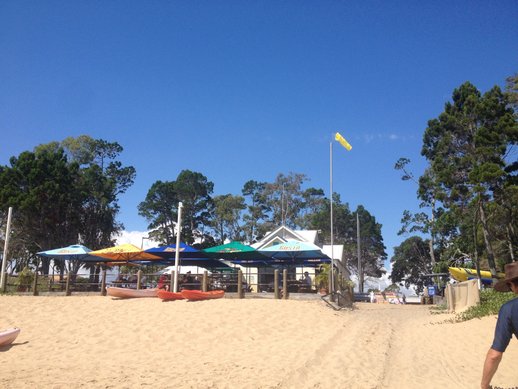 Aquavue's chef Carolyn Brummell is one of the most awarded chefs in Hervey Bay and the beachside setting couldn't be prettier. So naturally the fish and chips are hot, fresh and super crispy, the salads well dressed and Rich's big all day breakfast cooked to perfection.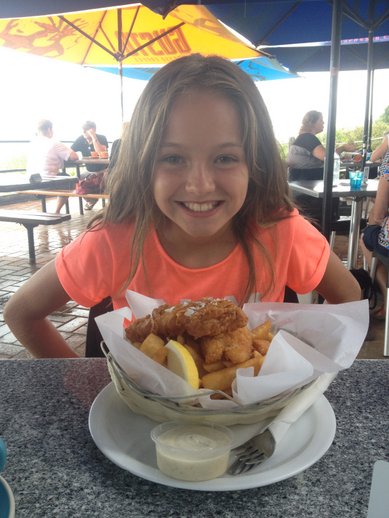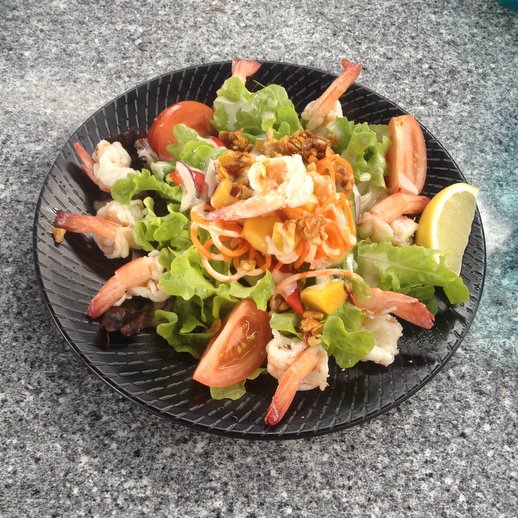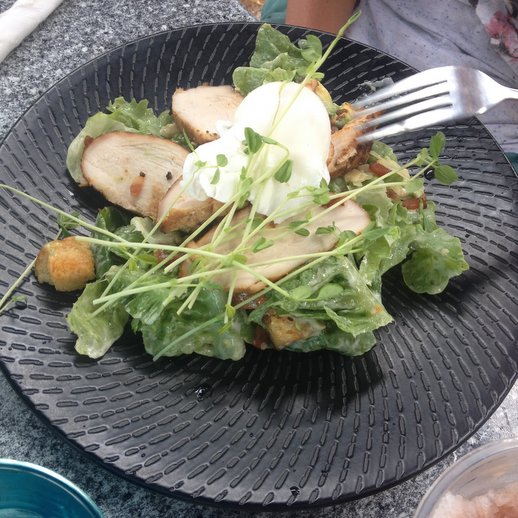 Kiara is overjoyed with her iced chocolate which comes with a hearty whipped cream topping.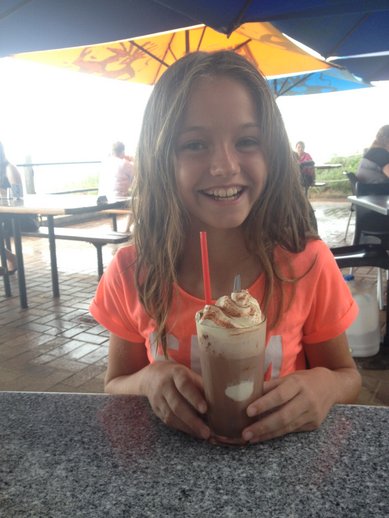 Larry tells us that everything is made on the premises including the cute little shortcake biscuits that comes with coffee.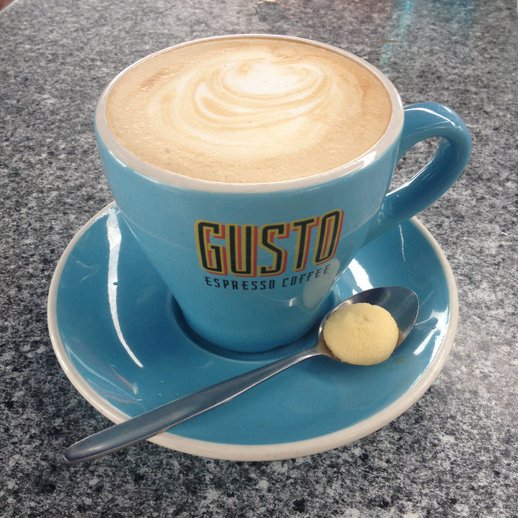 So we feel the need to sample the housemade cheescake and carrot cake. We don't need them but we're glad we ordered them anyway.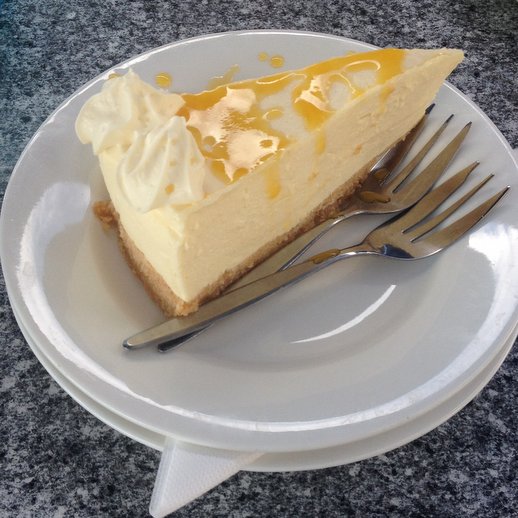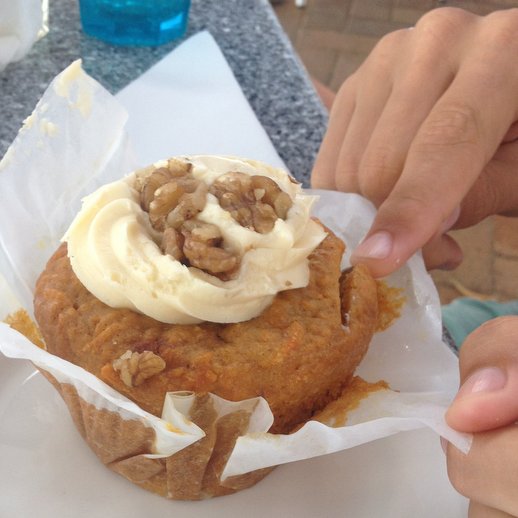 The ocean has deepened to a darker blue now, but it's still tranquil and sparkly. Lunch in Hervey Bay couldn't get much better than this.
Afternoon
We spend the afternoon with more swimming, beach walking and a promenade down beautiful Urangan pier. Kiara is keen to explore the shops, in particular the Pirate Cave, the Lolly Shack and Planet 72 icecream parlour. Surely she can't be hungry again already?
Sunset
The sting has gone out of the sun now and we head home to shower and change before heading to the marina for a sunset champagne cruise with Blue Dolphin Marine Tours.
There's plenty of room on the luxurious 11.6 meter catamaran and we're welcomed aboard with drinks. Once out of the harbour our skipper Peter hoists the sail and cuts the engine. We're happy to be out on the water with nothing to do except enjoy the drinks, nibbles and glowing skies.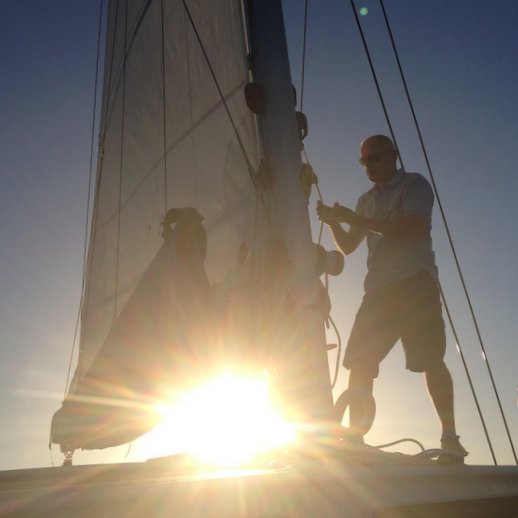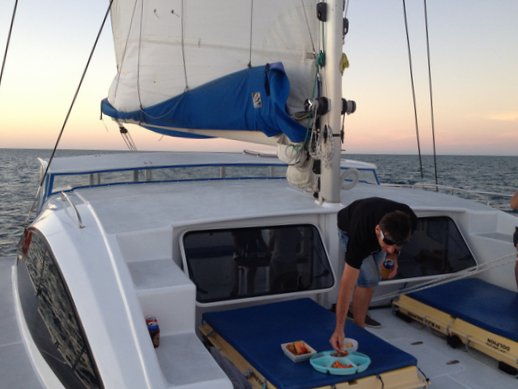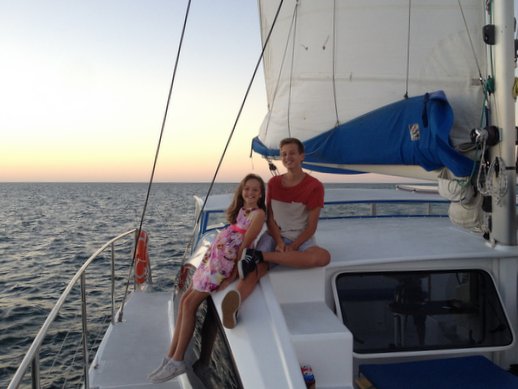 The catamaran is allowed to take 30 guests but Peter limits it to 20 so there's plenty of room to relax and take photos. The dolphins are hiding this evening and the sun soon joins them, sinking fast below the horizon leaving a telltale glow behind.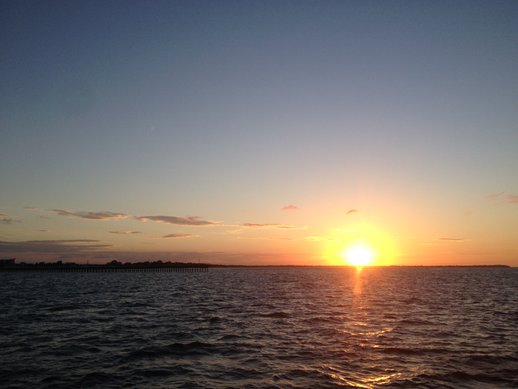 It's notoriously hard to get a good shot of the Candy family but Peter kindly takes a family photo for us. Our big boy Luke is missing so we're not complete but it's a happy memory to take home.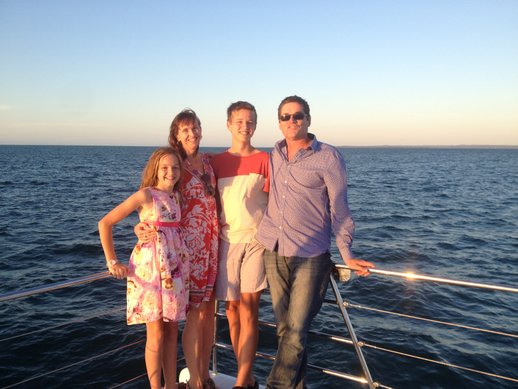 I note that Kiara may have been watching too many movies of late.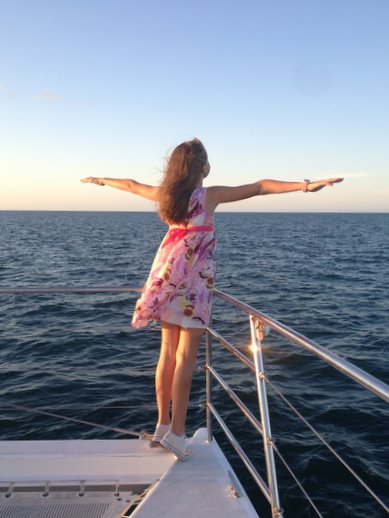 Then we watch carefully, cameras at the ready for the bat exodus that takes place nightly as the bats that roost by day in Hervey Bay's botanic gardens set off for a night foraging on Fraser Island.

At first we can just make out a cloud of bats sweeping over the marina and heading out to sea. Then the bats are over us and all around us, a spectacular sight that lasts 20 minutes and must involve hundreds of thousands of bats. It's a natural phenomenon that my trusty iPhone can't do justice to but one we'll always remember.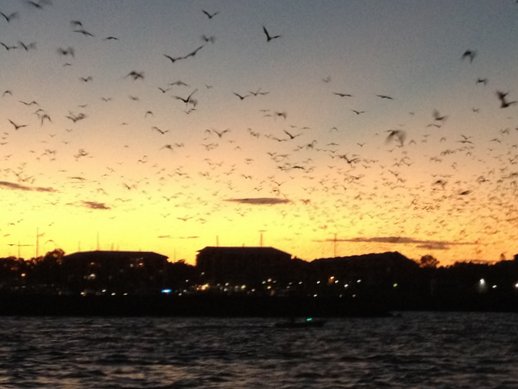 As the bats start their big night out, our day in Hervey Bay comes to an end. We're satiated in all senses of the word so there's nothing else to do but head back to our accommodation for a game of Articulate.
If I had to articulate what we like about Hervey Bay I'd say it's got beautiful views, friendly people and amazing wildlife. So if you're after a beach holiday or sea air consider Hervey Bay. It's flat out worth the drive.
More details and useful Hervey Bay links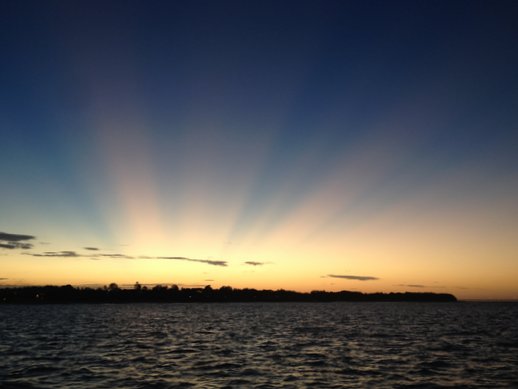 We were guests of Enzo's on the Beach, Aquavue and Blue Dolphin Marine Tours during our stay in Hervey Bay.
What do YOU think? Is Hervey Bay Queensland's best kept travel secret?!
Join Thousands of Happy Readers: Free Weekly Newsletter
Are you a travel lover who'd like to stay healthy and make sure your life is full of adventure, fun and curiosity? Click here to subscribe now for a free weekly email updates from Get In the Hot Spot.
Share This Story, Choose Your Platform!