15 Things to See and Do in Hervey Bay – Part I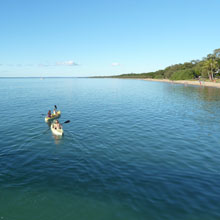 They say good things are worth waiting for and I waited three years before making the three hour drive from Noosa to Hervey Bay.
Probably because a three hour drive with three Candy kids squished in the back seat of the car feels like three years. Or longer.
But I overcame my fear of car journeys with the Candy kids to brave the trip to Hervey Bay and it was worth it.
Where is Hervey Bay?
Situated on the Fraser Coast in Queensland, Hervey Bay is easy to get to. It's about a four hour drive north of Brisbane, two hours south of Bundaberg and 17 hours south of Cairns. Shudder. But let's not even think about that kind of drive.
So what fun and games await you and the family in Hervey Bay?
Things to See and Do in Hervey Bay
1. Feed the ducks, waterbirds and turtles

After leaping out of our car and checking into our cabin at the Sanctuary Lakes Fauna Retreat, the Mucho Man and I recovered from the drive with a nice cup of tea and some bird spotting while the Candy kids amused themselves by trying, and failing, to catch turtles in the lake.
2. Hire toys at the Aqua Vue Cafe in Scarness
With lots to see and do and only one weekend in Hervey Bay it was time to dash down to the waterfront at Scarness and hit the Aqua Vue Cafe. There you can choose from a plethora of water-based activities including sailing, water skiing, jet skiing, kayaking and stand up paddle boarding.
We opted to stay on dry land, hop on their three seater bikes and pedal along the Esplanade to get a feel for Hervey Bay.
It was a hair-raising experience with Max (aged 10) steering:
"I'm not much good at this Mum but it's fun!"
Somehow we managed to avoid crashing into any trees and even spotted a dugong in the shallow waters just off the beach which was exciting.
That was our first ever dugong sighting and, in case you're wondering, dugongs are large protected marine mammals which look like a cross between a seal and a dolphin but without the fin. They are the only strictly marine herbivorous mammal and quite rare so it's a real pleasure to spot one.
3. Visit Fraser Island
The ocean at Hervey Bay is a huge calm body of water protected from the open seas by nearby Fraser Island. Hervey Bay is the gateway to world heritage listed Fraser Island with a car ferry operating most days and plenty of options for day trips or overnight tours.
Lovely Larry at the Aqua Vue cafe will even take you on a jet ski tour to Fraser Island if you're game.
I haven't visited Fraser Island yet but am looking forward to exploring in November so I'll be keeping you posted.
4. Eat fish and chips
Hervey Bay is a fisherman's paradise with fresh fish caught daily in local waters and Maddigan's Seafood on the Esplanade is reputed to have the best fish and chips in town. Step across the road from Maddigan's and eat your supper on the bay as the sun sets then let the children play at the playground or climb a tree. Our monkeys love a bit of tree climbing.
5. Explore the Hervey Bay Esplanade
The 14km (10 mile) promenade along the esplanade goes all the way from the Urangan Harbour at the eastern end of Hervey Bay to Gatakers Bay in the west. You can tackle The Esplanade in one go if you bring plenty of water and snacks for the kids or break it up into smaller trips.
Do it on foot or by bike if you prefer and the super active can even extend the trip an extra 6km by continuing along the Link Mobility corridor which goes through the Botanical Gardens and ends back in Hervey Bay's CBD.
6. Poke around in the rock pools at low tide
When the tide goes out it goes out  a long way in Hervey Bay and the kids can poke around in the rock pool, hunt for crabs or organise races with the hermit crabs. No crabs are hurt during these sessions – we love hermit crabs and make sure they are happily returned to their natural habitat before we make our merry way home.
7. Play at Wetside or The Pines
Hervey Bay's free "no height aqua park" Wetside looks fantastic but was sadly closed during June and July when we visited.
Luckily the nearby playground at The Pines has some great climbing equipment which is challenging for older kids, as well as the usual stuff for littlies.
8. See (and smell) the bat colony
Tooan Tooan Creek Flying Fox Colony is home to thousands of grey, little red and black headed bats who live there all year round. They are actually quite cute and fluffy when you look closely but never go too near or touch them as bats can carry diseases.
But wait! There's more….
There's so much to see and do in Hervey Bay I had to split it out over two posts.
Check out 15 Things to See and Do in Hervey Bay – Part II now.
What would you most like to see and do in Hervey Bay?
Share This Story, Choose Your Platform!