Living in Noosa: What it's Really Like?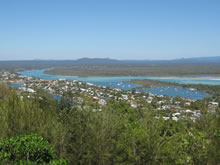 Apart from the glorious weather, beautiful beaches and easy lifestyle one of the best things about living in Noosa is that, even though it's a small place, everyone in Australia's heard of Noosa because it's one of our most famous beach resorts.
If you asked most Australians what living in Noosa was like they'd agree with the description above. That's the idyllic Noosa image which draws so many holiday makers here but it's not the full story.
In Noosa, as with any holiday destination people come to visit and end up enjoying their holiday so much that they want to stay.
Hundreds of people move to Noosa each year from interstate (mostly Melbourne and Sydney) and overseas, in particular New Zealand and the UK.
So what's it like living in Noosa as opposed to just coming here for your holiday?
A local radio ad claims 40 people move to the Sunshine Coast each week. That's over 2,000 people a year but I'd love to know how many of them actually stick around.
Let's look at what makes living in Noosa tough, bearing in mind that although these are generalizations and personal impressions, the aim is to make sure that if you're thinking of living in Noosa you're clued up on the reality of life here and not buying into a false dream.
Things You Need to Know About Living in Noosa Before Moving Here
1. Work opportunities are hard to find
It's seriously hard to find well paid interesting work in Noosa. Of course we move here for the lifestyle, not the career opportunities or the money, but at some point when you've been here a while you might start wondering if you've signed up for a lifestyle of poverty.
That's a dramatization because most people living in Noosa aren't poor because they come here with a financial cushion, but the impression you get from the designer boutiques and pricey restaurants lining Hastings Street is that everyone living in Noosa is wealthy. That's a long way from the truth.
Those high end businesses are supported by wealthy holiday makers from Brisbane, Sydney and Melbourne where you can earn decent money and have an interesting career. A few people now living in Noosa have told me they do jobs at a level with those they had 20 years ago in order to find work.
Parents need to remember that the Sunshine Coast has the highest youth unemployment of anywhere in Australia so if you have kids there will be limited job opportunities for them in Noosa too.
2. Running a business is hard in Noosa
Despite tourism statistics that show millions of tourists visit Noosa each year and spend millions of dollars here it's unclear where that money goes because I haven't noticed many locals getting wealthy from running businesses here.
In the five years I've been living in Noosa I've seen numerous bars, cafes, shops and restaurants open and then close because there wasn't enough business to sustain them.
I've watched people arrive from the UK with solid business experience, lots of cash to invest and oodles of enthusiasm set up a new business in Noosa and then see it fail no matter how hard they work.
I've seen plenty of new Noosa residents turn tail and head back to live in the UK, NZ or one of Australia's big cities where they can support themselves and their family.
There's a running joke in Noosa that goes like this:
"How do you make a million dollars in Noosa? Move here with two million dollars."
3. Businesses that do stick around are hobby businesses
Many people living in Noosa have retired or semi-retired here. The semi-retired may have investments and money in the bank but they're just want to earn enough money to live on. Many of these people do alright. They make just enough income to get by and keep them living in Noosa but they tend to be people who are of retirement age (60+) with no kids to support.
Setting up a hobby business doesn't work so well for younger people who want to earn a decent income to support the kids. Many people soon start to wonder why their busting a gut to earn so little money living in Noosa when they could earn two or three times as much in a city and come to Noosa for their holidays.
4. You probably won't stay forever
There are plenty of people who've been living in Noosa for decades but many people get tired of Noosa after six months or a year because it's so hard to make a living and thrive here.
5. Noosa Real Estate is heavily over-priced
Despite the value of Noosa real estate dropping in the last five years statistics show that Australian still  has some of the most over-priced real estate in the world and least affordable compared to incomes.
Of course it's worth paying to live by a nice beach, and new immigrants from cold, cloudy climates are happy to pay a premium for the good weather but if you buy a house in Noosa you're still paying over the odds for what you get. Especially considering that there's limited work in the area.
Furthermore most of the houses are cheap, badly designed and some are down right ugly. Many Noosa homes are just suburban boxes built on tiny plots of land.
If you're thinking of living in Noosa check out the real estate websites and compare what you can buy here with where you're living now.
6. Making friends can be hard in Noosa
I've been working out of a shared office this week and overheard a woman discussing with her colleague why she's moving back to Melbourne. The first reason she gave was limited work opportunities. She also wanted to be closer to her mother.
Finally she admitted she's found it hard to find friends in Noosa and I was glad to hear it because that's been my experience too and not one that I've had anywhere else in the world.
I can't say why it is but I know it's a problem for a lot of people especially when your children are older (or have left home) so you don't have a school community to get  involved in.
7. When family and friends come to visit they may overstay
Here's another common complaint from British expats. They often look forward to visits from family and friends but because it's such a long trip people come for weeks or months and that can get a bit much.
8. The divorce rate is sky high
A few years ago the local newspapers ran an article headlined "Come to Noosa to get Married Stay for the Divorce" because, while Noosa is a popular venue for weddings, it also has one of the highest divorce rates in Australia.
I was asked to contribute to the article and suggested the reason was people who are unhappy move here thinking that will fix their broken relationship. Long story short, it doesn't.
Another commenter suggested it was because work was hard and real estate prices which leads to stress and marital discord. Maybe Noosa has a high divorce rate because of all of the above.
9. Family life can be fractured
Even couples that stay together may end up spending time apart. The families who do earn money here are the FIFO (Fly In Fly Out) families where one parents (usually the man) works away from Noosa or overseas in industries like mining, oil or shipping.
Which means there are a lot of mums without support from husbands, a lot of kids who miss their dads and a lot of men who spend that majority of their time working away from home.
Probably not the best recipe for a healthy community.
10. Living in Noosa isn't a fantasy life
Some people aren't going to be  happy anywhere. They may get fed up with Noosa because it's too hot in the summer, there are too many bugs, they can't stand all the round-abouts or it's impossible to park at the beach during school holidays.
But there will always be drawbacks no matter where you live.
We're still living in Noosa though because despite all the problems our children are happy here, city life is not for me and the outdoor lifestyle of beaches, biking and hiking is a fair trade for all the problems above.
What are your experiences of or concerns about living in Noosa?
——————————————————————-
Moving to Noosa?
If you're making the move to Noosa and looking for a removalist I recommend Noosa Van Lines. They can take care of overseas removals and interstate removals to or from most places in Australia.
——————————————————————-
Want to find out what's hot in Noosa?
Get free email updates from Get In the Hot Spot – it's a weekly injection of tips to help you be more adventurous, have more fun and feel fabulous along with Noosa travel and food tips too. Sounds good? Click here now to get our weekly emails.
——————————————————————-
Share This Story, Choose Your Platform!