15 Things to See and Do in Hervey Bay – Part II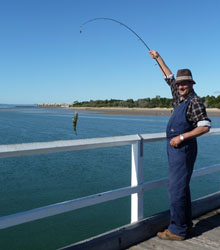 Have you read 15 Things to See and Do in Hervey Bay – Part I?
Great. Here's the final post to whet your appetite and help you start planning what you're going to see and do in Hervey Bay.
Make sure you check out 15 Things to See and Do in Hervey Bay – Part I too so you don't miss anything.
9. Go whale watching
Hervey Bay is the whale watching mecca of Australia from mid-July until the end of October. The bay is perfect for whale watching as its calm and flat so there's less chance of seasickness.
Jason, the captain of Whalesong told me he can spot a breaching whale with the naked eye 10km away because a 40 tonne breaching whale makes a very big splash.
Whalesong is a family owned business and their spanking new boat has been awarded the advanced ecotourism accreditation and takes out only a small numbers of passengers to make sure everyone gets a good view.
Their photos are incredible with passengers practically touching the whales so that's definitely an experience I want to go back to Hervey Bay for.
10. Take a sunset cruise
If you visit outside the whale watching season like us, take a sunset and seafood cruise on Whalesong instead. The dolphins will flit around the boat as you chug out of the harbour and Kiara (aged 7) was entranced by two dolphins who came to ride in front of the hull and could be clearly seen in the water right below us.
The sunset cruise lasts for three hours allowing you plenty of time to watch the wildlife, take photos of the setting sun and enjoy a seafood feast of local mud crab, prawns and oysters along with roast beef and chicken for the carnivores plus yummy new potatoes and salads for the herbivores.
The kids pronounced the cruise their favourite part of the weekend and when they're happy I'm happy too.
11. Head to Maryborough in the hinterland
Mary Poppins author Pamela Lyndon Travers was born in the small hinterland of Maryborough 42 km inland from Hervey Bay. There's an annual Mary Poppins festival for the kids each year at the end of June or beginning of July which we managed to catch.
Half the town was dressed up as Mary Poppins or Bert the chimney sweep, while the other half cruised down the Mary River on a steam boat or chugged round Queens Park on a steam train.
Even if you're not in Maryborough for the festival you can still have tea with Mary or take a free historic walking tour with Mary next time you're there. Or just grab a picnic and eat in Queens Park or on the river bank to break your journey.
12. Eat at Enzo's on the Beach
Right on the waterfront at Scarness Enzo's cafe is popular with locals and visitors. We arrived at 9am on Saturday morning to find it already packed with people enjoying their first coffee of the day and endless views over the bay.
Ordering food for five people is more complicated than it sounds. In the end I had to take notes on my iPhone before ducking inside to place my order.
One latte, one chai latte (cinnamon, skimmed milk), one caramel milkshake, one strawberry milkshake and one iced coffee with plenty of spray cream for the teen boy arrived pronto.
The kids nipped off to explore the beach and walk on the nearby pier while they waited for their food while we adults berated ourselves for not visiting Hervey Bay sooner and vowed to come back again before the year was out.
Despite Enzo's popularity our breakfasts arrived promptly and soon Kiara was tucking into her hot buttered croissant and fruit salad.
The Mucho Man and Luke both chose the Mexicana omelette with chorizo, red onions, tomato and jalepenos served with toasted ciabatta which looked delicious and must have been because they polished them both off including extra bacon for Luke.
Max's breakfast bagel was stuffed with ham, sliced tomato, mushrooms and a poached egg topped with hollandaise sauce which made it a challenge to eat, but one which he handled with aplomb and not a drop of hollondaise on his t-shirt. Amazing.
Meanwhile I quietly tucked into eggs on the beach which was a healthy combination of scrambled eggs with smoked salmon, baby spinach and avocado.
Now that's what Luke calls a bonza breakkie.
13. Walk Urangan Pier

Head to Urangan Pier at high tide or early in the morning when the local fishing fanatics are casting their lines into the briny blue sea.
The pier is 868 meters long so you'll get a bit of exercise and some fresh sea air as well as the chance to soak up some history.
Urangan pier was built in 1917 to export sugar, coal and timber overseas and a train used to run down it. When exports stopped in the eighties the pier was threatened with demolition but finally saved and enjoyed by people of all ages and stages today.

14. Take to the Water
Enzo from Enzo's on the beach hires out beach loungers as well as stand up paddle boards and kayaks, the latter only good to go when the tide is high.
It's great to eat one of Enzo's big breakfasts and then work it off with a little gentle rowing round the harbour. The boys even jumped in and had a quick splash around which is the kind of thing you can only do in mid-winter in Queensland.
That's us kayaking below and the water really is that blue.
15. Visit Burrum Heads National Park
Just a 3o minute drive north of Hervey Bay there are some lovely walks through coastal Burrum Heads National Park. I was also keen to explore the quieter seaside resorts of Toogum and Woodgate where I've heard kangaroos paddle in the sea but time ran out on us.
So, like Fraser Island and whale watching, Burrum Heads is something to look forward to seeing on our next visit to Hervey Bay.
They say all good things are worth waiting for and Hervey Bay definitely was but I won't be waiting another three years until I revisit.
The whales, the dolphins and the dugong are calling me. They are telling me to come back very soon and I am listening. Oh yes, I am.
The Candy family were guests of Fraser Coast Tourism, Enzo's on the Beach, Aqua Vue and Whalesong Cruises.
What would you most like to see and do in Hervey Bay?
Share This Story, Choose Your Platform!