Is Noosa, Australia the Best Place in the World? I'm Your Travel Guide, You Decide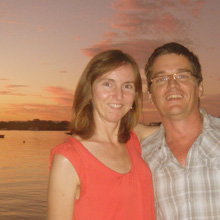 Looking for a Noosa travel guide? I scoured the world for 20 years looking for the perfect beach, climate and lifestyle before moving to Noosa in Queensland, Australia and I've been living in Noosa for five years now.
We all know there's no such thing as perfect, but Noosa is the perfect place for me and my family right now.
It's also a prime holiday destination and a popular place for rich and famous Australians and expats to move to or vacation in. Richard Branson is the most well known home owner (he owns Makepeace Island in the Noosa River) along with many Aussie glitterati like tennis player Pat Rafter.
But what's Noosa like for people like me and you whose pockets aren't quite that deep?
We have three kids aged six, ten and thirteen and are lucky to be able to live just about anywhere we want because we work from home.
Jobs are hard to come by in Noosa so you need to be self-sufficient if you'd like to actually move here.
What I like about Noosa is you don't have to be rich to enjoy it. When you live somewhere which is warm all year round (the average annual temperature is 25°C or 77°F), with endless beaches and waterways on your doorstep, there are plenty of ways to have fun, even if you don't have much cash to splash around.
So today I'm going to be your Noosa travel guide today and take you on a mini tour.
Welcome to Noosa, probably the best place in Australia, possibly the best travel destination in the world!
Noosa Travel Guide – Day One
If you've been stuck on a plane for hours on the way to Australia from overseas, or you're flying in to Noosa from out of state what you need is a walk in Noosa's iconic National Park. There's nothing I like more than a long hike so I hope you're up for it.
We'll start from my house in Sunrise Beach and walk 3o minutes along the beach to Sunshine Beach and then into Noosa National Park.
No need to hurry, we've got all day and I've packed a picnic. As long as you've got your hat, swimmies and plenty of sunscreen we can't go wrong.
The walk starts to get exciting as we walk up the steps at the end of Sunshine beach. When we get to the top of the  cliff we'll stop a while to catch our breath and enjoy the views our to see and back to Mount Coolum.
We'll walk on to the Devil's Kitchen for even better views out to sea where we can watch for dolphins any time, or whales spouting and breaching out as sea between March and November.
From there it's all down hill to Alexandria Bay, Noosa's unofficial nude beach. If you want to frolic naked you can but I'm over that and prefer to keep my gaze firmly out to sea. So let's press on past Granite Bay to Tea Tree Bay watching out for koalas on the way.
We'll stop at Tea Tree Bay for our picnic lunch under a tree.
You might be a bit weary by now so you can crash out here or we'll press on to Noosa Main Beach for a swim between the flags and a well-earned siesta on the beach.
As day turns to night we'll grab a drink at one of the beachside restaurants and watch the sunset over Laguna Bay.
We may as well treat ourselves to a meal at one of the restaurants on Hastings Street afterwards. We deserve it don't we?
Bliss. After all that sea, sun and fresh air I know we're going to sleep well tonight.
Noosa Travel Guide – Day Two

Let's head inland today to the Sunshine Coast hinterland. On Wednesday or Saturday we can visit the Eumundi markets where you can pick up some souvenirs and enjoy some local food for lunch.
Then let's stop for a short walk at Mount Tinbeerwah  to enjoy the views back to Noosa.
In the afternoon we'll head to the Noosa River where we can lounge under a tree watching the river, world and pelicans go by. It's one of my favourite spots and if you've got any extra energy you can have a lovely walk or use the riverside exercise machines to keep in shape.
At twilight we'll have a drink and order fish and chips eaten while the noisy parrots swarm back to roost in the trees and, as night falls, the sky fills with fruit bats.
Noosa Travel Guide – Day Three
Time for something a bit more adventurous. The ocean's blue and warm year round so it's time to get wet. Or at least get out on the water.
We could go sailing, kayaking or even kite surfing. There's stand up paddle-boarding, body boarding or a relaxing cruise with Noosa Dream Boats.
If you can stay longer we'll do them all but today let's go surfing.
If you've never tried surfing before we'll go to Coolum where the lovely team at Coolum Surf School will have you up and surfing in no time. Yes, even if you think you'll never stand up on a surf board I promise you will.
In the evening we'll go to one of Noosa's best restaurants. My faves are Wasabi in Quamby place for exquisite Japanese and the River Cottage Restaurant near Gympie Terrace for sublime classic Australian fare.
The other option is to pick up a few kilos of big Australian banana prawns, fire up the barbie and stay home. You're the guest so I'll let you choose.
Either way your tour of Noosa will be one you'll remember for 2o years. Probably more.
What do you think? Does Noosa sound like the best place in the world to you or have you got somewhere else in mind? Where would you get your Noosa travel guide to take you?
Subscribe Now for Free Travel Inspiration and Tips
Choose updates by email or by RSS feed.
Share This Story, Choose Your Platform!