52 Exercises Series Announcement and Exercise #1: Horse-Riding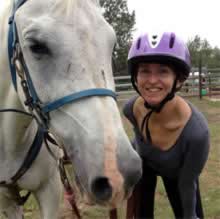 In our new series 52 Exercises I will personally test a different fitness class or sport each week. The idea is to fight boredom and ageing when you're not traveling by being constantly challenged both mentally and physically and trying new things, including things I don't think I'll like or wouldn't normally do.
52 Exercises isn't about improving fitness or losing weight but maintaining them and having fun. It will also get me to try things I've previously enjoyed like yoga but don't do because they're not an aerobic, or calorie burning, work out. So hopefully I'll inspire you to exercise, try new things and challenge yourself more often too.
I don't expect my general fitness levels to increase much from this quest although I will continue my usual exercise which is generally a walk or bike ride every other day with some light exercise videos using hand weights on alternate days. I take Sundays off.
I'll track my calories burned during each session and how much time was spent exercising in the optimal heart zone rate which will increase my aerobic fitness and burn fat. I'll also give each exercise a rating for fun factor, fear factor and post-exercise glow.
52 Exercises #1: Horse-Riding
I had horse-riding lessons as a child which my dad got discounted because we rented the fields behind our house to the riding school. But my parents would never buy me a horse even though we had stables at the bottom of our garden.
So I am not that horsey and these days I don't horse ride much. It's over a year since my last ride when we set off early for Mary Valley Adventure Trails stables.
My horsey mad friend Anne is driving, with her daughter and a friend in the back, all looking the part in jodpurs and collared cotton shirts.
I'm aiming for a mildly adventurous experience but the possibility of being thrown off and rolled on by a heavy horse any-time make horse-riding an adventure sport.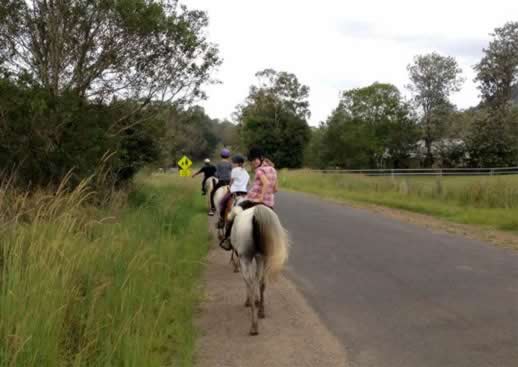 When we arrive Graham our guide saddles the horses up, adjusts our stirrups and loads us up with bottles of water. We'll need them. It's a hot summer's day and I'm already feeling the heat in my black leggings, which I figure are similar to jodpurs, and a long-sleeved T-shirt for protection from the sun and thorny bushes.
I sign the indemnity form ticking that I am a competent rider. Definitely not a beginner or intermediate. Yes please, I am up for a canter.
My horse Esau is a grey endurance champion who obeys Graham's commands but not so much mine.
We set off along the road and over the creek before turning off into Amamoor State Forest.  My bum is soon aching. We canter up hills then walk carefully down the other side. After an hour I start wondering how long the ride is. I think it's two hours which is quite long and I know my bum will be sore tomorrow.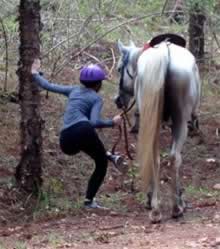 Then I find out it's a three hour ride and, when Anne stops to powder her nose, I gleefully hop off Esau and stretch my glutes. But then it's  back on the horse for another hour of botty bashing. Even Anne and her daughter say their bums are sore because they aren't used to the saddles and I take comfort in that.
Esau behaves badly, refusing to let the other horses get in front of him and holding them up but he is strong and reliable. I manage to get him to the back of our small procession and he puffs like a train as we canter while I cling on for dear life.
By the end of the ride all of our horses are drenched in sweat from just in front of their ears to their rump.
When we get back to the stables I dismount as fast as possible and wobble like a new born foal across the field to a tree where I stretch some more. Apparently my bum will ache most the day after tomorrow.
Graham tells us that horse-riding uses 1,100 muscles most of which will be sore tomorrow and I wonder why I punish myself so. But then I remember why I like horse-riding: fresh air, smiling faces and aching bums are all part of the adventure.
The next day my bum still aches along with my back, neck, shoulders, arms and legs. I think that's just about everything.
And I think about cantering and how my heart was racing faster than the horse's.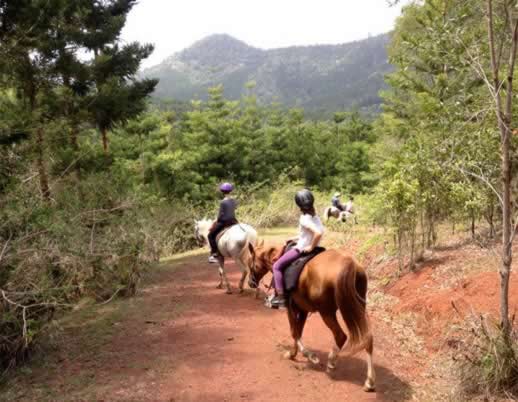 Horse-Riding Exercise Review
Time Exercising: 3 hours
Average Heart Rate: 80 (a bit more than I'd burn doing nothing).
Peak Heart Rate: 153 (but that must have been very brief, mostly horse-riding didn't get my heart beating fast enough to burn much energy).
Calories Burned: 300
Fun Factor: 7/10
Fear Factor: 6/10
Post-exercise Glow: 7/10
Cost: $110 for three hours (horse-riding isn't a cheap sport which is why I don't do it more often).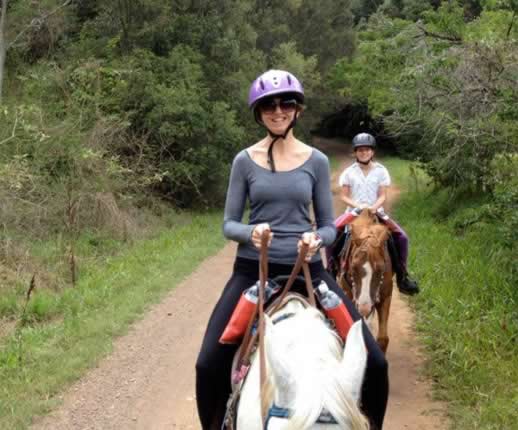 What do you think of the new 52 Exercise series? Do you think I'll be able to try a different sport every week throughout 2013? Could you do it? How do you nix boredom when you're not traveling?
Please suggest some exercises or sports you'd like to see me try. I can't promise all will be available where I live but I'd love to use your ideas if  I can. 
Share This Story, Choose Your Platform!