Pat Rafter and Me at the Noosa Mantra Morning Tea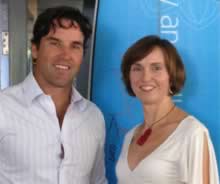 You can tell at a glance that Pat Rafter is Australia's best looking tennis player but it takes a little research to discover that he's Australia's best ever tennis player.
As the winner of two US Open titles, a Wimbledon finalist (twice) and with heaps of other tennis accolades to his name Pat Rafter is a true sporting champion.
But the research gets really interesting when it reveals that Pat's also Australia's best underwear model, but let's not get distracted by that yet.
So what do you do when you retire at the age of 30 after a hugely successful career and with oodles of hard earned prize money? Like me and Richard Branson, Pat decided to chill out in Noosa, settling in nicely with the gorgeous Mrs. Rafter and their two mini mes.
Mr and Mrs. Rafter are so genetically blessed they're favourites in the gossip rags here in Australia and have even graced the cover of Vogue magazine, but Pat has his feet firmly on the ground.
When not modelling undies or beavering away as ambassador for Mantra Hotels he supports charities, surfs and chauffeurs the kids between school and after-school activities with the best of us. And unlike some tantrum throwing tennis players, everyone loves Pat – he just has a reputation for being a great guy.
So when I was invited to join Pat in celebrating  the opening of the new Mantra French Quarters on Hastings Street in Noosa and its $5 million dollar refurbishment the pleasure was all mine.
The invite promised morning tea plus photo and interview opportunities with Pat which sounded excellent if you like eating cake and meeting handsome men.
Unfortunately the problem is I'm a bit shy so turning up to events solo and meeting people is tricky. What I do to overcome my shyness is channel my American friend Bart G who can strike up conversation with anyone by simply approaching them with an outstretched hand.
That may sound easy, but you have to be shy and see Bart in action to appreciate his social skills. It's brilliant how he reaches out to people and that friendliness has made him well known and well loved around the world.
Channelling Bart works nicely if I can spot someone else on their own to approach but here at the Mantra morning tea I seem to be the only Billy No Mates around.
There are lots of official looking men in suits and elegant PR ladies but I start with a soft tactic – Ernie and Margo, an older couple who have an apartment in the Mantra and visit Noosa every year. After approaching them in Bart mode with my hand out, a big smile and my well worn line:
"Hi, I'm Annabel Candy",
I move on to my two best opening conversational gambits: "Do you live around here?" and "Do you travel much?"
Although Ernie and Margot must be in or around their seventies, they soon impress me with tales of charity work and cycling holidays in Europe. Then Margo changes the subject:
"Have you seen Pat Rafter?" she asks.
"No," I say, trying not to look too eager.
"He's there," she whispers, and sure enough, there he is just a few feet away from us.
"He's a lovely looking man isn't he?" she says.
We both smile. There's a lull in the conversation.
"I want to get my photo taken with him", I confess "and interview him for my blog".
"Oooooh" said Margo "You must."
"You should talk to him too", I say.
"Oh no, I'm too shy." says Margo.
We drift apart and I talk to other people. Pat is predictably popular. The delightful PR girls try to hook me up with him but he keeps getting pounced on. People are starting to leave when I see Margo talking to him and asking him to sign caps for her grandchildren.
If Margo can do it I can too. I give her a decent amount of Pat time then make my move. First the photos, then the interview and Pat is charming and relaxed.
We perch together on the sofa inside the Mantra for a private interview. I try to be calm and confident like Bart and Pat but while I like to complain about journalists who poo poo bloggers I have done no research.
My brain goes blank so I stick to the mindless questions I jotted down in one of the kid's old school books and ask things I should already known the answer too. I find out Pat is from Queensland, one of nine kids, several of whom live in Noosa and I get Pat Rafter's Mini Guide to Noosa:
Favourite Noosa Cafe: Canteen in the Junction.
Favourite Noosa Restaurant: Wasabi at Quamby Place.
Favourite Beach: Sunshine Beach.
Favourite Jog: Noosa National Park.
Favourite family outing: Aromas Cafe on Hastings Street.
Favourite ice-cream shop: Massimos on Hastings Street.
Before I leave I remember ask Pat to sign a Mantra cap for me.
"Who would you like me to sign it for?" he asks.
I cast my mind around frantically and can't think of anyone.
"Er. Me." I say.
Pat was so nice  he deserves some research so when I get home I belatedly scour Google, discover that he models underwear and end up getting rather distracted.
Later I show Rich the cap and to my surprise see that Pat signed it:
"To Annabel, Great Interview! Love Pat Rafter".
So there's the final proof of what a good guy Pat is. And I'm sure you'll agree that he's good looking too.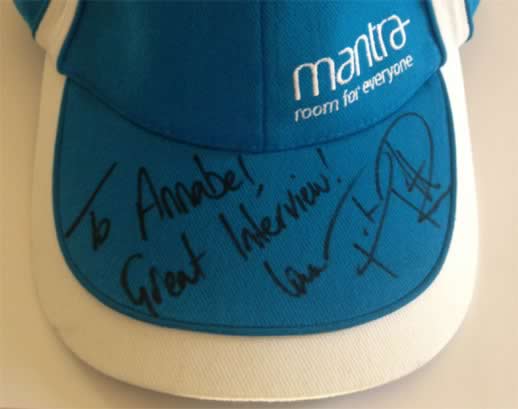 Thank You to:
Mantra Hotels for inviting me along. Sadly I didn't have time to eat any cake but I ended up meeting a lot of fun people. Special thanks to Naomi for taking the photos of me and Pat and not cutting my feet off!
Mantra have hotels all over Australia as well as a couple in Bali and New Zealand. I've stayed in the Mantra Brisbane South Bank and very nice it was too. When you stay at the Mantra as well as a life-size cardboard cut out of Pat in reception you get a cool notepad with mantras and photos of Pat to take home.
Mantra Hotel rooms are gorgeous too. I'd love to take a mini writing retreat at the Mantra French Quarter on Hastings Street. That would be my idea of a perfect break.
Bonds underwear for the excellent Pat Rafter research opportunities.
Leearna Saunders, fabulous fashion designer at Blossom Betty who made the little stag skirt I wore to meet Pat and the Mantra team which gave me a big confidence boost.
Most of all a big thank you to Pat Rafter for being a jolly good sport. It was a pleasure to meet you and I wish you and your gorgeous family many more happy days in sunny Noosa.
Got any thoughts? Leave a comment because we'd love to hear from you. Thank you. 
Share This Story, Choose Your Platform!